Worker Praised for Using Company's Upselling Discount To Donate to Charity
An alleged Blockbuster worker is being praised for giving discounts to people who donated to charity, racking up a few thousand dollars towards the cause before it was all over.
The viral Reddit post, shared to the subreddit "Malicious Compliance," garnered 12,300 upvotes since it was shared on May 18. Redditor @Lifeaccordingtome83 shared the post, titled, "You can give a dollar off if it helps you make a sale..."
Blockbuster LLC declared bankruptcy in 2010, and it sold the stores owned by the company over to Dish Network in 2011, according to The Independent. The remaining locations were closed three years later except for a couple of franchise locations run by themselves. There is now only one location left in the world: Bend, Oregon.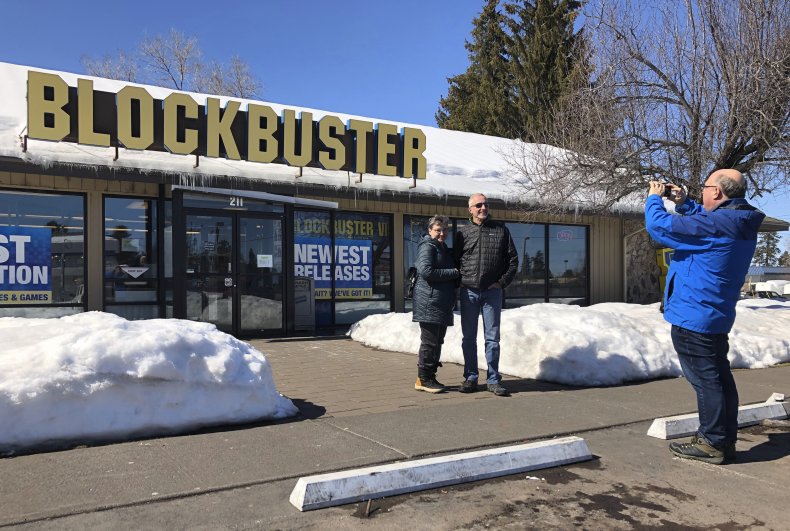 'Malicious Compliance'
The original poster (OP) worked at Blockbuster as a college student in the early 2000s. "At that time, it cost $3.70 to rent a movie, sometimes for just two nights, and the late fees were insane as most who were adults at that time remember," the Redditor said.
There was a barcode on the register that could be used to give a dollar off a movie rental. However, it was only to be used when it helped the store make "an additional sale," and it was to help push "overpriced candy."
The OP went on to say the store started a fundraiser for St. Jude without any incentive for the employees to get the donations, "but of course, as it was for a good cause, I wanted to ask everyone," the Redditor said.
"I got annoyed because people would spend a ton of money on late fees and more movie rentals and crap they didn't need, but I asked everyone on a Saturday night in the busiest Blockbuster in the entire state to donate and got two people out of several hundred to donate a dollar," the OP explained.
The following day, the OP discovered they had to scan a paper in order for the dollar donation to ring up, so the donation was basically another sale, so they started "a new campaign."
"Anyone who agreed to donate a dollar to charity got a dollar off their movie rental," the OP stated. "For the next three weeks, until the charity partnership was over, with the customer's permission, I took $1 off the movie rental each time and scanned the barcode for the $1 additional sale that went right to charity."
The Redditor revealed the customers were "happy" that they could pay the exact same price and also help a "good cause," and the OP was able to "collect" a couple of thousand dollars for the cause, stating they put "Blockbuster's own upselling methods to work against them."
The OP added some context at the end stating it was a time when people weren't asked about donating at every single store. Plus, they were 18 and "frustrated" by the lack of donations because they watched so much money being wasted on late fees that they claim could be removed "easily," but a person had to complain.
"I couldn't fathom why anyone wouldn't want to help a kid for a dollar," the OP concluded. "I'm sorry some people see this as thievery and/or don't understand my frustration. Blockbuster ripped people off systematically and this was my small way as a broke college kid trying to even the scales a bit."
Redditor Reactions
Over 500 comments rolled in over the post, and many people think it was a good move on the OP's part, but not quite everyone.
"You know you're wrong right?" a Redditor asked. "A donation is not a sale. You were frauding Blockbuster."
Redditor @Lifeaccordingtome83 told Newsweek:
"I am an idealist and want to believe the best in people. Nobody. Not one person turned me down all those years ago when I told them I could give them a dollar off a movie rental if they donated a dollar for a great cause.
"I did this for three weeks and my manager was fully supportive. It just felt like the right thing to do. And sometimes you gotta bend the rules a little when it's for a great cause, and not hurting anyone."
But, as mentioned, most were on board with how the donations were accrued.
"Aw, I miss Blockbuster!" a Redditor said. "Thank you for the nostalgic post while also putting it to the man!"
While one person enjoyed the story, they think it might belong in another subreddit. "Clever, brilliant even," they said. "And great story. But not malicious. More r/antiwork tenor haha."
Some people had sympathy for the OP's actions, and one Redditor said it's "not only a good example of malicious compliance, but an honestly lovely thing to do." Another Redditor called it a "wholesome malicious compliance! Very rare but love to see."
While a Reddit user admitted they "love" the story," adding, "no wrathful people or toxic behavior, just some clever thinking that I'm sure helped a lot of people. Godspeed good sir, Godspeed."
One Redditor said they always inquire if a company is matching the donations. If they are, then they donate. "If not, then I do not," they said. "Regardless of the cause. The whole concept of a giant company choosing a charity and asking me to donate, but not matching the donations just irks me."
This isn't the only viral moment involving working.
A sign at a restaurant offering up discounts for images of employees using their phones sparked outrage online.
A company criticized a worker for coming in and leaving on time.
In addition, the Internet bashed a boss for not talking to an employee who resigned.