Workers Abandoned Seniors at Care Center as California Tubb Fire Approached
Two California care homes could have their licenses revoked after state officials found staff had abandoned dozens of elderly and dementia-suffering residents during an evacuation amid last October's deadly Tubbs fire.
The California Department of Social Services found that Oakmont Senior Living failed to protect residents at its Varenna and Villa Capri facilities because staff members were not trained in how to handle an emergency.
According to a damning report, at least 20 seniors at Villa Capri would have "perished" if it had not been for family members and emergency responders who had stayed behind and evacuated them after all four staff members on duty that night had left.
During the frantic evacuation process, the report found that staff members did not know the facility's evacuation plan or where flashlights and batteries were kept. Some had never even practiced a fire drill.
The report found that at least three residents had never been evacuated from the Varenna facility during the fire, and workers who found them the next morning lied about it.
"Based on evidence gathered during the investigations and the statements of witnesses, the department has determined that Oakmont Senior Living failed to protect the health and safety of residents at Varenna and Villa Capri," Michael Weston, spokesman for the California Department of Social Services, wrote in a statement, reported the San Francisco Chroncile.
"The Department served Oakmont Senior Living with legal notice to revoke the licenses of Varenna and Villa Capri and to exclude the administrators of both facilities for life."
On the night of October 7/8, 62 elderly and disabled residents were living at Villa Capri, including 25 who were in the dementia unit.
Around 3 a.m. on October 9, the designated substitute administrator for Villa Capri left in a vehicle taking residents to an evacuation center, leaving two untrained staff members at the facility with 30 elderly seniors awaiting evacuation, the report stated.
One staff member had already left with other residents as part of the evacuation effort, and the supervisor did not call 911 or notify anyone about the situation, so when the last two staff members also left with six residents in their personal vehicles, a total of 24 seniors were still left inside with no staff supervision.
Relatives soon began arriving to assist those "who were left stranded on the second floor" until emergency services arrived.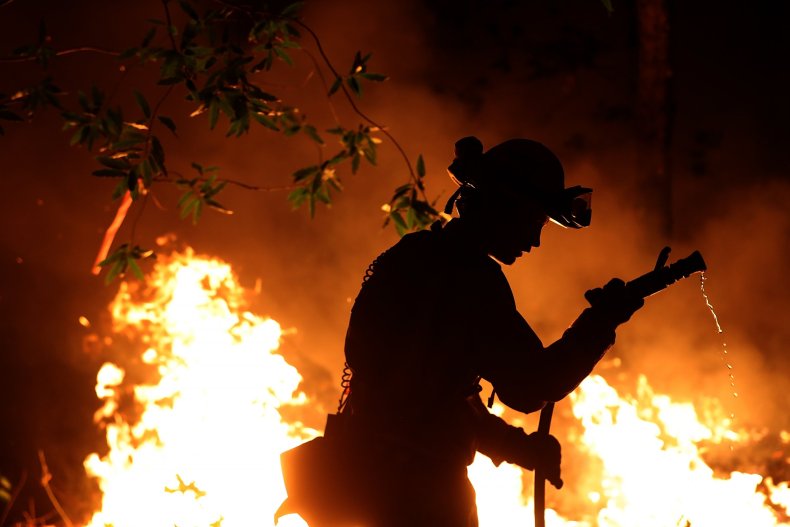 When emergency responders arrived at Villa Capri, they spotted a large bus parked near the facility, which would have been ideal for helping to evacuate the seniors. But staff members couldn't use the bus because they did not have keys or know where they were kept.
"If these family members and emergency responders had not evacuated Villa Capri residents, more than 20 residents would have perished when Villa Capri burned to the ground after all staff left the facility," the report stated.
Oakmont denied the allegations, adding that "all 418 residents were safely evacuated" in a statement to the San Francisco Chronicle.
"The night of the Tubbs fire, we voluntarily began evacuating residents after we were repeatedly unable to reach emergency authorities on clogged 911 phone lines. We never received an official evacuation order from emergency authorities. Our residents and their safety have been, and always will be, our first priority."
At Varenna, administrator Nathan Condie was said to have told staff members who had been evacuating residents to return them to their rooms, as he didn't want to "make trouble for (Oakmont)," reported The Associated Press.
Condie eventually left with some residents in his car but did not tell staff members where keys to a large bus owned by the facility were. As no evacuation plan was in place, no one could tell emergency responders when they arrived at the scene how many people had been evacuated.
Responders then "kicked in locked doors throughout the facility and alerted sleeping residents" in order to find out who was still inside the building, according to the report.
The state has looked into banning the executive directors of the centers, Condie and Deborah Smith, from ever owning or working in licensed care facilities.