Workers Begin Delicate Process of Removing Indians Sign From Stadium Scoreboard
The Cleveland Indians are officially no more.
According to the Associated Press, the team's scripted logo located on the Progressive Field scoreboard is beginning the removal process. Various crew members were spotted at the stadium starting to dismantle the letters.
The process of removing the logo from the scoreboard has already proven to be a delicate one. Members were seen cutting into the "I" of the name and lifting it off of the board with a crane. This crane was located between two of the light towers seen at the ballpark. Work on the project had to be temporarily halted due to windy weather, which could be a common occurrence during the removal process.
Over the next several days, the sign will be taken down and replaced by one with the team's new name, the Guardians. Once the process is complete, it will stay in storage until the team can agree on where to put it. The Guardians sign will be put onto the scoreboard by opening day 2022.
The removal of the Indians sign showcases the definitive end to the team name, which was changed earlier this year after a national reevaluation of racist team names. Other signage with the term has been removed, and the Guardians will take over as the official team name in the next few weeks.
For more reporting from the Associated Press, see below: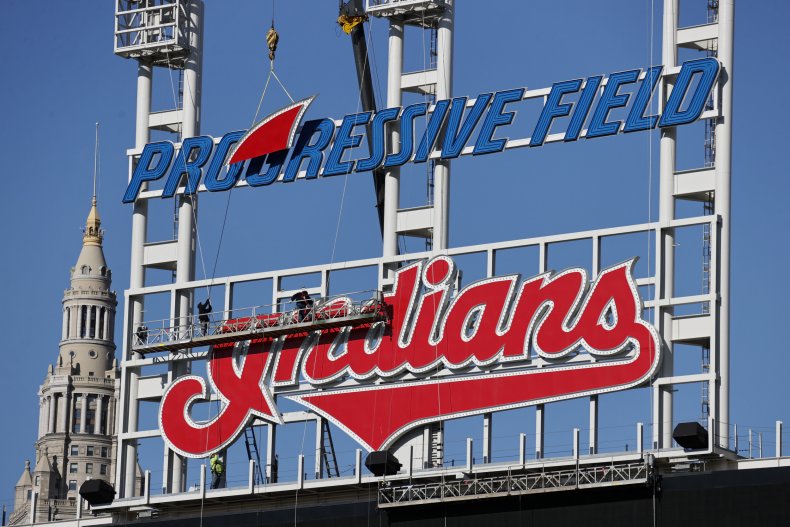 It's another step in the offseason change for the Major League Baseball team, which has been called the Indians since 1915.
In July, owner Paul Dolan joked that it was too big to fit in his basement.
When the Indians left Municipal Stadium in 1994 for their new ballpark, which was then known as Jacobs Field, a neon sign of their Chief Wahoo logo was taken down and is now displayed at the Western Reserve Historical Society building.
The changeover hit a snag last week when a roller derby team known since 2013 as the Cleveland Guardians sued the baseball team in federal court, alleging the switch infringes on its trademark.
Newsweek has previously reported that the lawsuit stated that "Two sports teams in the same city cannot have identical names. Major League Baseball would never permit 'Chicago Cubs' lacrosse or 'New York Yankees' rugby teams to operate alongside its storied baseball clubs and rightly so. Confusion would otherwise result."
The suit also said that "The same laws that protect baseball team owners' trademark rights, though, also work in reverse. A Major League club cannot simply take a smaller team's name and use it for itself."
In a statement, the Indians said they don't believe there is a conflict between the parties and they remain confident in their position to move forward with the name change.