Workers Inside Arizona Polling Center Count Votes as Armed Protesters Wait Outside
Demonstrators supporting President Donald Trump holding signs and American flags stood outside the Maricopa County, Arizona Elections Department on Wednesday while workers continued counting mail-in ballots in the U.S. presidential election.
Voting in Arizona has been a point of contention in this year's election. On Tuesday, Fox News projected that Democratic presidential nominee Joe Biden would win the state, prompting some observers to claim the network had made the call too early. Some voters in Arizona may have been influenced by social media videos that alleged that ballots filled out with a felt-tip marker were not counted by tabulation machines.
Some of the protesters were observed carrying firearms. Arizona is an open carry state. Because of the protest, the building was closed to both the public and members of the media. Workers, however, stayed behind to continue counting.
"Staff at the @maricopacounty Elections Department will continue our job, which is to administer elections in the second largest voting jurisdiction in the county," read a tweet from Maricopa County Elections Department. "We will release results again tonight as planned. We thank the @mcsaoz for doing their job, so we can do ours."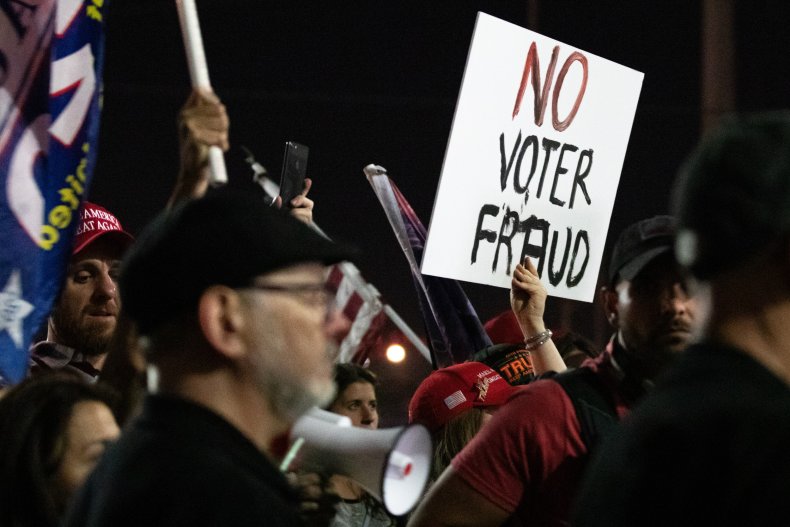 Members of the Maricopa County Sheriff's department were called inside the building in case the protests grew violent.
According to a statement sent to Newsweek on Thursday morning, the Maricopa County Sheriff's office was "monitoring the crowd. At this time, the crowd is peaceful and there have been no arrest or citation issued."
Maricopa County is the largest county in Arizona with over 4 million residents. Both Trump and Democratic presidential nominee Joe Biden are hoping to gain the state's 11 electoral votes. During an early morning press conference on Wednesday, Trump said that there were still "a lot of votes out there we could get" in Arizona. Trump also claimed that he didn't need to win Arizona in order to win re-election.
After Fox News projected a Biden win in Arizona on Tuesday, senior Trump adviser Jason Miller tweeted that it was "way too soon" to make that call. Fox News has declined to retract the projection. The Associated Press also called Arizona for Biden early Wednesday morning with 80 percent of the vote tabulated.
Some Arizona voters saw the controversy over using markers on ballots as evidence of voter fraud. In a Wednesday interview with CNN, Arizona Secretary of State Katie Hobbs debunked the theory that felt tip markers would somehow invalidate ballots.
"All of those ballots are being counted," Hobbs said. "And even if the machines can't read them for some reason, the marker bled through to the other side. We have ways to count them."