The Texas Democratic Party said Monday it will mail out hundreds of thousands of vote-by-mail applications to Texans age 65 and older, a move that sidesteps recently approved changes to the state's election law.
Texas Governor Greg Abbott signed legislation in September overhauling the state's election laws, removing options such as drive-thru voting and 24-hour polling locations that were used in 2020 because of the COVID-19 pandemic.
The state already limited voting by mail to Texans 65 and older, voters out of state during the election and people with disabilities. The new law added more restrictions on voting by mail, and election officials could face criminal prosecution for encouraging people to request mail-in ballots.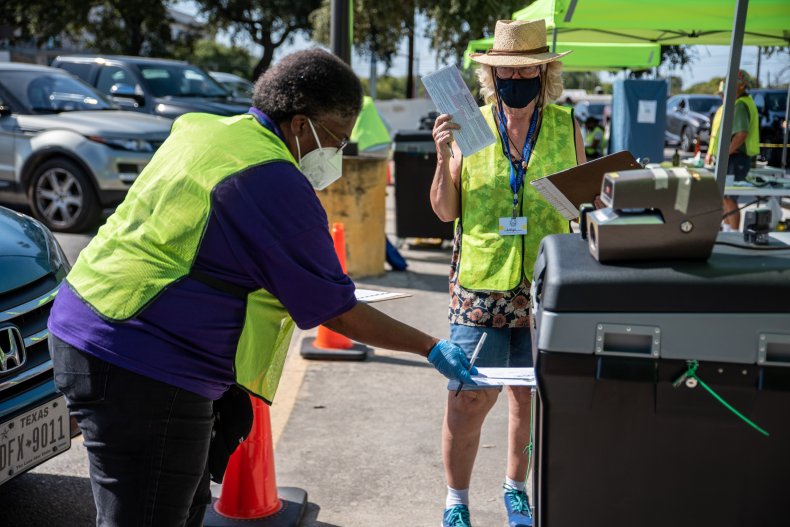 But the Texas Democratic Party said it will send vote-by-mail applications to Texans age 65 and older. The mailings are part of the party's get-out-the-vote effort as the state approaches its Jan. 31 deadline to register for the March 1 primary elections.
"Our vote-by-mail program is one of the most important voter turnout programs we run as the Texas Democratic Party, and now more than ever it's crucial we get people the tools and resources they need," Rose Clouston, the party's voter protection director, said in a statement. "We can't rely on our Republican-run state government to do this for us."
Along with a hotline to answer voter questions, Clouston said the party was trying to make casting a ballot as easy as possible and wanted to make sure older Texans "have everything they need to make their voices heard." The party reiterated its support for federal voting rights legislation currently stalled in Congress.
Clouston added that Republicans, who dominate Texas state government, "have made it very clear that they only think Republicans should have the right to vote and it is therefore incumbent on us to help voters navigate the maze of voting laws Republicans have erected."
Texas Secretary of State John Scott's office and the state GOP did not respond to emails from Newsweek seeking comment Monday evening.
Scott, a Republican, issued a statement on Monday encouraging eligible Texans to begin registering for the upcoming primaries early, calling the process "easy and straightforward."
"We want all eligible Texans to participate in all of this year's upcoming elections, including the Primary Elections in which voters will choose the candidates to appear on the November 2022 General Election ballot," he said.
Following the 2020 election and unfounded claims by former President Donald Trump of widespread fraud, state legislatures across the county have considered or enacted new measures proponents characterize as making the vote more secure.
Abbott has previously called his state's election law a "paradigm" for other states that he said would make it "harder to cheat at the ballot box." Opponents have argued that election fraud is vanishingly rare and these measures only make it harder to vote.
The Biden Justice Department in November filed a lawsuit against Texas arguing its new law violates the Civil Rights Act of 1964 and the Voting Rights Act of 1965.
Texas has one of the country's most restrictive requirements for voters to cast a ballot by mail. Vote-by-mail increased in nearly every state in the 2020 election, but Texas saw one of the smallest increases, at only 11 percent, according to an analysis by FiveThirtyEight.