'Working Families Party' Trends After Elizabeth Warren Wins Endorsement From Group That Supported Bernie Sanders in 2016
Working Families Party was trending on Monday after top-tier 2020 Democratic candidate Elizabeth Warren won an endorsement from the progressive group that endorsed one of her competitors, Senator Bernie Sanders, in the 2016 presidential election cycle.
Warren, who has made the biggest gains of any candidate recently, received more than 60 percent of votes on the first ballot with "tens of thousands" of members and national committee heads participating, a spokesman for the party told The New York Times. Sanders came in second, followed by former housing secretary Julián Castro, Senator Cory Booker and New York City Mayor Bill de Blasio.
"Senator Warren knows how to kick Wall Street kleptocrats where it hurts, and she's got some truly visionary plans to make this country work for the many," Working Families Party national director Maurice Mitchell told The Times. "We need a mass movement to make her plans a reality, and we're going to be a part of that work."
Warren rejoiced at the party's announcement it had endorsed her for president in the Democratic primary by quote tweeting the group and commenting, "Grateful for @WorkingFamilies endorsement today. Together, we're going to make the big, structural change we need so that government works for all of us—not just the wealthy and well-connected."
She also tweeted a video of herself smiling and raising her hands and captioned it, "What cheering in the Quiet Car looks like. Thanks @WorkingFamilies!"
Meanwhile, some supporters of Sanders — who in 2016 said the party was "the closest thing" to "my vision of democratic socialism" — criticized the vote outcome and requested that the party disclose the total numbers, which the party did not do. The party's 56 national committee leaders hold 50 percent of the voting power, the same percentage as the thousands of members.
Sanders's Iowa state director responded to the party's endorsement of Warren by tweeting, "There is one movement politics presidential candidate. One. It's @BernieSanders. that's all. that's the entire tweet. #Bernie2020"
Mitchell said the labor-focused party's endorsement was not meant to split members between Warren and Sanders.
Sanders has historically received more backing from the working class while Warren's biggest gains in the past six months have been from college-educated Americans, so the party's endorsement could serve to boost Warren in a new demographic.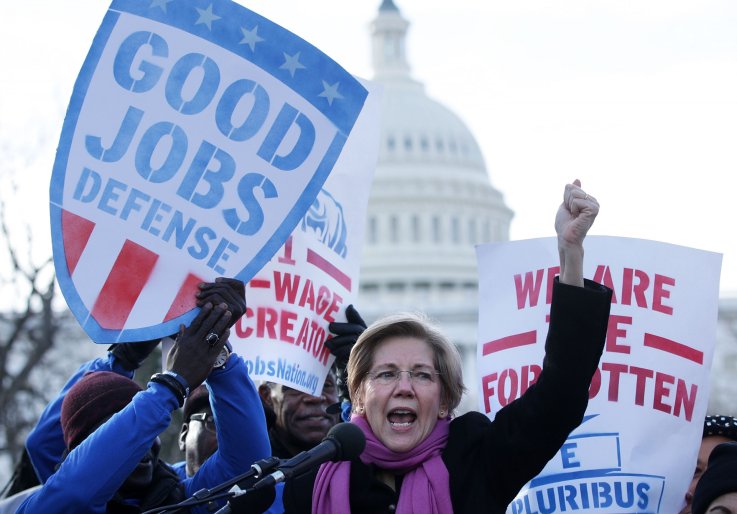 Warren is succeeding in positioning herself as one of three top tier candidates including Sanders and former Vice President Joe Biden, the frontrunner and moderate Democrat.
Sanders won an endorsement from the United Electrical Workers union last month, though many major labor unions including the Service Employees International Union and American Federation of Teachers have not announced their endorsements.
'Working Families Party' Trends After Elizabeth Warren Wins Endorsement From Group That Supported Bernie Sanders in 2016 | News