Workplace Shooting in Maryland Updates: 3 Dead, Manhunt Underway For Suspect in Harford County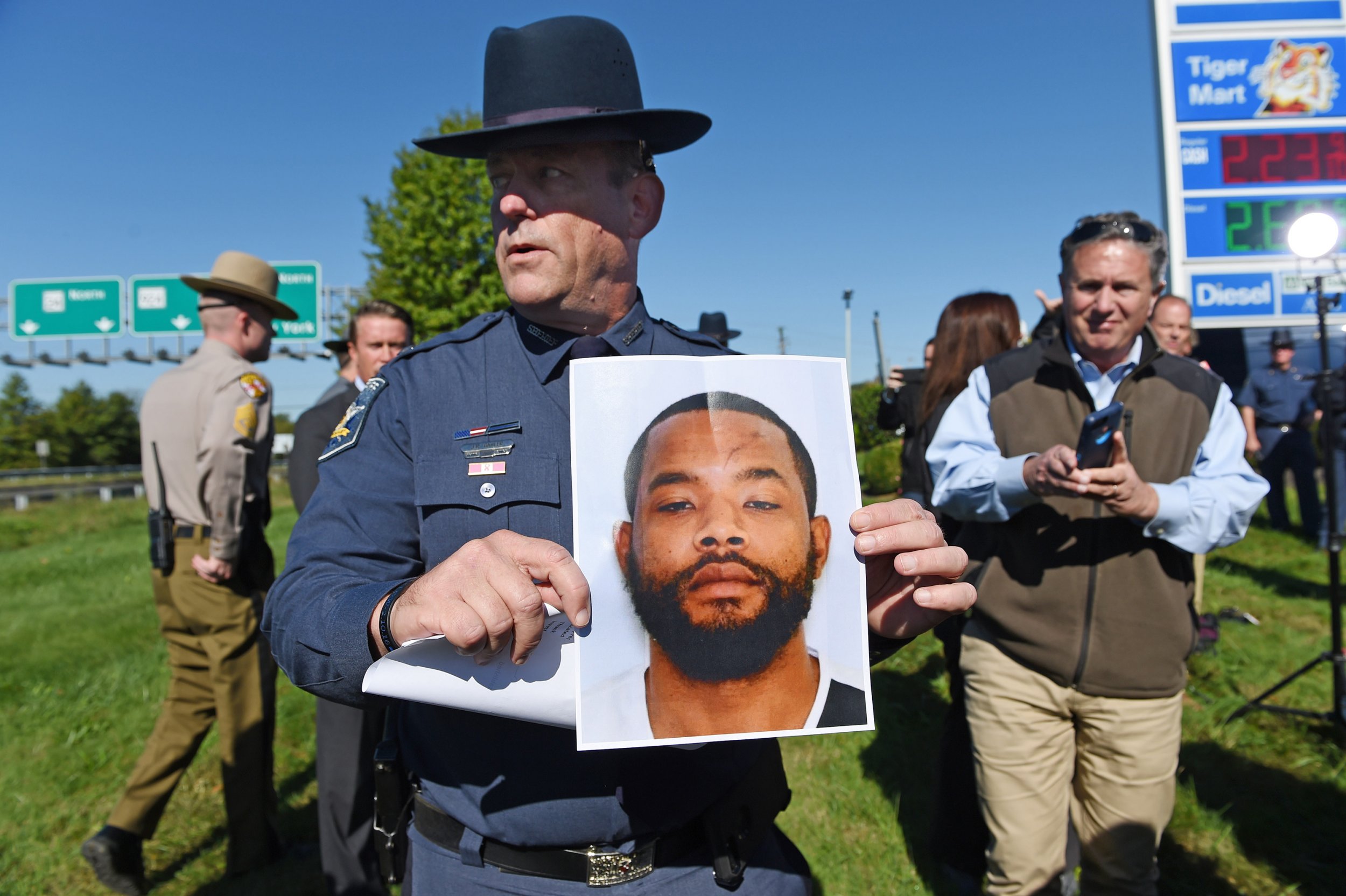 Update: 7:24 p.m. EDT—Hartford County Sheriff's Office said via Twitter that Radee Labeeb Prince, 37, "was apprehended a short time ago in Delaware by ATF and allied law enforcement agencies."
Update: 4 p.m. EDT—Authorities across the northeast were still looking for a man accused of shooting innocent civilians in two states.
Radee Labeeb Prince, 37, opened fire on his coworkers at the Advanced Granite Solutions in Harford County, Maryland about 9 a.m., killing three people and wounding two others.
He then fled and stopped by a car dealership in Wilmington, Delaware where he shot and injured a sixth person, police said.
Wilmington police told reporters Prince knew the person he's accused of shooting at the car dealership. Price is known to have family in the area, police told WDEL.
Update: 2:30 p.m. EDT— The man authorities say opened fire inside a Maryland workplace Monday morning worked at the business, authorities confirmed.
Radee Labeeb Prince, 37, worked at Advanced Granite Solutions for four months, Harford County Sheriff Jeffrey Gahler said.
"It was scheduled to be a regular workday," Gahler said.
Authorities said they weren't sure why Prince opened fire. Gahler said he was unaware of any other police calls to the business.
After leaving the business in a black GMC Acadia about 9 a.m., Prince drove to Wilmington, Delaware where he opened fire at a used car dealership, Gahler said.
One person was injured in the shooting, the Baltimore Sun reported.
It wasn't clear why the suspect opened fire at the business or whether he was connected to the shop. Authorities were still searching for him.
At a Monday afternoon press conference, Gahler urged Prince to turn himself in.
"There's been enough loss of life," he said. "We can end this peacefully."
Update: 1:30 p.m. EDT— The man accused of gunning down employees in a Maryland business Wednesday morning was still on the loose.
The workplace shooting is just the latest in a grim trend of violence in businesses around the country.
More than 400 people were slain at workplaces in 2015, nearly all of which were shootings, according to data from the Bureau of Labor Statistics.
2015 was the first year the number of fatal shootings in businesses rose since 2012.
"It has gotten worse, and it's becoming an epidemic," Kathleen Bonczyk, a researcher who focuses on workplace violence, told the Orlando Sentinel. "There used to be a time when an employee shooting someone in the workplace would be a shock. Now it's becoming common."
The deadliest workplace shooting was the 2015 attack in San Bernardino, California.
Syed Rizwan Farook and his wife, Tashfeen Malik, went to the city's public health department and opened fire, killing 14 and injuring 22 others. The pair died in a shootout with police.
Update: 12:40 p.m. EDT— Authorities were still looking for a 37-year-old man accused of opening fire in a workplace in northeast Maryland Wednesday morning.
Radee Labeeb Prince left the Advanced Granite Solutions after gunning down five people, three of whom later died of their injuries.
Prince has had several run-ins with police over the years.
In 2003, he pleaded guilty to 15 counts of third-degree burglary in Delaware, according to the Baltimore Sun.
Then in 2015, he was arrested on charges of possession of a firearm by a convicted felon and carrying a handgun in a vehicle. Those charges were dropped by prosecutors, the newspaper reported.
"There's an individual out there on the loos that committed one of the most heinous acts in Harford County, certainly we consider him armed and dangerous," Harford County Sheriff Jeffrey Gahler said.
Gahler said they've gotten several tips in the incident but none had panned out yet.
Several federal agencies, including the FBI, are helping in the investigation.
He urged anyone with information to call 1-800-225-5324.
Original story — A manhunt was underway for a gunman who shot and killed three people and injured two others at a Maryland business center on Wednesday, authorities said.
Harford County Sheriff Jeffrey Gahler identified the suspect as Radee Labeeb Prince, 37, and said he was on the run.
Deputies got calls about 8:58 a.m. after gunshots rang out inside Advanced Granite Solutions.
Gahler said his deputies responded within four minutes and found five people shot, three of whom died of their wounds.
"This does appear to be a targeted attack," Gahler said, adding Prince was "associated" with the business but it's unclear whether he was employed there.
Gahler added that he did not think anyone else was involved in the shooting.
All five people who were shot in the incident were employees of the business. The two who survived are in serious condition.
Prince fled after the attack in a black 2008 GMC Acadia and deputies have checked his home and scoured the area, but have not located him, Gahler said.
Gov. Larry Hogan added that state police and helicopters were involved in the search.
"The killer remains on the loose," Hogan said, according to the Baltimore Sun. "He was last seen heading toward Cecil County, toward Elkton, close to the Delaware line."
Several area schools in Harford County, about 25 miles northeast of Baltimore, are on a modified lockdown, which prevents students from going outside.
Gahler called the incident one of the worst crimes his department has had to work.
Advanced Granite Solutions is based in Edgewood, Maryland, about 25 miles northeast of Baltimore. The company manufactures and installs granite countertops.