The World According to Rumsfeld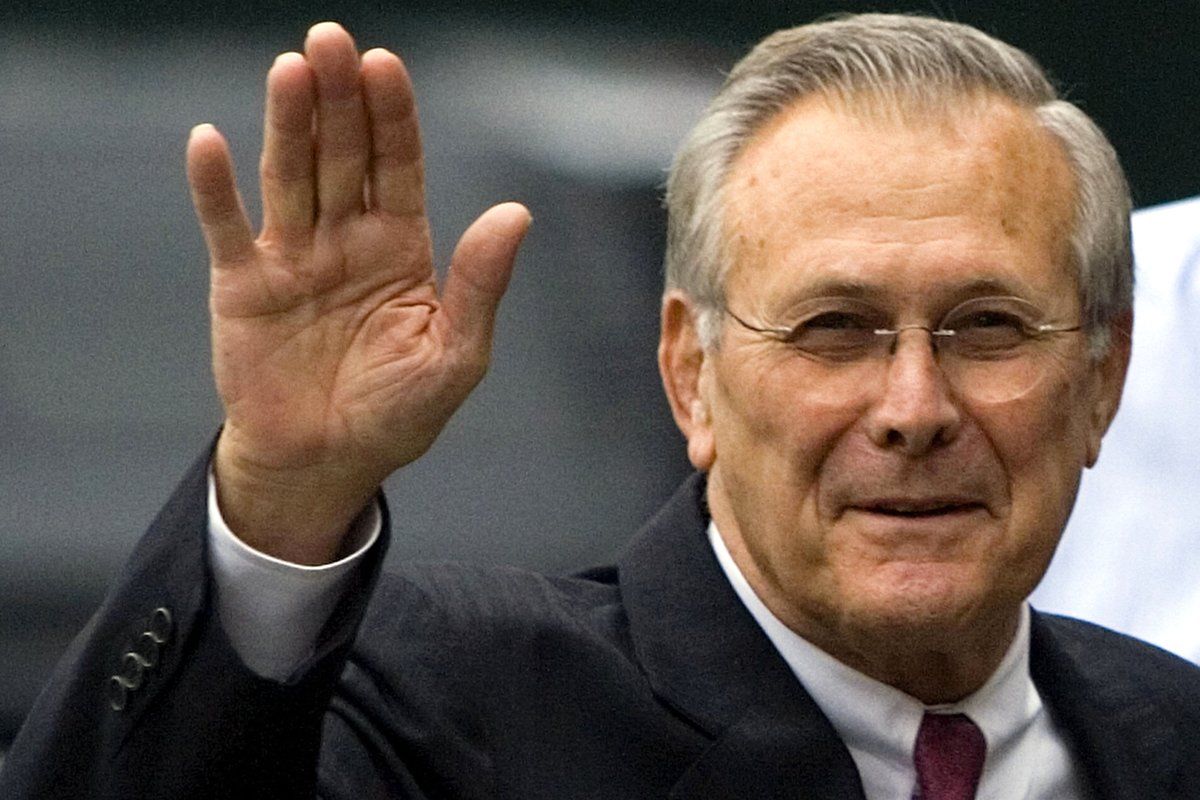 Most cabinet secretaries tend to fade away, but Donald Rumsfeld has become more obscure than most. Unlike former secretary of state Colin Powell, he does not show up on Sunday talk shows or travel the country giving lucrative motivational speeches before packed arenas. He hasn't set up a consulting shop, as have former secretary of state Condoleezza Rice, national-security adviser Stephen Hadley, and homeland-security secretary Michael Chertoff. As a private citizen, he has retired to his sprawling house on Maryland's Eastern Shore and his farm in Taos, N.M., gone on lunch dates with old colleagues and friends, and, at 78, suffered through the ordinary maladies of creeping age, including several operations to repair various joints. He has, in fact, made so little news that in February 2009 the Washington publication Roll Call devoted an entire item to his patient wait on a sidewalk for a D.C. bus. By the time the bus arrived that icy morning, it was so packed that Rumsfeld, smart card in hand, silently walked away.
Now Rumsfeld is finally taking his finger off the mute button. He has a page on Facebook, a regular Twitter stream, and, noisiest of all, a new memoir, Known and Unknown. As details of the book have trickled out, it's become clear that, far from producing a Robert McNamara–style mea culpa, Rumsfeld has his combat boots on. The book is a feisty, score-settling recounting of everything from his battles with Rice's "failing" management of the National Security Council to his exasperation with Powell for implying that the administration misled him about weapons of mass destruction in Iraq. "There was no one in the administration who had even a fraction of his experience in intelligence matters, including CIA director Tenet," Rumsfeld writes. "Powell was not duped or misled by anybody." The book has already drawn blood from some of Rumsfeld's targets, including John McCain, who last week responded by saying: "Thank God he was relieved of his duties." But above all, what is most likely to rankle many in Washington—and overshadow the real accomplishments of Rumsfeld's five decades of public service—is that while he can mercilessly point out others' flaws, he allows himself far more, shall we say, nuance.
It's not surprising that as Rumsfeld's reappraisal makes the rounds, many of his former aides and advisers are reevaluating him, privately asking what went right and what went wrong. There are a few theories. One, according to several top deputies who spoke to NEWSWEEK, is that he was too deferential to his generals. "When things go badly, when do you start second-guessing your generals?" asks one high-ranking civilian aide. "The common criticism of him was that he didn't listen to his generals, that he micromanaged and imposed his will, but when people look back on this period, they may see that a number of the problems resulted from Rumsfeld not wanting to interfere in professional military judgments."
Rumsfeld eventually allows for such a possibility, but only 21 pages from the end of his book. Otherwise, he spares many generals from criticism, including Tommy Franks, the Iraq War commander who practically filed his retirement papers the moment the first U.S. tank left for Baghdad. Failings are attributed mostly to the amorphous "senior Army leadership." Others at the Pentagon have their own stories of Rumsfeld's deference to the chain of command. During one meeting about the Guantánamo Bay military-detention center in his vast, windowed conference room, Rumsfeld gestured to Army Maj. Gen. Michael Dunlavey, Gitmo's early operational commander, and said, "I want you to call me every morning." The shiny table was crowded with four-star generals who were clearly rankled that Rumsfeld would give a direct hotline to a two-star. The chairman of the Joints Chiefs intervened, and Rumsfeld backed off, instructing, "No whitewashing."
Known and Unknown also opens a window into how much of the war and its aftermath was fought among the cabinet secretaries and their top deputies, with Washington becoming every bit as contentious as Baghdad. Yet at DoD Rumsfeld largely went it alone. He did not surround himself with close associates from other areas of his life. He had never met Douglas Feith but picked him as his undersecretary of defense policy after one brief conversation. Rumsfeld aides theorize that another roadblock to his success was that he got lost in the vast national-security bureaucracy. He refused to detail Pentagon personnel to the National Security Council, where they could have worked alongside transfers from State and the CIA, because he didn't want to give away "free" DoD manpower. And he sometimes punted on making decisions. His previous tour as defense secretary, under Gerald Ford, had been in the era of the IBM Selectric typewriter, when staffers produced enough "option papers" to fill a forest. He returned in the age of the Power-Point presentation, which narrows every problem to a single solution. "He was big on options," says one longtime staffer. "He would say, 'I'm not an action officer.' He never wanted staff to bring him a problem without options."
Aides recall that a year of Rumsfeld's tenure was spent bickering over who should have responsibility for three "go-do's" after a June 2005 PowerPoint briefing for the president. The State Department wanted shared responsibility, with the National Counterterrorism Center dividing the go-do's into 520 tasks and spreading them around the government. Rumsfeld balked. He wanted clear lines of responsibility, firing back memos arguing that the president should know exactly who was in charge of what. For months, as the insurgency gained ground and U.S. troops were under siege, the various agencies squabbled over accountability and Vonnegut-worthy phrases like "blended leads." At one point Rumsfeld walked out of a principals' meeting chaired by the NSC adviser because he wanted his exit on the record. "In frustration, he just tuned out at some point," says a former Reagan defense official. "It was as if he had decided that he was not going to spend his days arguing." Within a few months, Rumsfeld's exit was permanent.
It's easy to forget that things went wrong for him not after Iraq but almost from the moment he stepped into the Pentagon in 2001. Unnamed senior White House aides questioned his "toughness," front-page stories in The New York Times and The Washington Post excoriated his management style, and top military commanders were said to loathe him. On Sept. 10 Rumsfeld went to the National Press Club to declare "war" on the Pentagon bureaucracy. "I want to liberate [the Pentagon]," he said. "We need to save it from itself." The speech also briefly mentioned new global threats, "many of which are impossible even to know today." The next day, just before 9:38 a.m., one of those threats slammed into the side of Rumsfeld's Pentagon. The secretary was in his office when he felt the sickening jolt and heard the explosion. He bolted from the room, ran toward the smoke, and started lifting the wounded onto stretchers. Then he returned to his smoke-filled office to "figure out what we do about it." Suddenly Don Rumsfeld was a hero.
He did succeed in having a major impact on transforming the U.S. military, and even now, some of his 2001 proposals to make the Pentagon more efficient are echoed by Secretary Robert Gates. At DoD, Rumsfeld reorganized the command structure, established training for international peacekeepers, and revitalized Special Operations. It's ironic that one of his main accomplishments in the summer of 2001 was his success in arm-twisting the Joint Chiefs of Staff to abandon their doctrine of being able to fight two simultaneous wars. Because, by the spring of 2003, that's just what the U.S. military and Don Rumsfeld were doing. Baghdad fell in 21 days, and, after the initial celebration, the city quickly turned lawless. A number of top deputies and advisers to the secretary now concede that the United States' failure to stop the looting of weapons, consumer goods, and even Saddam Hussein's palace furniture was where things started to go wrong. In his memoir, Rumsfeld spends pages rebutting the story of extensive looting at the Baghdad Museum and offers his own defense: Tommy Franks had bigger priorities, Iraq is the size of California, many of the news reports were overblown—although he does regret saying "Stuff happens." There is one brief mention of CentCom plans "to institute martial law if the commanders thought it necessary," but no explanation as to why they never did.
And yet detractors and supporters alike say that on a personal level Don Rumsfeld is warm, funny, and generous. He is not a petty gossip, like Henry Kissinger. He's a voracious reader who can talk for hours about current events and history. He dotes on friends' children, which carries particular poignancy given that two of his own kids have struggled with drug addiction. A former Eagle Scout who is passionate about public service, he is also utterly unpretentious. Even when he was secretary of defense, dinner guests could find themselves helping do dishes in the Rumsfelds' homey blue-and-green kitchen. "Don Rumsfeld is an intelligent, complex person," says Feith. "There are things he would be proud of and things he feels some frustrations for." Will any of this matter? Perhaps not. History is invariably written by the winners, and try as he might, ultimate victory will be hard for Don Rumsfeld to claim.
null