World AIDS Day 2019: How Close Is the U.S. to Eradicating Its HIV Epidemic?
With about 1.1 million Americans living with HIV and no outright cure on the horizon, is the United States anywhere close to eradicating the virus?
The answer, nationally, is no. But the state of affairs varies so widely across regions and population demographics that where some communities see a crisis, others may be ready to proclaim victory.
World AIDS Day was established to encourage exploration of questions like this, according to National AIDS Trust. Since 1988, United Nations member countries have observed the event annually on December 1 as a day of remembrance for those who have died from the virus, and an occasion to spread the word on prevention efforts.
In light of the date, U.S. federal health wings re-circulated their ambitious plan to put a stop to new HIV infections in the next 10 years. "Now is the time to end the H.I.V. epidemic in the United States," said Alex Azar, Secretary of the U.S. Department of Health and Human Services, in an HHS video released Friday that featured several interviews with federal health officials.
"We can say that with some confidence," added Anthony Fauci, director of the National Institute of Allergy and Infectious Disease in the National Institutes of Health (NIH).
To accomplish this goal, local and federal agencies will have to address concerns specific to infection rates among men who have sex with other men as well as heterosexual black women, demographics that continue to be impacted by the disease at disproportionate rates, according to the Centers for Disease Control and Prevention (CDC). Notably, the White House strategy makes only one mention of these groups.
First announced in President Donald Trump's State of The Union address in February, the 10-year plan represents a coordinated effort between HHS, the CDC, NIH, Health Resources and Services Administration, Indian Health Service and Substance Abuse and Mental Health Services Administration.
It aims to reduce new HIV infections by 75 percent in five years and 90 percent in 10 years through providing "evidence-based prevention services" like safe syringe programs and data surveillance to keep tabs on at-risk areas, once funded.
In March, President Trump proposed $291 million in next year's HHS budget to set the plan in motion, according to HHS.
Since the height of the epidemic in the mid-1980s, new HIV infections in the U.S. have been reduced by more than two thirds, according to the CDC, from about 130,000 in 1985 to approximately 50,000 in 2010. Since 2010, however, infection rates have plateaued, driven primarily by new infections in just 48 U.S. counties, according to the Trump administration.
New HIV diagnoses declined only slightly, by 8 percent, between 2010 and 2015, according to the Kaiser Family Foundation. At present, approximately 165,000 people in the U.S. are infected but are not aware they have HIV, and more than 38,000 became newly infected in 2016, according to the CDC.
While infection rates among many vulnerable populations—such as intravenous drug users—have fallen in recent years, infection rates among gay and bisexual black men have held steady, while new infections among gay and bisexual Latino men have spiked.
In 2017, sexual contact between black men led to 9,807 HIV diagnoses, compared to 7,436 among Hispanic or Latino men and 6,982 among white men, according to the CDC.
While infection rates have declined among heterosexual black women according to CDC estimates, they are still infected more often than people who inject drugs, heterosexual black men and heterosexual white women. About 4,000 new diagnoses among black women arise each year from heterosexual contact, compared to 999 among white women.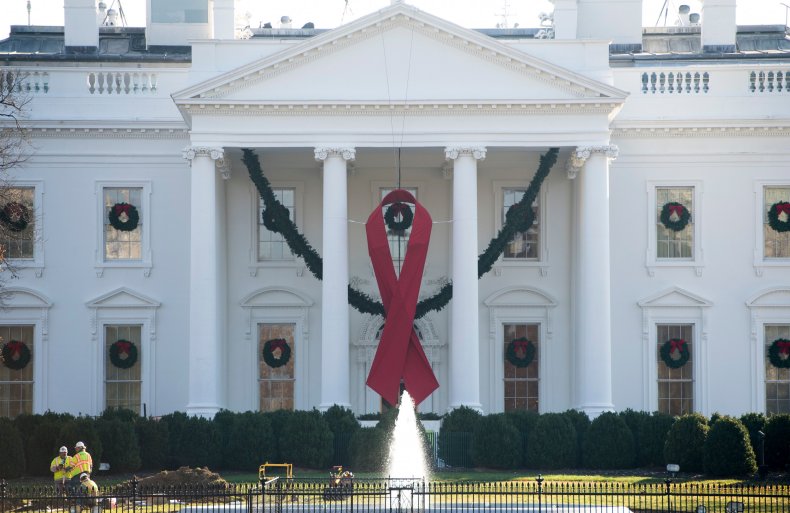 The most vulnerable age group is between 25 and 34 years old, according to the CDC data. They experienced 13,433 new HIV diagnoses in 2017, which is 60 percent more than the next most vulnerable group, 13 to 24-year-olds.
While progress in combatting the spread of the virus has been uneven, the death rate from AIDS has dropped by more than 80 percent since its peak. In 2016, about 6,000 people died from HIV-related complications, according to Kaiser, compared to nearly 51,000 in 1995.
Antiretroviral therapy has allowed people with HIV to live longer and healthier, without passing along the virus to other people, but its brand-name treatments usually cost between $1,000 and $3,000 for just 30 or 60 tablets, according to Healthline, though many qualify for insurance or federal assistance programs.
Pre-exposure prophylaxis (PrEP), or the use of HIV drugs to prevent infection, has been shown to be effective—but less than one in four Americans are using it, according to the CDC.
That's largely due to its cost: about $20,000 per year, offered exclusively by Gilead Sciences. Earlier this month, the Trump administration sued the company for infringing on HHS patents that it says inspired Gilead's PrEP delivery. In May, the company agreed to donate medication for up to 200,000 people for 11 years in response to criticism that the high price of the drugs made treatment inaccessible.
World AIDS Day 2019: How Close Is the U.S. to Eradicating Its HIV Epidemic? | Health