World Breastfeeding Week 2019: Can Moms Have Wine, Claritin and Caffeine? Facts and Myths About Breastfeeding
For the first seven days of August 2019, people around the world will be celebrating and honoring World Breastfeeding Week.
Organized by the World Alliance for Breastfeeding Action (WABA), the week calls on parents, the general public and employees to empower people who are breastfeeding.
"Breastfeeding reduces maternal and child morbidity and mortality," says a news release from the organization. "Not breastfeeding results in economic losses of about $302 billion annually. It is evident that breastfeeding is one of the best investments in saving lives and improving the health, social and economic development of individuals and nations."
However, the subject of breastfeeding itself can be controversial. The American Academy of Pediatrics (AAP) recommends breastfeeding for at "least 12 months," with most infants only drinking breastmilk for the first six months. But according to the Centers for Disease Control and Prevention's report Breastfeeding Report Card 2018, among the 83 percent of infants born in 2015 in the U.S. who started breastfeeding, only around half (57 percent) were breastfeeding at six months, and just over one-third at 12 months.

"High breastfeeding initiation rates show that most mothers in the U.S. want to breastfeed and start out doing so," says the report. "However, despite the recommendation to breastfeed exclusively for about the first six months, less than 50 percent of infants were exclusively breastfed through three months and about 25 percent were exclusively breastfed through six months.
"These rates suggest that mothers may not be getting the support they need from healthcare providers, family members, and employers to meet their breastfeeding goals," it concluded. Globally, the trend is not much different. Despite international recommendations, only 40 percent of all babies under six months are exclusively breastfed, according to WABA.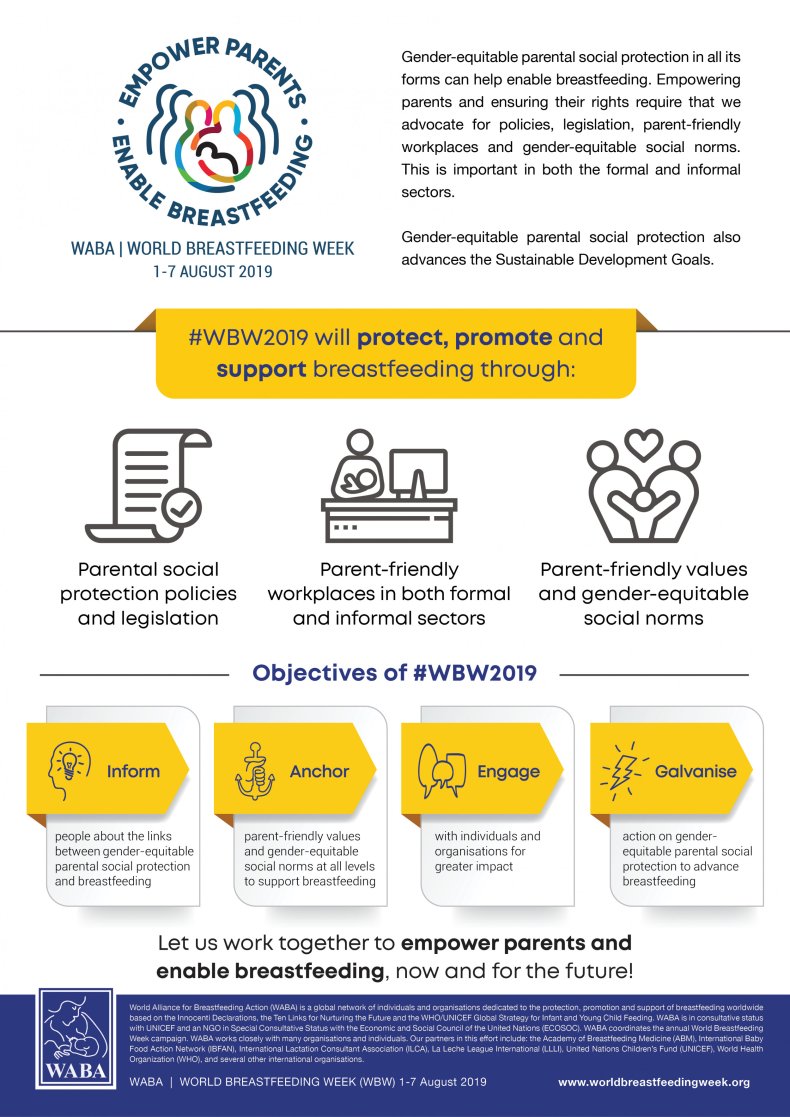 Breastfeeding is a choice made by the mother, and while there are always some that do not wish to do so, there seems to be a gap for supporting new moms who want to feed their baby. WABA comments in his release that "inequalities such as gender discrimination and lack of support for parents at work" are one of the main barriers to breastfeeding, with "more than 830 million women workers not having adequate maternity protection."
In the U.S., women also struggle as they can only receive 12 weeks of unpaid maternity leave. Other nations offer as much as a year of paid maternity leave, allowing women to be at home and bond with their newborns.
There is also a lot of uncertainty when it comes to breastfeeding, especially if you're a new mom needing to take in a lot of new information. The first months of looking after a newborn can range from boring to hellish and breastfeeding, while rewarding for some, can cause a lot of anxiety.
In honor of World Breastfeeding Week, Newsweek has compiled a list of some of the potential myths around breastfeeding and asked the experts what is fact and what is pump fiction.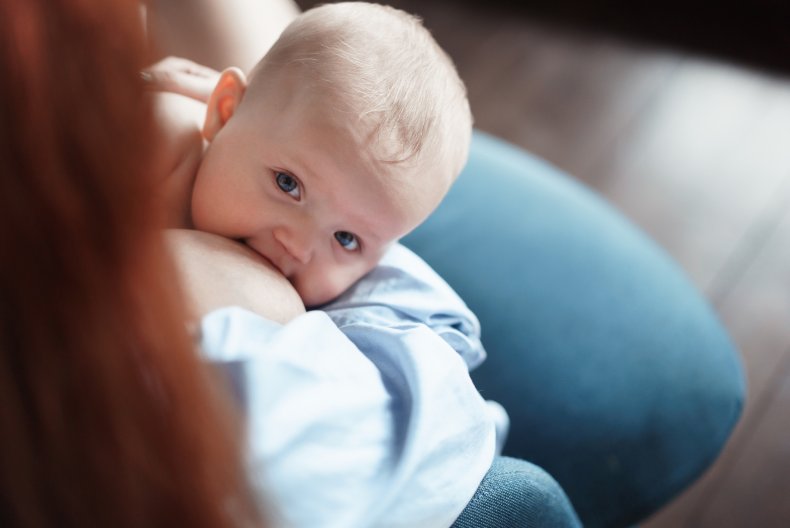 Can I drink coffee, wine or smoke if I breastfeed?
See also "can I eat cheese? "A lot like pregnancy itself, there are a lot of things women are told they can't do. For example, you're not supposed to eat oysters when you're pregnant (which, oops, this reporter did/)
According to the Office of Women's Health, if you smoke the best thing you can do "for yourself and your baby is to quit as soon as possible." But if quitting isn't an option, the organization recommends that it is still better to breastfeed because "it may protect your baby from respiratory problems and SIDS."
"Be sure to smoke away from your baby, and change your clothes to keep your baby away from the chemicals smoking leaves behind," it advises.
In terms of drinking alcohol, while the APP doesn't say you can't or shouldn't drink wine, it does say to "avoid alcohol in large amounts." If you do have a glass or two, the recommendation is to wait two hours or more before nursing. "You also can pump milk beforehand," it concludes.
If you're worried about missing out on your cup of Morning Joe, don't panic. According to La Leche League, new moms can drink "up to 300 mg of caffeine, or about two to three cups of coffee," which is considered safe for breastfeeding mothers.
Can I take Claritin, cold medicine or ibuprofen while breastfeeding?
According to the Office of Women's Health, almost all medicines pass into your milk in "small amounts," with some having no effect on the baby and can be used while breastfeeding. Of course, it is always worth speaking to your doctor or pharmacist about any medicines you are using and ask before starting to use new ones. This includes prescription and over-the-counter drugs, vitamins, and dietary or herbal supplements.
Can I use cannabis while breastfeeding?
According to LactMed's summary on cannabis, because of insufficient long-term data, health professionals' opinions on the acceptability of breastfeeding by cannabis-using mothers varies. Generally, professional guidelines recommend that cannabis use should be avoided by nursing mothers. LactMed also states that paternal cannabis use may also increase the risk of SIDS in breastfed infants and that it shouldn't be used by anyone near the baby due to the inhalation of smoke.
However, the summary also cites research that doesn't find any particular issues with cannabis use. "27 mothers reported smoking marijuana during breastfeeding," it states. "Six of their infants were compared at one year of age to the infants of mothers who did not smoke marijuana during pregnancy or breastfeeding. No differences were found in growth, or on mental and motor development."
In conclusion, is not clear what the effects are when taking cannabis while breastfeeding. What is clear is that the smoke from others using the drug is still dangerous for babies.
Do I burn calories while breastfeeding?
The U.S. Department of Health and Human Services states that breastfeeding can help with weight loss if new mothers do not take extra calories on board.
The Dietary Guidelines for Americans for caloric intake for all women 19 to 50 years old are based on activity level, and range from 1,800 to 2,400 calories per day. The increased caloric need for women who are breastfeeding is about 450 to 500 calories per day.
However, it does recommend that those on vegan diets or other special diets, or those with certain health conditions, should seek advice about taking a supplement of docosahexaenoic acid (DHA) in addition to multivitamins to ensure complete nutrition for breastfeeding.
You can learn more about nutritional needs during breastfeeding at ChooseMyPlate.gov. or the U.S. Department of Agriculture's (USDA's) My Plate Daily Checklist for Moms.