World Central Kitchen Chef Vows to Continue Meals Despite Russian Attack
The World Central Kitchen will continue its mission of feeding Ukrainians affected by the Russian invasion, despite one of its locations recently being hit by a missile strike.
Jose Andres, a celebrity chef and founder of the World Central Kitchen non-profit, confirmed during a Monday appearance on MSNBC that his organization would continue operations in Ukraine despite the recent hardships. The current plan is to relocate the Yaposhka's kitchen equipment to another site in the city of Kharkiv, Mediaite reported.
"Those men and women, they have the very big willingness to say nothing is going to stop us. We are going to start cooking as soon as we can," Andres told host Andrea Mitchell. "But again, we were not hit directly. It was a very big missile that hit the building across, and because the missile was so powerful the destruction was massive."
Originally from Spain, Andres is a Michelin two-star chef who operates numerous restaurants across the U.S., including in New York City, Los Angeles, Las Vegas and Washington, D.C. This is in addition to the work he does through the World Central Kitchen, which he founded in 2010 to feed those affected by natural disasters. Andres received a National Humanities Medal in 2015 for his work.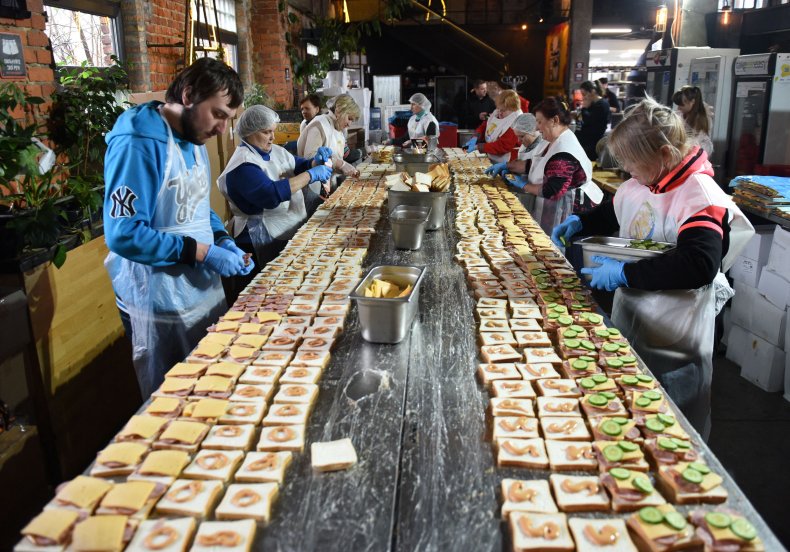 World Central Kitchen, Andres explained, has established roughly 400 sites to help feed refugees impacted by the invasion. Most are located in Ukraine, with some set up in neighboring nations. He pledged that his non-profit will continue providing food for as long as it takes for the country to go "back to normal" in the wake of the recent conflict.
In a statement forwarded to Newsweek on Tuesday, World Central Kitchen said that it plans to relocate the staff from the previous site to a new one on Wednesday.
"Tomorrow, after picking through the kitchen equipment and relocating to a new location, Yaposhka and their staff will be cooking once more and dreaming with us of a better tomorrow," the statement read. "The bravery shown by WCK's restaurant partners is truly incredible—even under attack these individuals are focused on providing critical support to vulnerable communities."
During his MSNBC appearance, Andres expressed sympathy for those killed in the missile strike, which he noted was not primarily targeting the kitchen. No volunteers working for World Central Kitchen were killed in the blast, though four were injured.
"We have thousands of people working with us. We are doing 320,000 meals a day, already reaching 12 million meals," he added. "We have been bringing into and distributing inside Ukraine over 7 million pounds of food."
At least seven people were killed in the Kharkiv missile strikes over the weekend, with an additional 12 injured, including World Central Kitchen volunteers. While the specific targets of the strikes are unknown, the Ukrainian government reported that markets, stores and apartment complexes were hit, causing some to catch fire, according to The Week.
Update 4/19/22, 9:58 a.m. ET: This story has been updated with additional information and background.