World Central Kitchen Shares Huge Operation to Feed Ukrainian Refugees
"I'm gonna be here for a while. I'm in Poland," chef Marc Murphy said in a Twitter video while stirring a giant metal pot filled with beef soup. Murphy is one of many volunteers with World Central Kitchen (WCK) preparing food each day for Ukrainians fleeing the war in their homeland.
Nearly 3 million people have now fled Ukraine, according to the United Nations (U.N.). Upon leaving their homes, all of them will need clothing, shelter, health care and, most essentially, food. The day after Russia invaded Ukraine, WCK, a not-for-profit providing meals to disaster survivors, arrived in Ukraine to feed refugees and quickly partnered with Ukrainian restaurants, chefs and volunteers from around the world to begin serving food at hundreds of locations across 12 Ukrainian cities.
As of 14 March, WCK says it has served over 1 million meals to refugees crossing the border into Poland, Hungary, Romania, Moldova and Slovakia. The group is also working with over 110 suppliers in 58 cities to provide hot meals and deliver bulk food product— including produce and dry goods—to refugee centers, The Independent reported.
Ukrainian refugees can spend days traveling before reaching a safe place. Many possess only what they can carry: some clothes, perhaps a phone, personal documents, keepsakes, a house pet and a little food and money, according to the humanitarian aid organization Mercy Corps.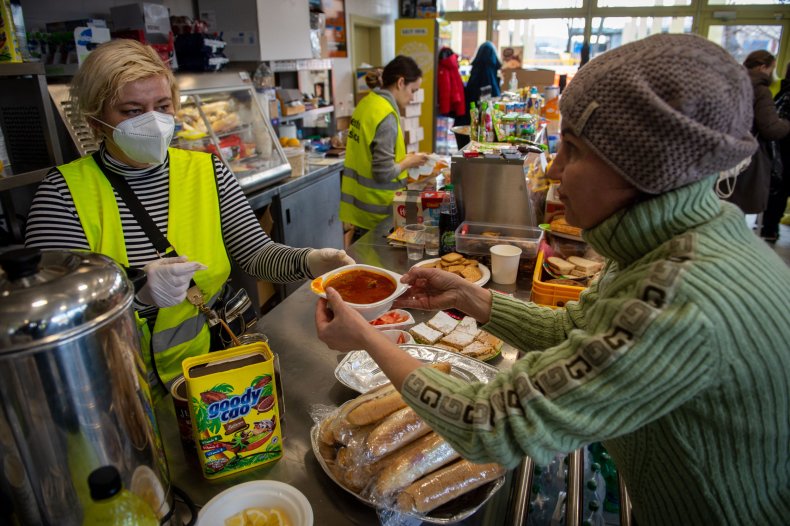 Because regional temperatures have varied between a cold 40 degrees and 10 degrees below zero Fahrenheit, WCK founder chef José Andrés told The Independent that his organization has been focusing on hot, comforting traditional dishes. Such dishes include bograch soup, a goulash with potatoes, onions, carrots and beef; and also Żurek, a traditional Polish soup with white sausage, smoked meat and sour fermented rye flour.
Inside of Ukraine, WCK has set up tents at two railway stations in Lviv, a western city about 47 miles outside of the Polish border. There, WCK workers feed people from all over Ukraine who arrive day and night by train.
In a recent Twitter video, WCK CEO Nate Mook showed a WCK railway station tent serving hot meals, coffee, tea sandwiches and baked items. Nearby, he pointed out an area where buses take refugees to a registration center where they are assigned to temporary or long-stay shelters.
The influx of refugees is "a rapidly changing, evolving situation," Mook said in an interview with the U.S. food website Civil Eats. At one shelter, the number of meals provided by WCK quickly jumped from 50 to 800 a day, and is now at 15,000.
"Even if the families have money—which is a real challenge because bank account access is very difficult—it's not like they can eat out or buy groceries because they have nowhere to prepare any food," Mook said.
He also pointed out that border shutdowns could easily affect food availability. To help comfort the refugees, he noted that WCK's volunteer chefs take requests of people's favorite meals.
Both Mook and Andrés have said that one of the most difficult things to witness has been "the many, many goodbyes of fathers and their families." Ukrainian men between ages 18 and 60 are forbidden by their government from leaving the country, as they're expected to assist in fighting the Russians. As a result, most of the people fed by WCK have been women and children.
"It breaks your heart again every time," Andrés told The Independent. "The men are doing something brave and noble for their country, but to see them leaving their families—as a father, I cannot imagine. It brings tears to my eyes."
In a February 24 video, Andrés announced that he would donate between $5-10 million to local chefs and organizations across Poland who were already helping feed refugees. Some of the money came from a $100 million "Courage and Civility Award" that Amazon founder Jeff Bezos gave Andrés in mid-2021.
"Here is a fight and we're going to make sure that nobody's going hungry and they're shown the respect that they deserve," Andrés said in the video. "We need to be a force of good. And you know how we do this? By believing in longer tables. Not to start bombing. Food at the center of communities—this is how we will create a better world."
Newsweek contacted World Central Kitchen for comment.