World Cup 2018: Did Neymar's Diving Cost Brazil Victory Over Belgium?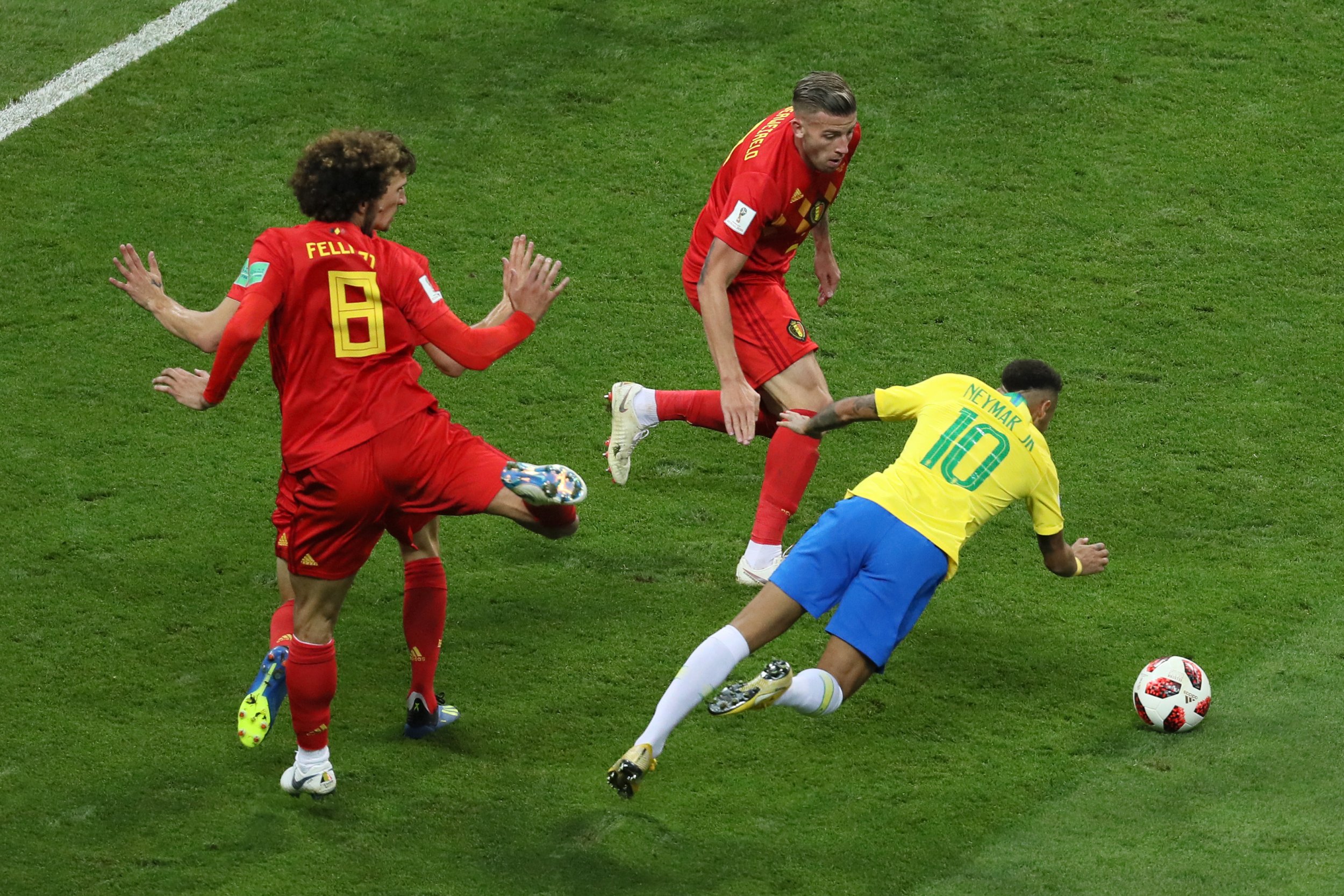 Five-time winner Brazil crashed out of the 2018 World Cup at the quarterfinal stage to Belgium Friday, leaving the tournament favorite to join the long list of heavyweight casualties. And for Neymar, one of the world's best players, it means his World Cup is likely to be remembered not for his immense skill but for his propensity for making the most of any contact that came his way from opposition defenders.
Since Brazil's defeat of Mexico in the Round of 16 on Monday, memes of Neymar rolling around on the pitch have dominated social media, leaving the Brazil camp and its star to go on the defensive over his histrionics. There was evidence in Friday's encounter with Belgium that the officials were all too aware of Neymar's reputation, as well.
Just prior to halftime, the world's most expensive player went down under a challenge from Belgium defender Thomas Meunier. It appeared there might at least be a good case for a penalty. The referee, though, was unimpressed.
Worse was to come. On three occasions in the second half, Brazilian players went down in the Belgium penalty area appealing for a penalty, only for the referee, and the video assistant referees watching in Moscow, to be unmoved.
Most notably, Belgian central defender Vincent Kompany lunged in on Neymar's fellow forward Gabriel Jesus, taking him to the turf and getting nowhere near the ball. Replays provided an overwhelming case for a penalty, and that seemed to be on the cards when VAR appeared to be checking the decision. Instead, play went on.
Perhaps playing into the officials' minds was what transpired just a few minutes earlier. Darting into the Belgium box from the left, Neymar went tumbling to the ground under the slightest of contact from Marouane Fellaini. On that occasion, the Paris Saint-Germain star was lucky to avoid receiving a yellow card.
But if Neymar avoided personal punishment for his actions, his team may not have been so fortunate. One final desperate appeal was still to come. In injury time, with Brazil having reduced its deficit to 2-1, Neymar got a finger brushed against his eye from a Belgium defender and screamed for a penalty. But, as so often in the World Cup, his appeals earned him only scorn and derision from the millions watching around the globe—at least outside of Brazil.