World Cup 2018: Spain Was One of the Favorites—Then They Fired Their Coach the Day Before the Tournament
It's nearly unthinkable to fire your coach the day before the World Cup. Imagine building toward this massive event for four years then—boom—you sack the leader of the squad right before the first match. But that's exactly what Spain has done by firing manager Julen Lopetegui on Wednesday, the day before the massively important tournament was scheduled to kick-off in Russia.
The country's soccer federation said it had to let Lopetegui go after it was announced he had agreed to become manager of Real Madrid—a top club in Spain—following the World Cup. Fernando Hierro, Spain's sporting director, will step in as manager at the eleventh hour.
"We have been obliged to fire the national coach," Spanish federation president Luis Rubiales said, according to ESPN. "We wish him the best, he has done an excellent job in getting us to the tournament. But the federation cannot be left outside the negotiation of one of its employees, and find out just five minutes before a public announcement. If anybody wants to talk to one of our employees, they have to speak to us too, that is basic, as this is the team of all Spaniards. The national team is the most important we have, the World Cup is the biggest of all."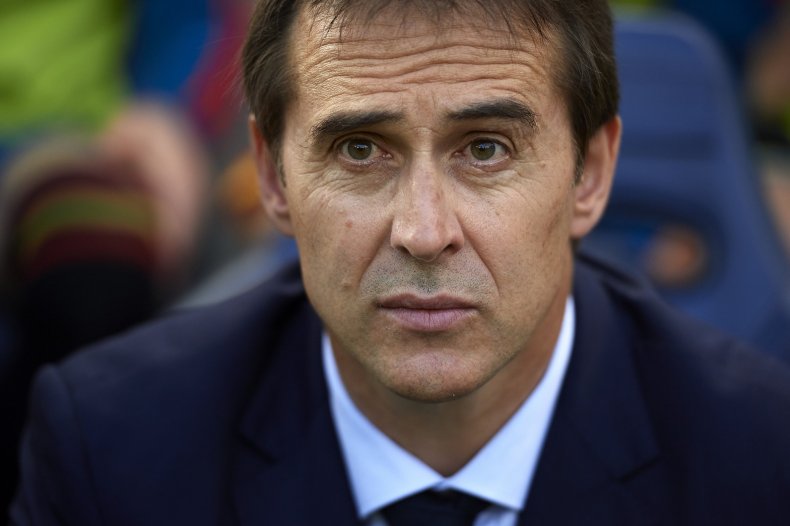 Rubiales added, via ESPN: "All this is a big blow, but we are training again this afternoon, will stick together and move forward. The players are very focused and they have told me they are fully committed, and will give 100 percent."
Star Spanish player Sergio Ramos, who reportedly supported Lopetegui staying on as manager, responded to the news with a similar comment. "We are the National Team, we represent a shield, colors, fans and a nation," he tweeted. "The responsibility and the commitment are with you and for you. Yesterday, today and tomorrow, together. #VamosEspaña."
Lopetegui had a sterling tenure leading Spain. The squad never lost since he took over for Vicente del Bosque in 2016. The team won 14 games and tied 6.
Spain is a soccer powerhouse and was considered one of the favorites heading into the tournament. The nation won the World Cup in 2010.