World Cup Fan Who Kissed and Groped Female Reporter on Air Apologizes
A Russian soccer fan who caused a public outcry when he grabbed and kissed a reporter during her broadcast has apologized to the journalist on air.
The incident, which took place on the opening day of the World Cup last week, triggered an outpouring of sympathy for Julieth González Therán, who was broadcasting from Moscow when a local fan jumped into frame, appeared to grab her by the chest, kissed her on the cheek and left before her segment finished.
The clip of the encounter received much attention online after German broadcaster Deutsche Welle posted it on social media and provoked other female media personalities to speak about harassment in the world of sports. The male fan has now come forward and issued an apology to the reporter via Skype, confessing he did wait until the cameras were on to jump into frame, when he tried to grab her by the shoulder, kiss her and run.
"I offer you most profound apologies," the fan, who identified himself as Ruslan, said in a video call with González from Deutsche Welle's studio in Moscow. "I acted coarsely and did not think that I will cause you confusion and shock.
"Once again I apologize," he said, "I know your job is very hard, and I hope that you will never face another such incident in your career. I'm really sorry."
Related: Russian women warned to reject foreigners who want to sleep with them during World Cup
Although Ruslan told DW journalists that he felt his actions were "misinterpreted," González accepted the man's apology, saying she wanted to "close this chapter" and enjoy the World Cup, wishing him the best.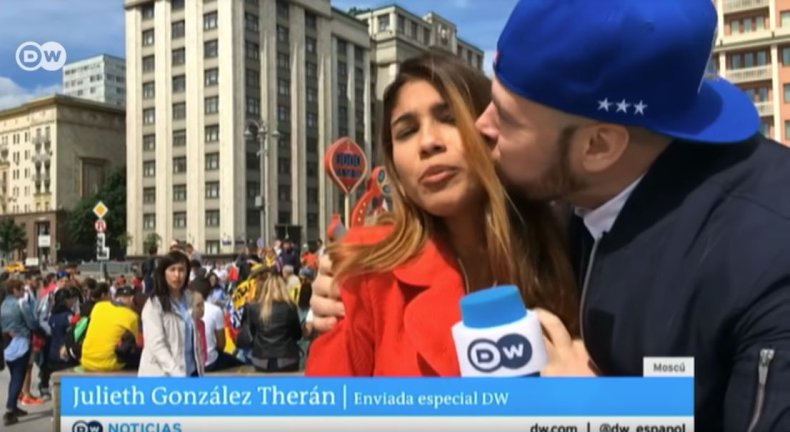 The televised apology has provided a rare example in Russia of a public shaming and repentance for sexual harassment in the workplace, as a legal equivalent of the offense does not exist. Accusers are often not believed, as exemplified by recent public allegations by female journalists against a powerful lawmaker.
The speaker of Russia's parliament Vyacheslav Volodin advised journalists who fear they are in danger of being forcibly kissed or attacked in parliament to find new jobs, while other parliamentary officials dismissed the allegations or the prospect that sexual harassment is a pressing problem at all.
"Nobody ever harassed me," Raisa Karmazina, a lawmaker on the Ethics Commission, said after the commission ruled against the accusers, reportedly mispronouncing the word for the offense. "I was 300 times more beautiful than them, and I was not any stupider either. I have been working for 50 years. It will be 49 years of service on July 1, since I was aged 18, and nobody harassed me."
Karmazina's colleague, Tamara Pletnyova, who heads the committee on women's rights agreed with her at the time, suggesting women should not report sexual harassment and dress conservatively if they fear it.