FIFA World Cup Winners: Every Men's Champion In Tournament History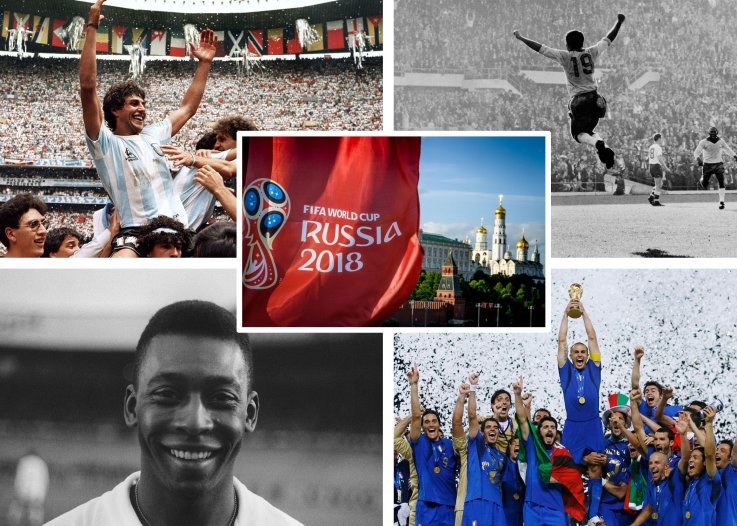 Hands down, the World Cup is the biggest sporting event in the world. Yes, it's bigger than the Super Bowl, and the World Series, even the Olympics. Over one billion viewers tuned in to watch the final match of the 2014 World Cup. Just the final match. We're talking one game. That's a lot of eyeballs. But interest in the World Cup isn't anything new—it's been that way since the first games, way back in 1930.
The very first games were played in Uruguay in July of 1930. Thirteen teams competed in the first games, which drew hundreds of thousands of spectators. Since then, the games have been played every four years, with the exception of 1942 and 1946 due to the Second World War.
The winning team is awarded a trophy made of 18-carat gold, weighing 13 pounds. "The lines spring out from the base, rising in spirals, stretching out to receive the world," said Silvio Gazzaniga, the Italian designer behind the trophy. "From the remarkable dynamic tensions of the compact body of the sculpture rise the figures of two athletes at the stirring moment of victory."
Fun fact: the winning teams only temporarily get to keep the solid-gold trophy. After the post-match celebration is over (i.e. when the cameras go away), the solid-gold trophy is replaced with a gold-plated replica.
Another surprising fact is that one of the most attended World Cup games ever was the 1994 games in the United States, a country where football (or soccer, as it's known in the U.S.) isn't particularly popular. More than 3.5 million people attended the matches, held across the country.
So who are the champions of the all the World Cups? Where were they held? And how did Italian dictator Benito Mussolini potentially rig one of the games? Don't worry, we got it all covered for you, and then some. Here is every winner of the FIFA World Cup.