World Cup: Qatar Goes to Penalties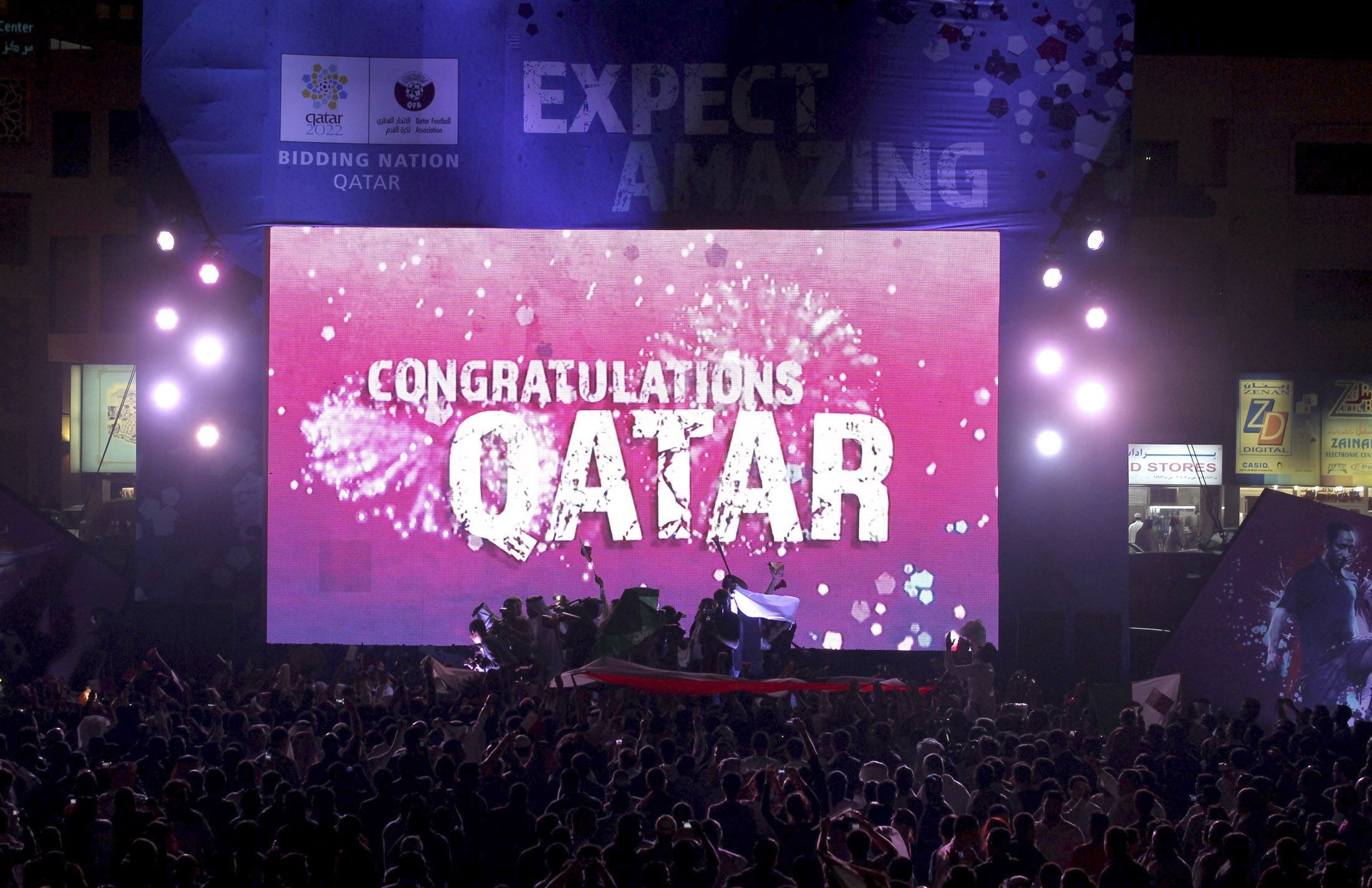 Reports that the bidding process for the 2022 soccer World Cup has been tainted by bribery have directed an unwanted spotlight onto the tiny Arab kingdom of Qatar, a peninsula in the Persian Gulf that was awarded the lucrative contest.
A former Qatari soccer official, Mohamed Bin Hammam, stands accused of paying out $5 million in bribes in exchange for votes from members of soccer's governing body Fifa to site the 2022 contest in Qatar -- despite the fact that in summer, when the knockout competition takes place every four years, the desert country's average daytime temperature rarely reaches lower than 106 degrees F -- and can exceed 114 degrees F in the noonday sun.
Qatar insists it is guilty of no wrongdoing and that Bin Hammam "played no official or unofficial role in the bid committee." But as questions about the legitimacy of the 2022 Cup decision continue to be asked, the more general riddle of Qatar remains.
There is no mystery about how Qatar became the richest country in the world per capita. It is a modern fairy tale, as fabulous as anything in the Arabian Knights.
At the start of the 20th century, it was doing well, with a modest pearling industry. Not rich, but comfortable. But by the 1930s, it was on its knees, overwhelmed by competition from Japan. Qataris emigrated in droves. Then Qatar struck oil.
What is mysterious about this absolute monarchy, run by the same family since the 19th century, is where its political loyalties lie. With moderate Islam? Or with Islamism?
Even seasoned observers of the Middle East struggle to decipher Qatar's foreign policy. There is a large U.S. military base in Qatar and American G.I.s shop in Doha, the Qatari capital. But if Qatar is a friend to America, it is not an uncritical ally. It cultivates other friendships or likes to play a mediating role. Last month, when an American hostage in Afghanistan was released in exchange for Taliban prisoners, it was Qatar that brokered the deal.
While the emirate has been a moderating force in the region, and a key player in the Arab Spring, it has also ruffled feathers. Its most controversial stance – alarming the White House and infuriating its Arab neighbours – is its continued support of the Muslim Brotherhood in Egypt. Tirades against the coup which toppled President Morsi are regularly aired on the Qatari-owned Al-Jazeera TV news channel.
"Qatar is a small country with a larger neighbour in Saudi Arabia," says Jane Kinninmont, deputy head of the Middle East and North Africa Programme at Chatham House. "It wants to do its own thing, not to be pushed around. Its support for the Brotherhood reflects its preference for Islamist parties rather than military dictators, as demonstrated in Libya. But it is in danger of over-reaching itself and giving succour to extremists, particularly in Syria."
The present Emir, Tamim bin Hamad Al Thani, took over from his father in 2013. He is 34. Educated in Britain - at private schools Sherborne and Harrow followed by the the British Army college, Sandhurst - his resume is more British establishment than Islamic fundamentalist
But Qatar's foreign policy remains opaque. It is supportive of Islamists, from Hamas and Hezbollah to rebel groups in Syria. But how much money it channels to which groups and where it draws the line is murky. "The average Qatari male of the Emir's generation is more interested in football than foreign policy," says Kinninmont. "But because decisions are made by a small group of people and there is no published foreign policy or parliamentary scrutiny, outsiders get suspicious."
On the domestic front, hopes that the Emir might prove less conservative than his father have proved premature. He has introduced stricter laws on smoking in public but has not thrown his weight about. His public appearances are low-key, with a modest entourage. Ostentatious displays of wealth are frowned on in Muslim Qatar. The millionaires might have Ferraris in their garages, but they drive nothing flashier than a Land Cruiser on the streets.
To the casual visitor, Qatar is a curious place, paradox piled upon paradox. In summer, the pace of life is snail-like because of the extreme heat. At the same time, there is a colossal feeling of energy: new schools, new hospitals, new transport systems, new luxury villages, and new football stadiums ahead of the World Cup in eight years' time.
Doha is one big building site, although you can glimpse what the city will look like in 10 years when the main infrastructure projects have been completed. The skyline is easier on the eye than Dubai – more Manhattan than Las Vegas – and there are buildings that would grace any world city. Pride of place must go to the Museum of Islamic Arts which dominates the harbour and can be mentioned in the same breath as the Sydney Opera House.
But there are problems beneath the surface. Of the population of around two million, barely 300,000 are native Qataris, which creates a lopsided society. The working conditions of the poorer migrant workers, many of them Nepalese, have attracted worldwide criticism.
"You could almost compare it to apartheid, the way the rich and the poor are segregated," says one British expat, who asked not to be named.
At the same time, Qatar does not feel like a police state, where people who step out of line are pounced upon.
"There is more freedom of expression than anywhere else in the Middle East," says one Qatari local, talking off the record. "Grievances are aired at majlis, or traditional councils, rather than through attacks in the press. But most Qataris are satisfied with the system of complaints. They are a small population, so they feel they have access to power."
And that sense of power is growing exponentially, fueled by Qatar's vast, seemingly limitless earnings from oil and natural gas.
Whatever the outcome over the furor surrounding the 2022 World Cup bid, simply to have won the right to host one of the world's most important and high profile sports tournaments was an extraordinary coup for such a tiny country -- a soccer minnow which had never even competed at a World Cup.
Neighboring Saudi Arabia is a bastion of conservatism, with women forbidden to drive cars. Qatar seems relaxed, even liberal, in comparison. At the Villagio shopping mall, which apes Venice – canals, gondolas and all – casually attired Westerners mingle with men and women in traditional Arab dress.
And at the southern tip of Qatar, looking across to the mountains of Saudi Arabia, women in skimpy bikinis frolic in the water in a way that would not be tolerated on the other side of the bay.
"I lived in Iran after the revolution," says a British woman journalist who knows Doha well and asked not to be named. "Qatar is much more liberal in terms of basic freedoms, and the way women are treated, but is also quite schizophrenic. It wants to be internationalist while defending traditional Muslim values, which creates problems.
"Westerners can drink alcohol in the five-star hotels, but if you order a drink and don't look Western you will be challenged. One of the problems with Qatar is that too much power is concentrated in too few hands. Virtually every major institution has a member of the ruling family in a dominant role."
One of the biggest hitters in the family is the Emir's sister, Sheikha Al-Mayassa. As chair of the Qatar Museums Authority, she has overseen a spending spree on fine art – Qatar reportedly bought Cezanne's "The Card Players" for $250 million in 2011 – that has left the rest of the world playing catch up. She has also dabbled in investing in movies, though with mixed success. The Day of the Falcon (2011), produced by the Doha Film Institute, cost $55 million and was billed as Qatar's answer to David Lean's Lawrence of Arabia, but it did little business at the box office.
Amid all the brouhaha surrounding the circumstances surrounding Qatar winning the World Cup bid, it's easy to forget that, until 1971, the country was a British protectorate, with all the British manners and ethics that represents – a paradox not wasted on Qataris, who feel irritated that Britain is leading the campaign to have Qatar stripped of the 2022 soccer contest and the bidding process to start over.