World Cup Qatar to Be 'Moment of Pride' for Middle East: Nasser Al-Khater
Nasser Al-Khater, the chief executive of the 2022 FIFA World Cup in Qatar, said this year's event will present an opportunity to "reflect what the Middle East is really about" as the region prepares to embrace World Cup hosting duties for the first time.
"I think it's definitely a moment of pride for the Middle East," Al-Khater said during a recent episode of Newsweek's podcast The Diplomat. "Nobody is under any illusion that the perception of the Middle East isn't quite accurate, all over the world. And I think people see it as a real opportunity."
Podcast host Jason Greenblatt, the White House envoy to the Middle East during former President Donald Trump's administration, traveled to Doha, Qatar, to visit Stadium 974, one of eight venues players will compete in when the World Cup kicks off in November. While there, Greenblatt spoke with Al-Khater about the impact the World Cup is anticipated to have on Qatar and the Middle East at large.
Qatar first joined the bid to host the 2022 event in mid-2009. Russia was the most recent country to host the World Cup nearly four years ago in Moscow.
Al-Khater told Greenblatt that having a country in the Middle East host the World Cup was "a big plus for the international football community."
"I think genuinely we felt that it was time," he said.
Hosting this year's World Cup has sped up infrastructure projects in Qatar, with an estimated 95 percent of the roads that will be needed already completed, Al-Khater said. FIFA reported receiving about 17 million ticket requests by early February for World Cup events in Qatar, which has an estimated total population of just under 3 million people. Al-Khater said officials anticipate between 1.2 and 1.5 million fans will travel into the country to participate in the festivities during the weeks of competition.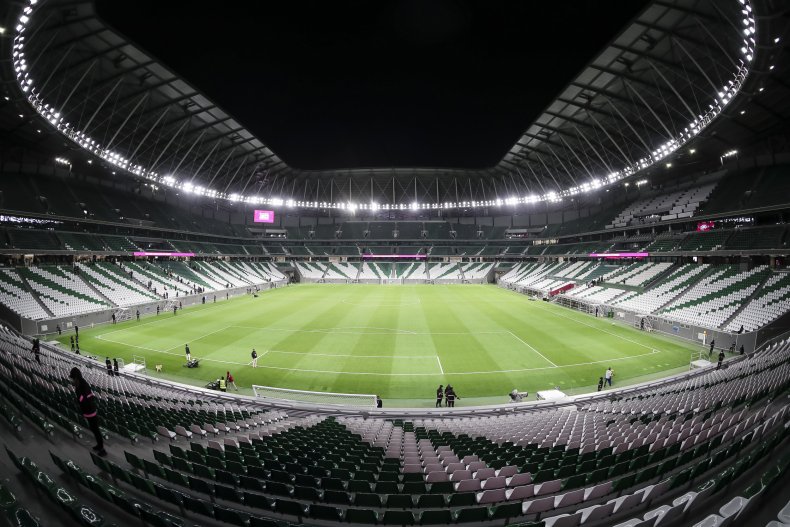 Among the projects taken on ahead of the World Cup was construction of Stadium 974, a venue named both for Qatar's international dialing code and the number of shipping containers used to put it together. Al-Khater described the stadium as "a favorite of many fans" and pointed to its unique ability to be deconstructed and reassembled in other locations.
"This was a pledge that we made to FIFA: The stadium will be reassembled in a country that needs to improve and develop their sporting infrastructure," Al-Khater said, though he added it would be "heartbreaking" to see the "beautiful" stadium leave after recent test events in Qatar.
With international fans expected to visit later this year, Greenblatt asked Al-Khatar who all will be welcome to make the journey. LGBTQ activists have raised concerns about Qatar's stance on sexuality, though officials have said Qatar will be welcoming and hospitable to visitors.
"We've made a pledge to FIFA and the international community that any fan that wants to come and attend the World Cup is welcome," Al-Khater. He pointed to recent surveys indicating that Doha in particular is among the safest cities in the world.
"We want to assure fans that Qatar is a very safe country," Al-Khater said. "And everybody that's going to be here, we give them a pledge that they will feel safe and secure."
Al-Khater told Greenblatt he is "confident" that the development that has gone into preparing Qatar for the World Cup will help boost tourism. Most fans will be staying close to the festivities, with museums, concerts, beaches, restaurants and other attractions also nearby.
"Get excited," Al-Khater said. "Whoever's team has qualified: Congratulations, we're looking forward to seeing you here. If your team is close to qualifying: Good luck. If your team hasn't qualified: Come here and join the fun."