A World Cup Away: Wounded Syrians Use Soccer to Heal as War Rages Around Them
As the world fixates on the World Cup final in Russia, a group of Syrians 2,000 miles away have come together to form their own soccer team in spite of severe injuries sustained during a seven-year civil war that has ravaged the country.
Syria's Omaya Sports Club was founded in 1972 but has since withdrawn from the country's professional soccer league due to the ongoing conflict between the government and insurgents that erupted in the wake of a 2011 uprising backed by the West, Turkey and Gulf Arab states. With Russian and Iranian support, Syria's armed forces have largely put down the rebellion in a campaign to restore the entire country under the control of Syrian President Bashar al-Assad and the northwestern province of Idlib is the last to be held by a mix of jihadi and rebel groups.
It is here that Mohammed Sheikh al-Haddadin, a.k.a. Abu Hassan, collaborated with the Omaya Sports Club in founding an amputee team to help rehabilitate Syrians injured in the pro-Syrian government campaign, which has included frequent Syrian and Russian airstrikes against urban centers. One victim-turned-athlete Mohammed "Abou Zakariya" Kerdash explained his story.
"I joined the team when it first formed about a year ago. Coach Sheikh al-Haddadin advised the young amputees to join the team to improve their physical abilities and lighten their depression, I was convinced I should join the team," Kerdash told Newsweek.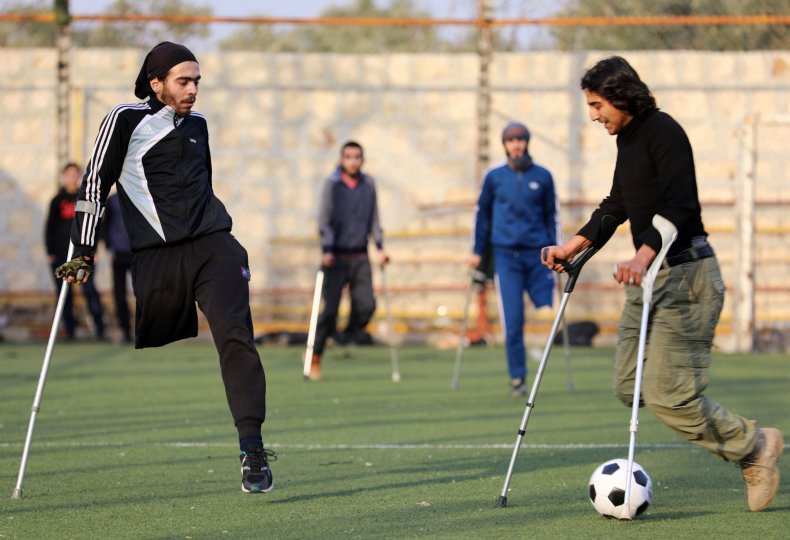 Kerdash is 37 years old and a native of Idlib. He said he was injured during a Syrian military airstrike in September 2016, leading to the amputation of his left arm. He signed up for the team as a goalkeeper—a position that predominantly requires the use of one's hands—for the same reason that many of those who lost their legs play on the field: to overcome the constraints associated with their disabilities.
"I gained a lot of benefits from the team, including strengthening my body's muscles—strengthening my right arm muscles has especially helped me in life," Kerdash added.
Related: U.S. Coalition Says It 'May Have' Launched Syria Strike That Killed Scores of Civilians, According to Monitor
As a physician, Abu Hassan said he knew those suffering physically and mentally from the war could benefit from being active on the pitch, which was set up by charity organization Shafak. Abu Hassan told Newsweek he was also inspired by one patient, Abdelqader al-Youssef, a young man from Homs whose right leg was amputated. Youssef was a rebel fighter who was injured while battling troops in 2015, according to Agence France-Presse. Abu Hassan presented the idea to other patients at his physiotherapy center and, while some were receptive to the idea right off the bat, others took some convincing.
The team was eventually able to gather up to 22 players but this number has since dropped due to circumstances that highlight the harsh realities of life in the insurgent bastion of Idlib. Abu Hassan said one of his players was killed by an explosive device, and two of his friends quit shortly after. The team is now comprised of 16 players, the youngest of whom is 15-year-old Ammar, who reportedly lost his leg after a Russian warplane struck as he played soccer in school. His brother drives him to the field and picks him up by motorbike.
"We're battling despair and we have hope," Abu Hassan told Newsweek. "We love to live, just like the rest of the world. We will defy all of the pain and build hope in our hands."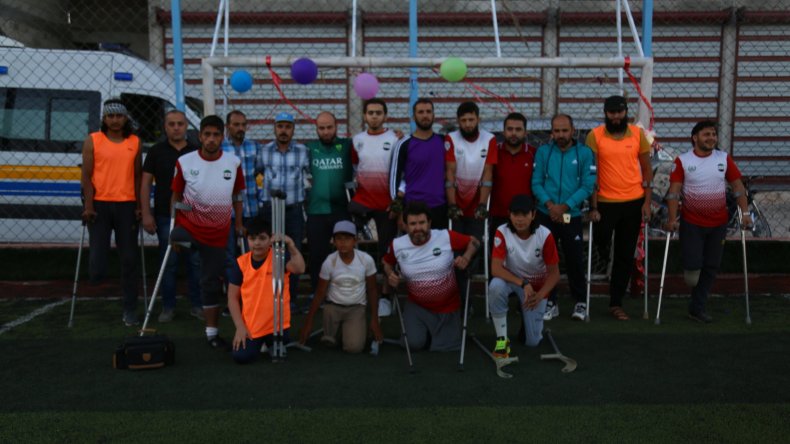 Abu Hassan has also hosted chess tournaments as well as table tennis and weightlifting activities at the physiotherapy center in Idlib. He said such activities bring a sense of normalcy to lives torn apart by a war that the World Health Organization estimated has inflicted injuries that led to disabilities for some 1.5 million people, including 86,000 amputations, according to a report published in December. An additional 1.5 million people have been otherwise wounded and hundreds of thousands have been killed.
While Abu Hassan said he has received media attention from around the world—including news outlets in Germany, Sweden and Denmark—he said he has yet to receive any financial backing from international organizations, "not even a single crutch."
Related: Syria Raises Flag As Israel Fires Missile In Latest Violence Where War Began
The situation is at risk of becoming yet more dire as the Syrian military hoists the national flag over Daraa, a southwestern region that helped spark the uprising against Assad. After securing the outskirts of the capital Damascus in a two-month campaign earlier this year, the Syrian government was able to force much of Daraa's opposition into surrendering in about half that time.
Aside from the roughly quarter of the country in control of the U.S.-backed Syrian Democratic Forces—whose Kurdish majority is mostly opposed to the Islamist Arab groups in control of Idlib—the northwestern province remains the last major stretch of territory outside of government control. Kerdash argued that "the regime has won because of betrayal not because of power and in Idlib the situation is different than that of other cities."
"God willing, Idlib will be the graveyard of the regime. If they think of advancing here, there's no need to worry," he said.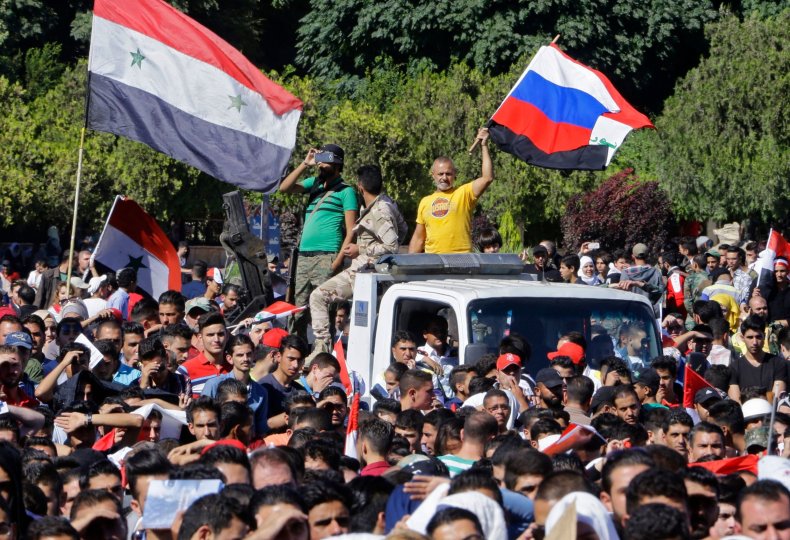 Abu Hassan was also deeply critical of Russia. He expressed dismay at the fact that a country accused of war crimes could host the World Cup, an event that Syria's own national team had a hopeful run at earlier this year. Fans across government strongholds such as Damascus swarmed the streets in support of the team, but the country was eliminated after losing a qualifying match with Australia in October.
In places like Idlib, the Syrian national team is seen as closely tied to the government and its attempt to make the World Cup was no cause for celebration. Likewise, Abu Hassan condemned the "criminal" government of Russia that he said helped cripple a number of his players. He praised the courage of his team, telling Newsweek that "here we'll have a World Cup just for them" and, despite his anger, he maintained that hatred would not be a theme.
"These young men," Abu Hassan said, "their message to the world is a call for peace, not for war."