The World Cup's Bad Influence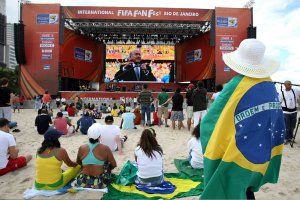 The sign taped to the teller's window at my local bank in Rio de Janeiro left no doubts. Next Tuesday, when the Brazilian national team meets North Korea in its World Cup opener, business hours will end at 2 p.m. sharp. My daughter's school was more circumspect: if the green and yellow make it to the playoff round, all classes would be suspended. Mind you, my daughter is in kindergarten. Then again, this is Brazil, home of the five-time World Cup champions, where gap-toothed boys from the favelas turned a 19th-century pastime for British gentleman into 21st-century ballet on grass.
So some concessions to futebol are to be expected. But the quadrennial fever over the beautiful game may be heading over the top, compelling this nation of aficionados to shutter shops, empty schools, slow down industry, and snarl traffic as millions scramble for home or to the nearest pub in time to cheer for their team. Many merchants have decided to lock up for the afternoon, while others will field skeleton crews. Banks will shave three hours from their business day whenever Brazil is on the pitch, adding new meaning to the term banker's hours. God may be Brazilian, as the locals are fond of saying, but good luck finding an open church on game day. Even the warring drug traffickers in Rio's hillsides will likely call a truce when the ball is rolling, though stray bullets might be a problem if Brazil scores. With Rio set to host the next World Cup in 2014 and the 2016 Olympic Games, the running joke is that Brazilians will take 2015 off.
No one knows just how much this kind of football obsession will cost the Brazilians, or any other nation for that matter. But lately the pundits have made a sport of guessing. Most recently, Willem Smit, a researcher at the prestigious Institute for Management Development (IMD) in Lausanne, Switzerland, flashed a red card at the whole Cup culture. Smit reckoned that if just half the workforce in contending nations knocks off to cheer their side on during the World Cup games, the cost to the global economy could be $10.4 billion in lost production time alone. That figure could double if all national workers in competing countries decide to go AWOL to root for their respective teams —which is not as farfetched as it seems, given that the Cup will likely draw a billion or more viewers worldwide. "Allowing people to take time out to watch football during working hours is simply too costly, untimely, and unfair," Smit said during an online debate on the Cup.
Such figures seem drastic, if not the work of a soccer Scrooge, but if anything Smit may be underestimating the economic damage. For one, he built his projections on basic math, calculating the amount of GDP generated for each working hour and then multiplying that figure by the total number of business hours he projects each country could sacrifice to football if half he workforce in each country stops working to take in their country's games. What's more, the global losses, which Smit breaks down on a country-by-country basis, refer only to the 48 preliminary-round games in the first two weeks of play. Imagine the productivity slump when the playoff rounds of the world's most popular game get underway.
Mexico and Germany will be worst hit, forfeiting a potential $1.7 billion each in employee downtime if half the workforce slacks off to root for their teams. Close on their heels is Brazil, which stands to lose $1.2 billion, as its workers abandon their desks for the bar stool. (The only reason the land of Robinho and Kaká won't lose more revenue is because Brazilian workers simply don't generate as much wealth per hour of labor as their European counterparts.) The Argentines will forgo $485 million just to watch their men in blue.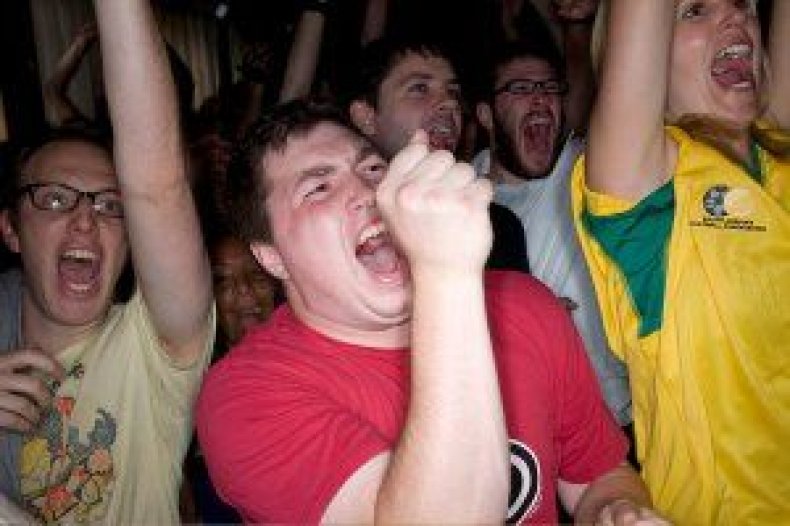 But Smit has his critics. Karsten Jonsen, also of IMD, argues that the World Cup will bring a wealth of construction jobs and up to a million tourists to the host country during the games, plus a knock-on effect of some $12 billion over the entire South African economy. Then there are the less tangible gains such as good will, bonding, and bonhomie that will help bring dividends to companies by building esprit de corps in the workplace. "Individuals need to feel that they 'belong' to groups and nations with which they identify," Jonsen states. "Watching the games is an important part of this, as it reinforces the sense of belonging."
That is no news to Brazil, long a "nation in cleats," as national folklore has it. And if the overall economy may sag as fans take time to watch their side in action, some sectors are still making out like Pelé in the goal area. Electronics retailers here have seen a run on flat-screen televisions in the weeks building up to the World Cup while brewers reckon they will sell as much beer over the next month of the South African games as they do during the entire South American summer. Those are numbers even a soccer Scrooge could appreciate.