WHO Thinks Coronavirus Came From 'Animal Kingdom' Not Wuhan Lab, Infection Will Return in Future: Spokesperson
The World Health Organization believes the novel coronavirus likely came "from the animal kingdom," amid a row over theories it originated in a lab in Wuhan.
Dr. Margaret Harris, a spokesperson for the WHO, said "proper clear scientific work" was needed to identify the source of the outbreak.
But despite this, she added: "We see it very much as coming from the animal kingdom."
As she made the comments during an interview with Sky News this morning, Harris also stressed the importance of knowing the origin of coronavirus.
"If it's coming from the animal kingdom, it's going to come back again," she said.
"So unless you really do that thorough work and understand the pathway by which it got into the human population you're not going to be able to send it back to where it came from."
Newsweek has contacted the WHO for further comment.
Though not entirely ruling out a link to a Wuhan lab, these comments add to the case against the theory the virus originated in such a facility.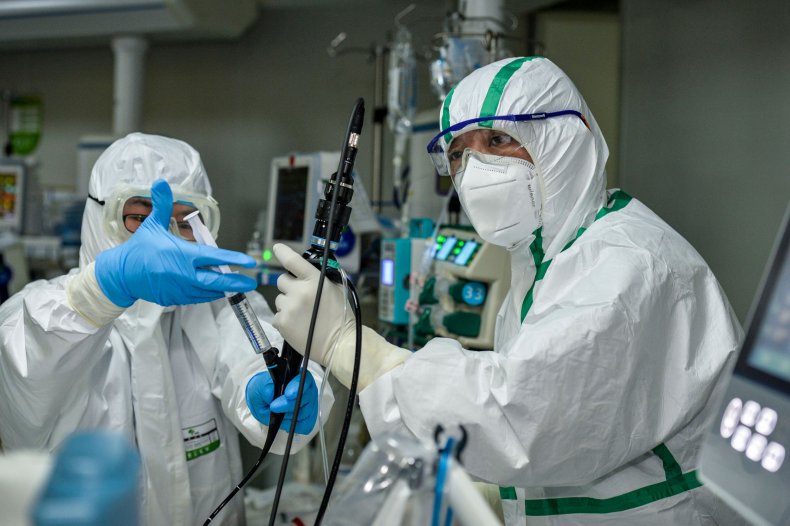 On April 30, President Donald Trump said he had seen evidence suggesting the Wuhan Institute of Virology was where the coronavirus originated.
At the time, he said the WHO acted like a "public relations agency for China."
Secretary of State Mike Pompeo also suggested there was "enormous evidence" the outbreak came from the lab in Wuhan.
Dr. Anthony Fauci, director of the National Institute of Allergy and Infectious Diseases and a key member of the U.S. coronavirus task force, has dismissed the suggestion coronavirus was made in a lab in China.
"Everything about the stepwise evolution over time strongly indicates that [this virus] evolved in nature and then jumped species," he told National Geographic.
In a statement, the Office of the Director of National Intelligence stated the intelligence community "concurs with the wide scientific consensus that the COVID-19 virus was not manmade or genetically modified."
However, it did not rule out that the outbreak could have begun through the "result of an accident at a laboratory in Wuhan."
There have been more than 3.6 million confirmed coronavirus cases since the outbreak began, according to data gathered by John Hopkins University. Its statistics also show more than 257,000 people infected with coronavirus, which then causes the disease COVID-19, have died after being diagnosed.
Lockdown measures have been put in place across nations across the globe, with some beginning to lift restrictions despite concerns this might prompt a second wave of the outbreak. The doctor who treated the first COVID-19 patient in the U.S. is among those to express concern of infection levels rising again as states begin to reopen.
The infographic below, provided by Statista, shows the number of cases of COVID-19 in various U.S. states as of May 5.