World Health Organization 'Should Do More To Help Poor Countries' Rather Than Criticize Rich Ones
Global health experts have warned the race to vaccinate individual populations is futile in the long-term fight against COVID-19 and it's not just an issue of hoarding supplies.
World Health Organization (WHO) Director-General Tedros Adhanom Ghebreyesus has warned that the world is on the brink of a "catastrophic moral failure" over the distribution of vaccines across the globe.
Ghebreyesus said the prospects for fairly distributing the various jabs were at serious risk because of a "me-first approach" taken by some countries, which has left "the world's poorest and most vulnerable at risk". He told the opening of the WHO annual executive board meeting: "It is self-defeating. Ultimately these actions will only prolong the pandemic."
GAVI, a global public-private vaccine alliance, is working to ensure every country, particularly poorer ones, can get fair and equitable access to a COVID-19 vaccine through its COVAX facility in partnership with the WHO and the Coalition for Epidemic Preparedness Innovations. The aim is two billion safe doses of vaccine by the end of 2021 delivered globally, with wealthier countries pooling their resources alongside agreements with lower-income countries.
Ghebreyesus told the WHO meeting: "More than 39 million doses of vaccine have now been administered in at least 49 higher-income countries. Just 25 doses have been given in one lowest-income country. Not 25 million, not 25,000 thousand, just 25. I need to be blunt: the world is on the brink of a catastrophic moral failure – and the price of this failure will be paid with lives and livelihoods in the world's poorest countries."
University College London Professor Dr. Julius Mugwagwa argues WHO needs to be playing its part as well, in ensuring poorer countries develop the mechanisms and structures to be able to deploy the vaccines to their populations. He tells Newsweek: "There is only so much that the pharmaceutical companies can do. There is definitely a need to ramp up production but there is also a need to make sure that the distribution happens fairly. That is what the WHO director-general was saying, how can we satisfy the needs of one part of the world, while the rest of the world is waiting.
"The WHO should be doing more to prepare poorer countries to establish and strengthen mechanisms for distribution and rolling out of the vaccines. It's all well and good to make the morality call and to trust goodwill, but that should be matched with tangible support for local structures, mechanisms and systems to be able to deliver vaccines."
The implication of failing to deliver COVID vaccines fairly, he says, is a longer and deadlier pandemic.
"Of course, there are a lot of other complications that come even when you have the mechanisms in place, issues like vaccine acceptance and how the political systems are managing any resistance or push back," Mugwagwa says. "I think in Isreal, you can see already that vaccine acceptance is really high, which may be different in other places. But where those structures and mechanisms are already in place for the delivery of COVID vaccines, they are ready to deploy it to the population. You see countries being able to move at speed."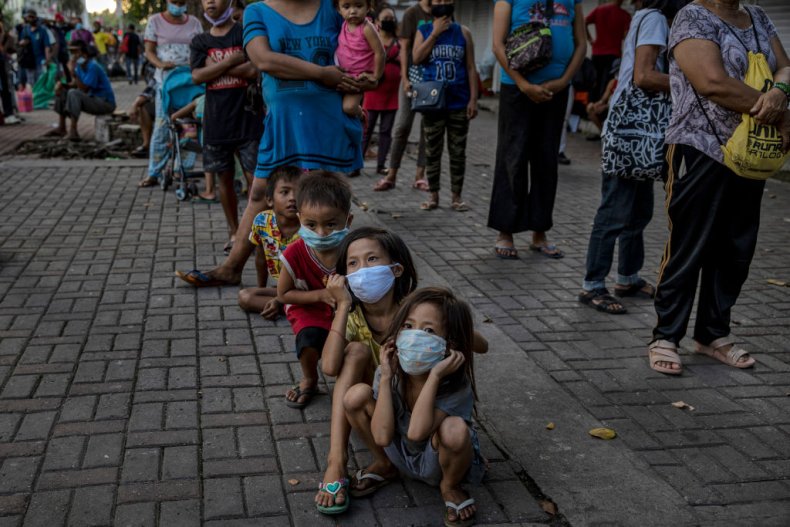 According to a tracker developed by Our World In Data, a research partnership between the University of Oxford and the British non-profit Global Change Data Lab, Israel, the United Arab Emirates (UAE), and Bahrain have vaccinated a higher proportion of their populations than the rest of the world. Israel has administered 32.35 COVID doses per 100 people in its population, UAE 20.88 doses per 100 people and Bahrain 8.44.
The U.K. is in fourth place in the vaccine race, administering 6.96 doses per 100 people, ahead of the United States at 4.75 doses per 100 people. European countries have faced criticism for being slow to implement vaccine rollouts, despite buying up huge numbers of doses. After the U.K., just 12 countries among the EU27 have an inoculation rate of one per 100 people or more.
In December, the People's Vaccine Alliance - a group of campaigning organizations, including Amnesty International, Frontline AIDS, Global Justice Now and Oxfam - found that rich nations representing just 14 percent of the world's population have bought up 53 percent of all the most promising vaccines - enough doses to vaccinate their entire populations nearly three times over by the end of 2021.
Mugwagwa argues that the speed by which an individual country can deploy vaccines across the population is redundant if there are still areas of the world with no access to immunization. "I think this is one of the biggest lessons we need to remember - whatever happened in that market place in Wuhan, it shut the whole world down," he says.
"So as much as the 'proximity principle' is at play here - how do you take care of your own first before you think about others? - I think the reality is we cannot ignore what is happening elsewhere. The pandemic has taught us that we cannot be secure, no economy can get back on its feet when there is still the virus growing in different parts of the world.
"That should be on the minds of world leaders and decision-makers - it's really about making sure we get on top of COVID everywhere, to the greatest extent possible. Unless we are going to isolate ourselves completely, we are not out of the woods."