World Leaders 'Not Doing Enough' to Combat 'Life and Death' Climate Change, U.N. Secretary-General Says
United Nations Secretary-General Antonio Guterres issued an ominous warning on climate change as international leaders convened in Poland on Monday for the COP24 conference on global warming.
"Even as we witness devastating climate impacts causing havoc across the world, we are still not doing enough, nor moving fast enough, to prevent irreversible and catastrophic climate disruption," Guterres said in opening remarks, according to the Associated Press. "For many people, regions [and] even countries, this is already a matter of life and death."
He called upon governments to move toward cleaner energy sources rather than relying on fossil fuels and emphasized the urgency of addressing climate change, as reports continue detailing the droughts, floods and poverty that can result from global warming.
"In short, we need a complete transformation of our global energy economy, as well as how we manage land and forest resources," he said, noting that the nations that contribute the least to climate change will be affected the most by it. "The majority of countries most responsible for greenhouse gas emissions are behind in their efforts to meet their Paris pledges."
As of 2014, the U.S. had the highest carbon emission levels per person, according to The New York Times. Canada, Russia, Japan and Germany—industrialized nations—followed in per person emissions ranking. But low-income, tropical nations are far more susceptible to the impacts of global warming.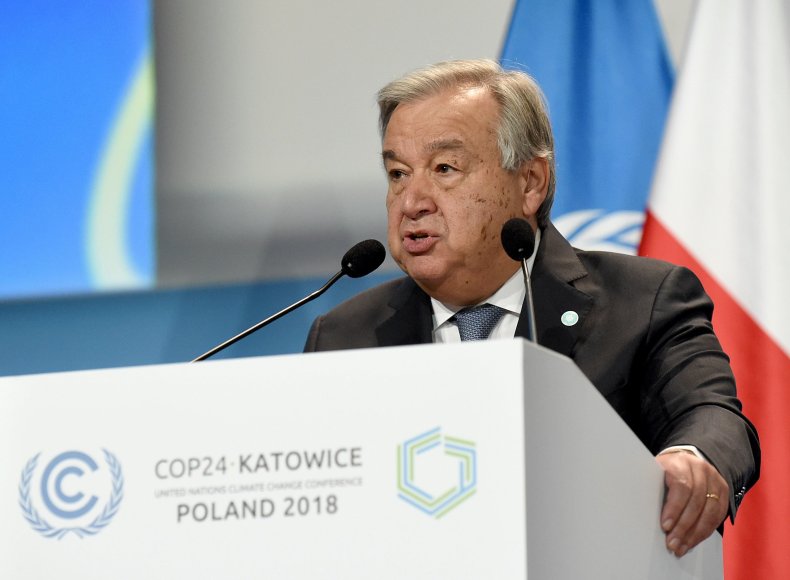 The convention in Poland's coal-mining region of Silesia is the first time the Paris climate accord signatories have met since the U.N. released a dire report about impending catastrophes from global inaction to address climate change, according to The Hill.
The New York Times reported that in 2009, industrialized nations vowed to pay an annual $100 billion by 2020 to assist poorer countries, which will be more drastically affected by climate change. That money has slowly trickled in, as shown by the coffers Green Climate Fund, a United Nations program that promotes the development of low-emissions energy sources and assists developing nations curtail greenhouse gas emissions. Donor nations have pledged $10.3 billion but only actually committed $4.6 billion.
When withdrawing from the Paris climate accord in June 2017, Trump also said that he would stop payments to the Green Climate Fund.
The president falsely claimed the U.S. has committed "billions and billions and billions" of dollars to the international effort to fight climate change, but as of June 2017, the U.S. had only offered $1 billion, according to The Washington Post.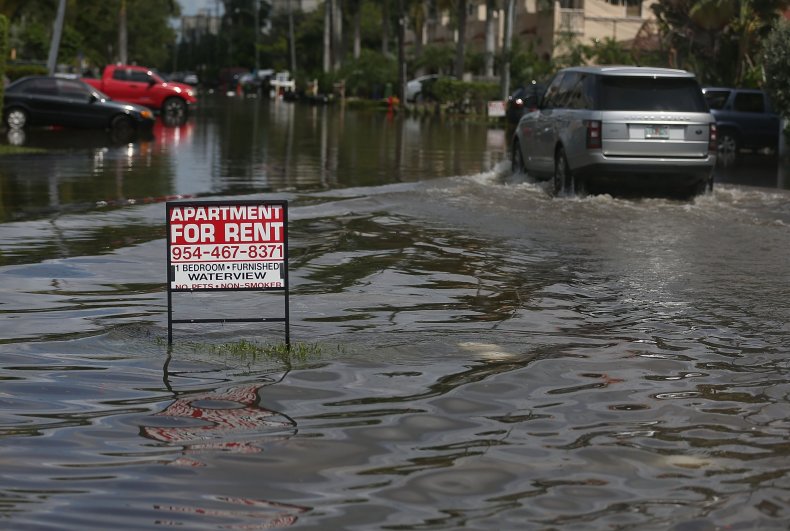 On Monday, the World Bank pledged $200 billion between 2021 and 2025 to assist efforts to combat climate change.
While significant, recent funding is a belated effort to address a threat that has been ignored, despite looming for decades. A recent UN report "revealed attempts to ensure fossil fuel emissions peak by 2020 will fail. Indeed the target will not even be reached by 2030," The Guardian reported. "By 2050, the World Bank says more than 140 million will become climate refugees."