World's Most Expensive Whisky Bottle Sells for Over $1 Million
The world's most expensive bottle of whisky has been purchased at auction for a whopping £848,000 ($1.1 million).
Sold at the Bonhams Whisky Sale in Edinburg, the 60-year-old Macallan Valerio Adami 1926 went for a price of £700,000 ($908,000) with an additional sales premium of £148,000 ($191,987), the BBC reported Wednesday.
Experts have described the liquor as "the holy grail of whisky," due to the combination of its vintage, rarity and the bottle's unique artwork. In May, another bottle of the same whisky was sold at the Bonhams Hong Kong auction, becoming the most expensive sale at the time with a bid of £814,081 ($1.01 million).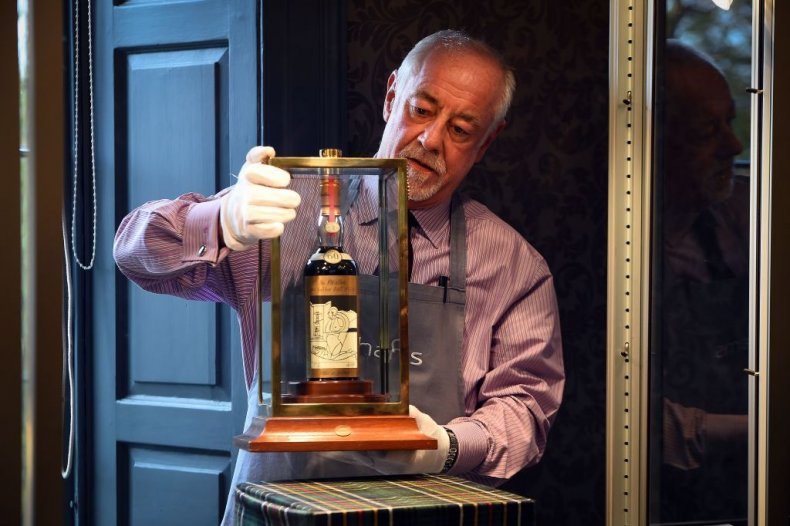 The bottle sold in Edinburg came inside a specially commissioned cabinet, or tantalus. It was initially purchased in 1994 by the previous owner, directly from the Macallan distillery for an unrevealed price. In total, only 12 bottles of this specific whisky were produced by the distillery, but it is unknown how many still exist throughout the world.
Experts believe at least one of the bottles has been opened and consumed, while another was reportedly destroyed in a 2011 earthquake in Japan.
"Its exceptional rarity and quality puts it in a league of its own, and the world's most serious whisky collectors will wait patiently for many years for a bottle to come onto the market," Bonhams Whisky specialist Martin Green said in a statement ahead of the Wednesday auction, Yahoo Finance reported.
High net worth individuals reportedly invest significant amounts in high-end collectibles, with one recent report from Credit Suisse estimating that, on average, such items may comprise up to 6 percent of their assets. In fact, more traditional investments such as government bonds and cash have taken a backseat to items such as wine, instruments and art, according to the report. Looking at 118 years of data, it also found that wine offered the best return on investment.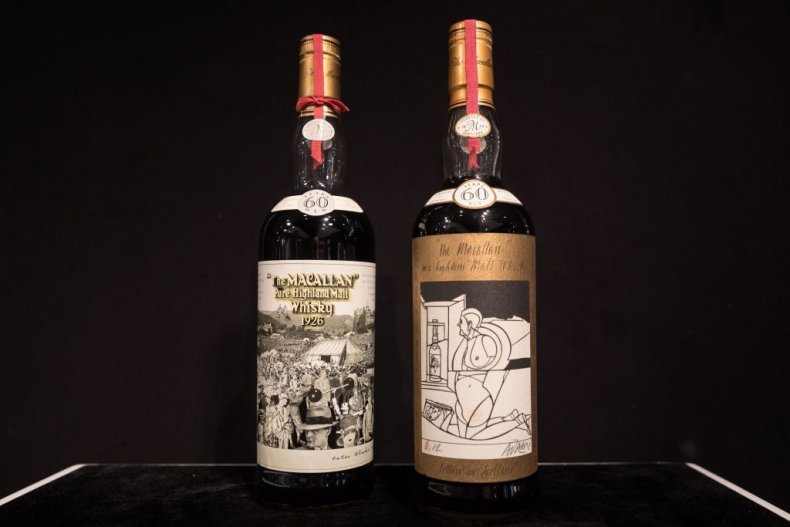 For those looking to purchase their own high-end whisky, another similar bottle of 60-year-old Macallan 1926 will go on sale in New York later this month. Although the liquor is from the same vintage, the artwork was done by British artist Peter Blake, instead of Adami, CNBC reported. Experts have predicted the sale could go even higher, reaching $1.2 million.
"The market for rare, limited release, high-quality whiskies has been broadening," Jamie Ritchie, worldwide head of Sotheby's Wine, which will carry out the auction, told CNBC.
"Demand has significantly increased in the last three years, driven by Asian and American buyers. As the market broadens, prices have increased. Last year, the four highest prices achieved by Sotheby's Wine, both auction and retail, were whiskey," Ritchie explained.