Obama Leads World in Mourning Mandela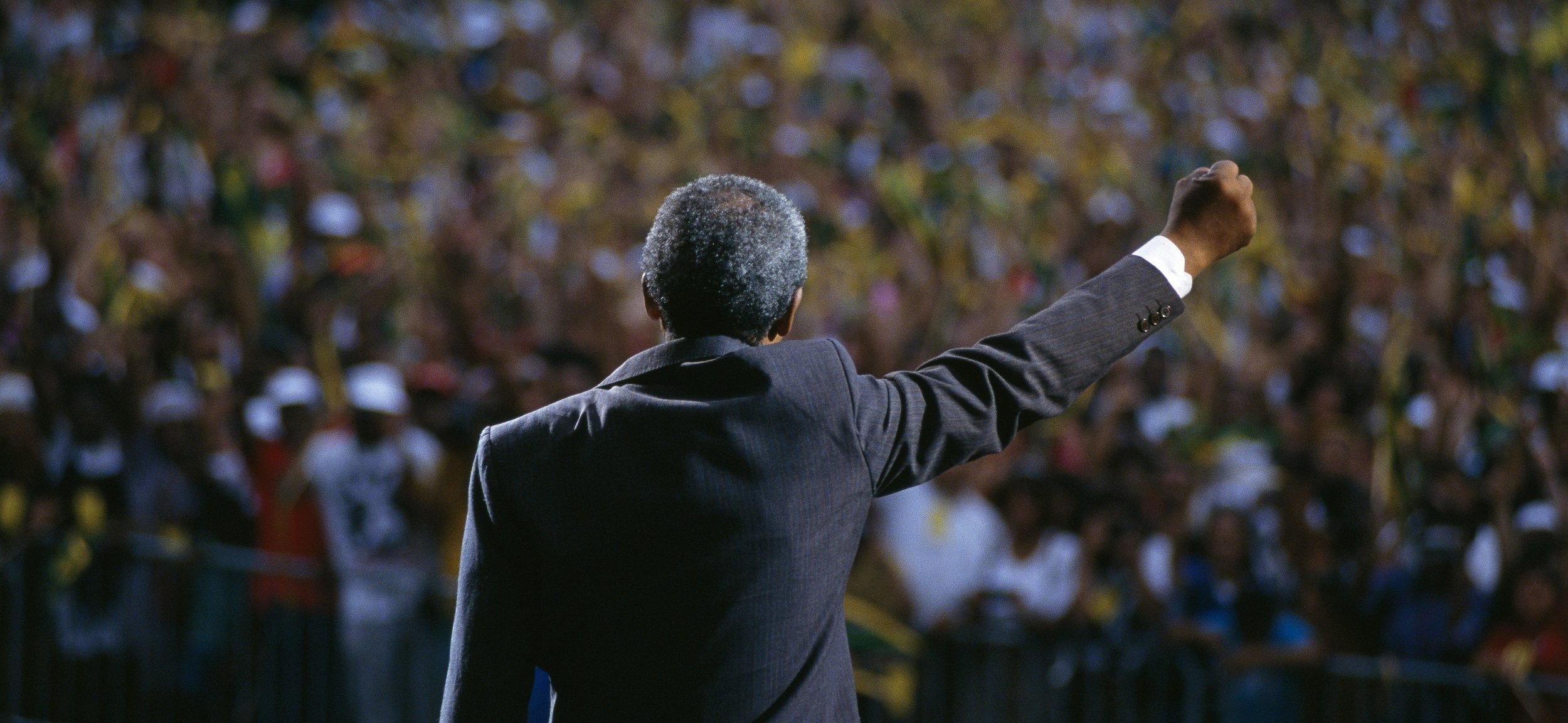 The family of Nelson Mandela gathered around his deathbed were the first to start mourning the South African freedom fighter whose dignity and grace in the face of nearly three decades in prison led to the end of apartheid and the fall of the white racist administration.
Mandela's wife, Graça Machel, and other close family members were soon joined in their grief by tributes from world leaders to the ever-cheery 95-year-old Nobel Peace Prize winner's courage and determination to free his people from oppression. Among them was Jacob Zuma, South Africa's president and the heir to Mandela's political movement, the African National Council.
"Our nation has lost its greatest son. Our people have lost their father," Zuma said. "But though we knew that this day would come, nothing can diminish our sense of the profound and enduring loss."
Mandela was the first president of a free South Africa that allowed all citizens to vote, irrespective of their race. His struggle cost him a third of his life, including 18 years either in solitary confinement or breaking rocks on Robben Island.
"What made Nelson Mandela great was precisely what made him human. We saw in him what we seek in ourselves," said Zuma. "Fellow South Africans, Nelson Mandela brought us together and it is together that we will bid him farewell."
Zuma invited the world to use Mandela's life as an example for tolerance, freedom and understanding. "Wherever we are in the country, wherever we are in the world, let us reaffirm his vision of a society in which none is exploited, oppressed or dispossessed by another," he said.
"Our thoughts are with the millions of people across the world who embraced Madiba [the affectionate diminutive by which Mandela was known by his tribe, the Tembu Xhosa] as their own, and who saw his cause as their cause.
"His tireless struggle for freedom had him the respect of the world. His humility, his compassion and his humanity lend him their love."
Preparations are under way for Mandela's state funeral, which will be attended by the world's leaders. Mandela's family began assembling at his home three days ago when it became clear that his life was drawing to its close. Flags in South Africa will fly at half mast until then.
Mandela left hospital after a three-week stay earlier this month and returned to his home in the suburbs of Johannesburg. He had been suffering from a recurring lung infection for many months and the last year saw him in and out of the hospital.
In September, after a spell in hospital in which it was revealed he was on a life support machine, and unconfirmed reports said he was "in a vegetative state," he returned to his home.
On December 3, his daughter, Makaziwe Mandela, said her father was "strong" and "courageous." but "on his death bed." Mandela's grandson, Ndaba Mandela, confirmed his grandfather was "not doing well," though, "he is still with us."
Since his last public appearance, at the 2010 soccer World Cup, he has divided his time between his home in Houghton, Johannesburg, and his ancestral home in Qunu in the Eastern Cape.
Mandela was an inspiration to President Barack Obama, who only last month hosted a White House screening of Mandela: The Long Walk to Freedom, attended by two of the South African president's daughters, Zindzi and Zenani.
At that time, Obama said, "The human spirit can't be contained forever. Truth and justice will eventually win out."
On hearing of Mandela's death, the American president went before television cameras to pay his respects: "He achieved more than could be expected of any man. He no longer belongs to us. He belongs to the ages."
The president said, "At his trial in 1964, Nelson Mandela closed his statement from the dock saying, 'I have fought against white domination and I have fought against black domination. I've cherished the ideal of a democratic and free society in which all persons live together in harmony and with equal opportunities. It is an ideal which I hope to live for and to achieve. But if needs be, it is an ideal for which I am prepared to die.'
"Today he's gone home and we've lost one of the most influential, courageous and profoundly good human beings that any of us will share time with on this Earth. … Through his fierce dignity and unbending will to sacrifice his own freedom for the freedom of others, Madiba transformed South Africa and moved all of us. His journey from a prisoner to a president embodied the promise that human beings and countries can change for the better.
"His commitment to transfer power and reconcile with those who jailed him set an example that all humanity should aspire to, whether in the lives of nations or in our own personal lives. And the fact that he did it all with grace and good humor and an ability to acknowledge his own imperfections, only makes the man that much more remarkable. As he once said, 'I'm not a saint unless you think of a saint as a sinner who keeps on trying.'"
The president described how Mandela's example of leadership and humanity had inspired his own political journey.
"I am one of the countless millions who drew inspiration from Nelson Mandela's life," he said. "My very first political action -- the first thing I ever did that involved an issue or a policy or politics was a protest against apartheid. I would study his words and his writings. The day he was released from prison it gave me a sense of what human beings can do when they're guided by their hopes and not by their fears.
"And like so many around the globe, I cannot fully imagine my own life without the example that Nelson Mandela set. And so long as I live, I will do what I can to learn from him."
President Bill Clinton joined in the tributes: "Today the world has lost one of its most important leaders and one of its finest human beings. And Hillary, Chelsea and I have lost a true friend. History will remember Nelson Mandela as a champion for human dignity and freedom, for peace and reconciliation."
"We will remember him as a man of uncommon grace and compassion, for whom abandoning bitterness and embracing adversaries was not just a political strategy but a way of life," Clinton said.
"All of us are living in a better world because of the life that Madiba lived. He proved that there is freedom in forgiving, that a big heart is better than a closed mind and that life's real victories must be shared."
President George W. Bush said, "Laura and I join the people of South Africa and the world in celebrating the life of Nelson Rolihlahla Mandela. President Mandela was one of the great forces for freedom and equality of our time.
"He bore his burdens with dignity and grace, and our world is better off because of his example. This good man will be missed, but his contributions will live on forever. Laura and I send our heartfelt sympathy to President Mandela's family and to the citizens of the nation he loved."
American civil rights leader Jesse Jackson said of Mandela, "The imprint he left on our world is everlasting. Nelson Mandela was a transformational figure. To say he was a 'historical figure' would not give him his full due.
"My heart burst with excitement on that day of Mandela's release from Victor Verster Prison, 11 February 1990. When word got out about his impending release, maids started doing the toya toya in the hallways, beating pots and pans, weeping and demonstrating.
"Nelson Mandela was a giant of immense and unwavering intellect courage and moral authority. He chose reconciliation over retaliation. He changed the course of history."
"Nelson Mandela showed us what is possible in our world...His moral force was decisive in dismantling the system of apartheid," said U.N. Secretary-General Ban Ki-moon.