World Needed to See Chappelle's Attacker Get 'A** Whooped': Kevin Hart
Comedian Kevin Hart said on Thursday that the world needed to see Dave Chappelle's attacker get his "a** whooped."
During an appearance on Jimmy Kimmel Live!, Hart spoke about the incident in which Chappelle was attacked onstage by a person identified by police as Isaiah Lee while performing at the Hollywood Bowl this week.
"Somebody ran onstage and got their a** whooped....It's one of those things that needed to happen," Hart said while speaking to the show's guest host, Mike Birbiglia.
"Do you want people to continue to think that they can cross that line and break the barrier of entertainer and [audience]?" Hart added. "Somebody getting their a** whipped sends a message out to other people that was like, 'I was thinking about doing that, but seeing that, I don't really want to do that.'"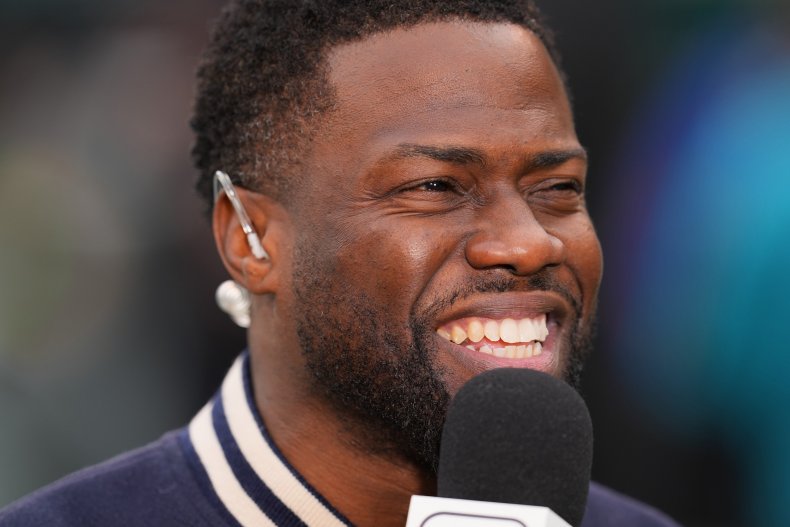 The comments by Hart come shortly after Chappelle was attacked on stage, and photos after the incident showed the suspected attacker with a swollen and bruised face. Footage of the incident showed Lee running on stage toward the end of Chappelle's show.
Chappelle told the audience shortly after the incident that he went backstage and "stomped" Lee. Buzzfeed reporter Brianna Sacks shared a tweet after the show: "Just came out of the Hollywood Bowl where a man charged and tackled Dave Chappelle on stage and got his ass kicked by at least 10 people."
Newsweek confirmed with the Los Angeles Police Department that Lee was in possession of a fake gun at the time.
In a video this week, Los Angeles City Attorney Mike Feuer said: "What should have been an evening of laughter at the Hollywood Bowl this past Tuesday night was suddenly interrupted when suspect Isaiah Lee allegedly charged onto the stage and tackled comedian Dave Chappelle.
"This alleged attack has got to have consequences, and this afternoon, my office has filed charges alleging battery, possession of a weapon with intent to assault and charges relating to interfering with a performance. My office takes protecting public safety extremely seriously and we are going to vigorously prosecute this case."
Earlier this year, Will Smith made headlines after walking onto the stage and slapping Chris Rock after the comedian made a joke about Smith's wife, Jada Pinkett-Smith, at the 2022 Academy Awards show.
Some on Twitter criticized those who have defended Smith's action, saying that the slap led to Chappelle's attack.
Newsweek reached out to Hart's representatives for comment.