As the world continues to grapple with the coronavirus pandemic, journalists have been tasked with a key role in helping to create awareness around the virus and inform communities on what their governments are doing to prevent its spread.
However, as press freedom advocacy groups mark World Press Freedom Day on Sunday, they are also using the day to raise awareness around the dangers and challenges journalists around the world, including in the U.S., have faced in reporting on the pandemic.
"Now more than ever, truth-tellers play a vital role in maintaining free expression and free societies," Summer Lopez, the senior director of free expression programs at PEN America, said in a statement.
Yet, she said, "increasingly, their lives are imperiled. We've seen reporters risk their own lives in emergency rooms in Queens, New York; face detention for reporting on the COVID-19 outbreak in China; seen their work criminalized in Bolivia and Thailand.
In China, PEN America said in a press release, information about the coronavirus outbreak has been "suppressed" while the whereabouts of Chen Qiushia, a former human rights lawyer turned video journalist, and Fang Bin, a businessperson who began reporting on the coronavirus outbreak in Wuhan, are unknown after both disappeared in February after reporting on the Chinese government's handling of the coronavirus outbreak.
Meanwhile, PEN America said, "reporters from The New York Times, Wall Street Journal, Washington Post, Voice of America, and TIME were expelled in March 2020."
Further, the organization said, "journalists in the Philippines, Cambodia, Ethiopia, Ghana, Russia, Venezuela, and Haiti have been threatened, harassed, attacked, and arrested for their COVID-19 reporting."
"Journalism has never been more vital and has never been more at risk," Lopez said.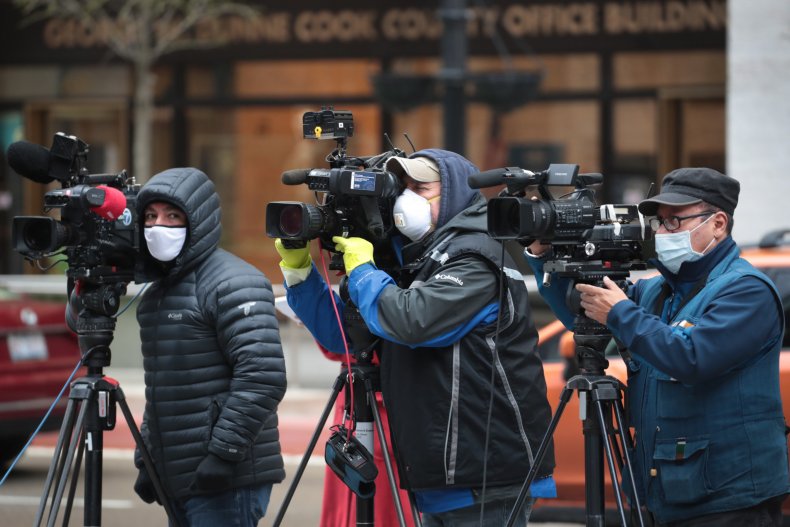 However, she said that while abuses were happening abroad, it was also important for Americans to "pay special attention to the threats here in the United States."
Nora Benavidez, PEN America's U.S. free expression director told Newsweek in an interview on Friday that part of that threat stems from the growing trend of government officials "at all levels of government" refusing to cooperate with journalists.
"Communities are wanting and turning to news more and governments are targeting news outlets and reporters in a growing fashion, including the president himself, who removes reporters from press briefings and denigrates reporters when he doesn't like them," Benavidez said.
Such behavior, Benavidez said, should be considered "deeply troubling". "It is not authoritarianism, but it is the kind of tactic we see that can lead to that kind of oppression," she said.
The PEN America U.S. free expression director also warned that local reporting in the U.S. has been hardhit by years of declining revenues.
That is why PEN America has launched a campaign on Capitol Hill seeking to include support for local reporting in future economic stimulus bills. The organization has further called on all 50 state governors and the mayor of the District of Columbia to also provide funding for local reporting initiatives.
"Local reporting has faced a cataclysm, now exacerbated by the COVID-19 crisis," Lopez said in her own statement."And yet every day, journalists are plowing into the most serious health crisis of our lifetimes to provide truly life-saving work."