Every World Press Photo Winner Ever: 60 Images That Define Our World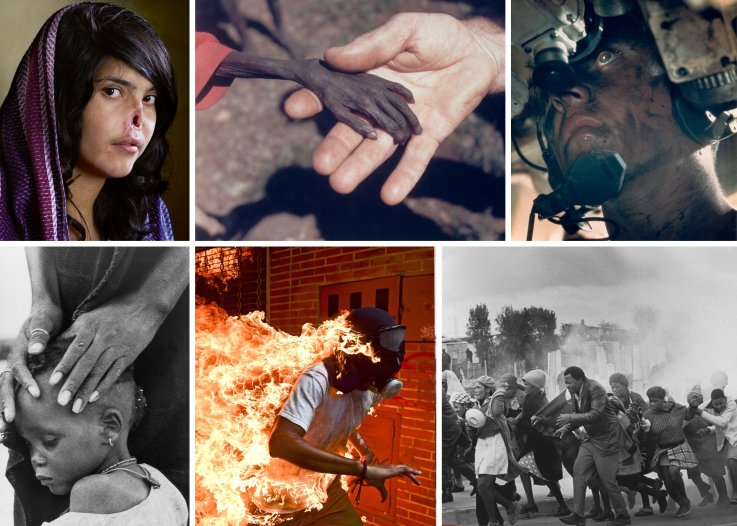 A picture is worth a thousand words.
A photojournalists job is to capture a moment, often in dangerous situations, that somehow says everything you need to know about a time, a place, a war, a tragedy, a celebration.
The World Press Foundation's "Press Photo of the Year" award is one of the most prestigious photojournalism awards in the world. Since 1955, the Dutch-based organization holds an annual contest recognizing a photo that is not only visually stunning but also represents an issue or situation of journalistic importance. The 20-member jury awards prizes in eight other categories, like general news, sports and portraits. The winner receives a €10,000 euro cash prize. All of the winning photographs are assembled into a traveling exhibition that visits 45 countries and is seen by more than four million people. The photographs are published in a yearbook, available for purchase from the foundation.
The most recent winning photo, by Ronaldo Schemidt, shows a masked protester running, engulfed in flames, as he protests Venezuelan President Nicolás Maduro.
"It's a classical photo, but it has an instantaneous energy and dynamic," Magdalena Herrera, director of photography at Geo France and the chair of this year's jury, told The Washington Post. "The colors, the movement, and it's very well composed, it has strength. I got an instantaneous emotion."
Winners over the years have spanned a wide spectrum of issues, from war and civil unrest to terrorism and sports. Vietnam War photojournalism was regularly recognized during the 1960s and 1970s, showing images of American troops in battle, Vietnamese victims of bombings and the horrors of war. Other areas winning photos covered were the 1980s AIDS crisis, famine, the Rwandan genocide and homophobia in Russia.
"Whether entered as singles or stories, these pictures are judged in terms of their accurate, fair, and visually compelling insights about our world," the foundation states on their website.
Winners of the World Press Foundation's "Photo of the Year" connect the world to the stories that matter. Here is every winner ever, from 1955 until 2017.
NOTE: Many of the images featured in this collection might be disturbing to some readers.