World Reacts to U.S. Election as Result Becomes Clearer
The 2020 presidential election is inching towards a conclusion with Joe Biden taking the lead over Donald Trump in the key battleground states of Pennsylvania and Georgia in what has been a knife-edge race.
While the U.S. waits to hear its fate, the rest of the world is watching intently. Viewers across South America, Asia, and Europe have been glued to their screens, waiting for results to trickle in.
Biden is now ahead in states seen as key to electoral victory, with Trump unlikely to concede as he continues to make unfounded accusations of voter fraud over Twitter. So far, world leaders are on the whole remaining quiet.
In China
China's tightly-controlled state media has branded the election "divisive, tense and chaotic" marred by "unrest, mud-slinging and money politics," repeatedly highlighting the potential for riots or other election-related violence.
The Chinese government, however, has remained neutral on the outcome. "The U.S. presidential election is the country's internal affair. China doesn't take a position on it," foreign ministry spokesperson Wang Wenbin told reporters at a press conference.
In Russia
With the final count still up in the air, Vladimir Putin's spokesperson Dmitry Peskov warned a lack of clarity could ultimately hurt the international community. "Uncertainty in the most powerful world economy in one of the largest countries has and could potentially have negative consequences for global affairs," he said Thursday as reported by the state-run TASS Russian News Agency.
"The results of the U.S. election haven't been announced yet and it's impossible to make comments in the current situation," he said. "We would rather take our time and wait for the situation to become clearer."
In Britain
Both Prime Minister Boris Johnson and his Foreign Secretary Dominic Raab have so far remained tight-lipped on the issue. Both faced criticism from British lawmakers this week when they refused to condemn Donald Trump's claims of victory, and lately of election fraud.
While being grilled by Members of Parliament (MPs) in London, Johnson was asked by opposition Labour leader Keir Starmer: "Will the prime minister join me in saying it's not for a candidate to decide which votes do and don't count, or when to stop counting. The next president must be the free and fair choice of the American people."
The prime minister responded: "Of course, we don't comment as a U.K. government on the democratic processes of our friends and allies."
Raab was pressed on whether he would condemn the president's comments, but said he would not "comment on campaign commentary." Raab said: "This is clearly a much closer election than was expected and I think in those circumstances there will be a lot of biting of fingernails on both sides of the debate, but we will wait for the definitive result, we have full faith in the American system to deliver one and we'll be there, willing, able and enthusiastic, to work with our U.S. friends irrespective of the result."
The leader in Scotland, First Minister Nicola Sturgeon, has been less shy in voicing her opinion. As Biden's lead over Trump grew in key battleground states, she tweeted: "The world can be a dark place at times just now—but today we are seeing a wee break in the clouds."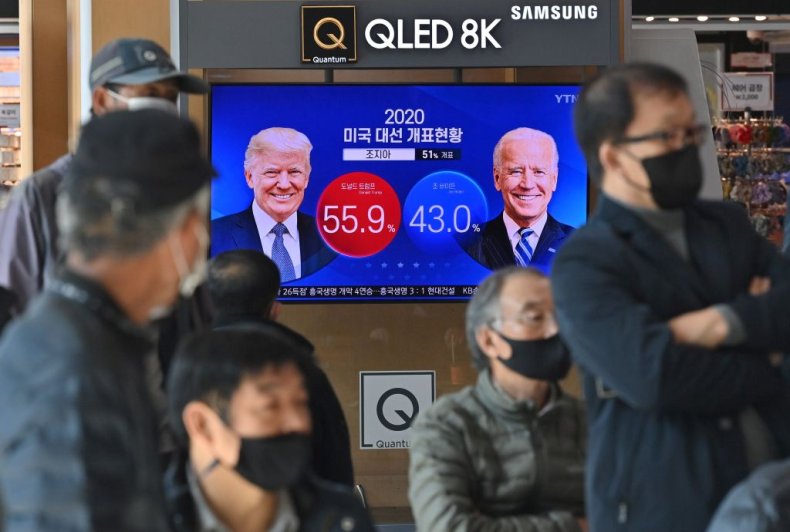 Across Europe
In Germany, where polls suggest Trump remains deeply unpopular, Defence Minister Annegret Kramp-Karrenbauer said President Trump risked triggering "a constitutional crisis" in the U.S. by threatening to challenge the election result in the Supreme Court.
"[This is] something that must deeply concern us," she said warning of a "very explosive situation."
A senior ally of German Chancellor Angela Merkel accused Trump of "awful" behavior. Norbert Röttgen, chair of the German parliament's foreign affairs committee, told CNN: "It's really with great sadness to many, many Germans to witness this behavior."
He said: "We are going to see days and weeks of fighting and non-acceptance."
In France, a senior minister said the U.S. "has not been a friendly partner to European states for several years now." Finance Minister Bruno Le Maire told Radio Classique that whoever wins, "nothing changes this strategic fact."
Slovenia's Prime Minister Janez Jansa was one of the only world leaders to take a strong stance in favor of the president. He tweeted the result was "pretty clear" on Wednesday when millions of votes were still being counted.
Twitter flagged the post in which he congratulated Trump and accused the "mainstream media" of "denying facts." His post was labeled with a line that said: "Official sources may not have called the race when this was Tweeted."
Jansa has been a vocal supporter of the president during his election campaign and previously said Biden would be "one of the weakest presidents in history."
In Brazil
President Jair Bolsonaro is a populist ally of Trump, and critics and environmental campaigners are hopeful that a change of U.S. president will mean a chance for the Amazon rainforest to be better protected.
Natalie Unterstell, an environmental activist, said on Twitter: "A change in U.S. policy can help to postpone and even reverse the tipping point of the Amazon rainforest."
Conservationists blame Bolsonaro and his government for turning a blind eye to farmers and loggers clearing land in the Amazon, speeding up deforestation.
Bolsonaro, a climate change denier who described it as a "misconception" that the Amazon's forests are the lungs of the world, said he fears a Biden White House would "curb development" of the rainforest. He told supporters as votes were still being counted Wednesday: "I hope [Trump] is re-elected."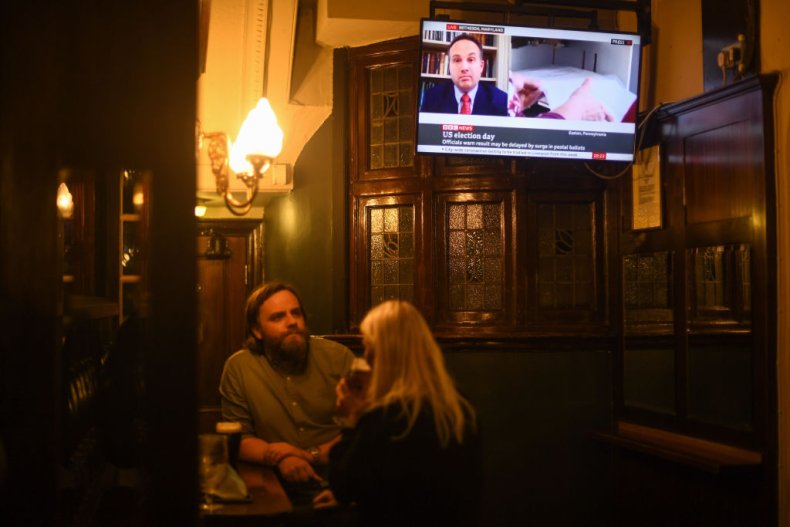 In Iran
Iran's Supreme Leader, Ayatollah Ali Khamenei, said the result of the presidential election "will not affect" the country's policy towards Washington.
"Our policy... is clearly defined. It does not change with the movement of individuals," he said. "It does not matter to us who comes and goes."
Trump abandoned a nuclear deal with Iran in 2018 which Biden has said he will consider rejoining if he is elected.
The deal, negotiated in 2015 while Biden was Barack Obama's vice-president, saw Iran given relief from sanctions in return for limits on sensitive nuclear activities.
Trump said it was "defective at its core" and reinstated sanctions that have crippled Iran's economy in an attempt to force it to negotiate a replacement.
Iranian Foreign Minister Mohammad Javad Zarif also said the Iranian government did not have a preferred candidate in an interview with CBS. "The statements by the Biden camp have been more promising, but we will have to wait and see," he said. "What counts is the behavior."