Texas Bull With World's Longest Horns Is Semen-Selling Stud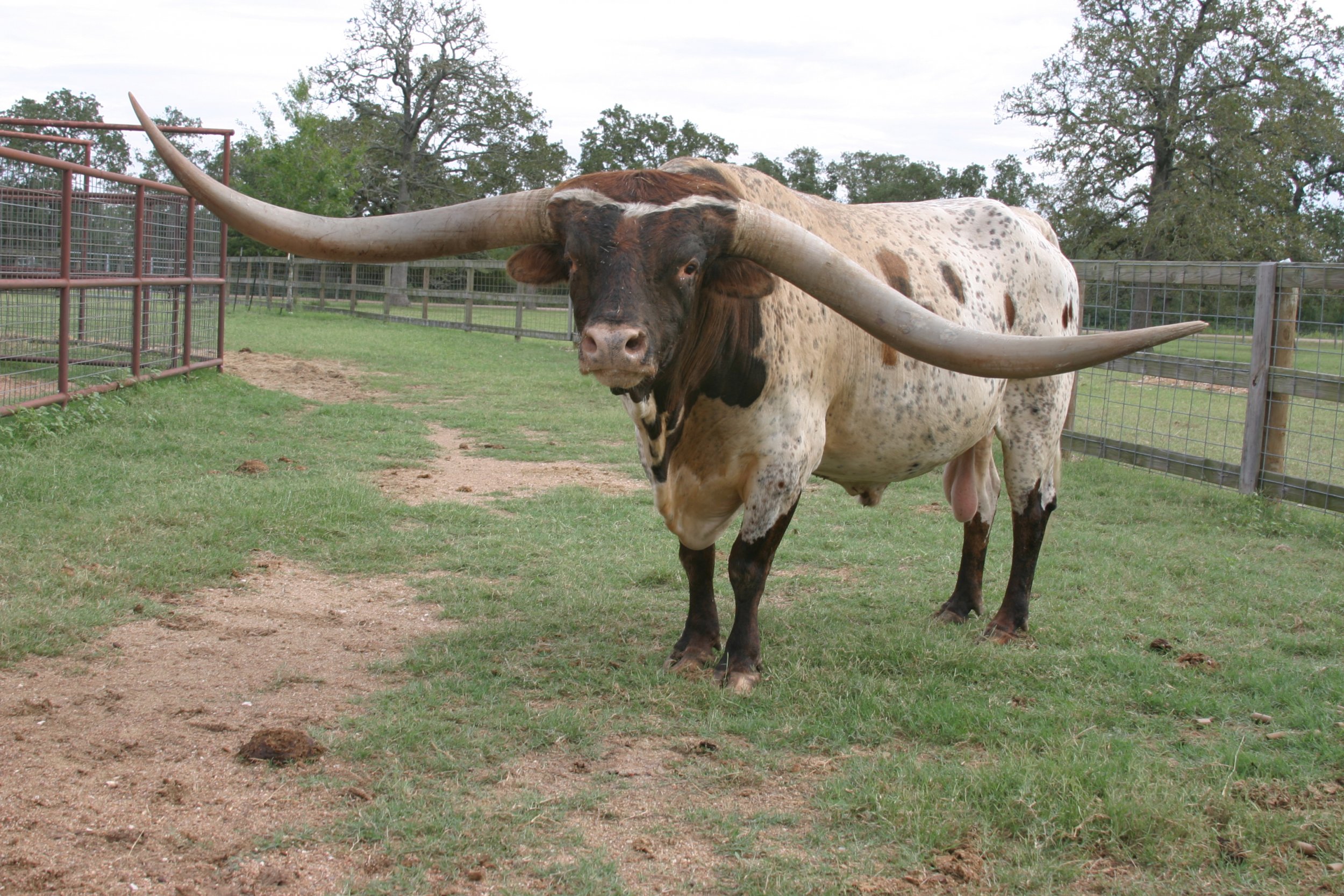 Cowboy Tuff Chex is a whole lot of bull. Measuring in a straight line from tip to tip, his horns are 101 inches—or 8 feet, 5 inches. For comparison, the tallest basketball player in NBA history was only 7 feet, 7 inches tall.
Chex is a Texas Longhorn bull from Oklahoma who recently sold for $165,000 at Fort Worth Stockyards in Texas. His new owners have a Longhorn breeding facility called Bentwood Ranch, where Chex will be their "VIP."
Richard and Jeanne Filip, Chex's new owners, consider the price they paid for their new livestock a bargain. At 101 inches, Chex's horns allegedly break the world record for length on a living bull, and his genetics will be the envy of the Texas Longhorn breeding world.
Why is a massive-horned animal so desirable? "It's the satisfaction and thrill of seeing what genetics can produce," Jeanne Filip, who runs Bentwood Ranch with her husband Richard, tells Newsweek. Maintaining the history of the Texas Longhorn breed and trying to produce the best animals possible are also important to the Filips. Chex doesn't just have the horns, he also has ideal body structure. "I would call him the perfect bull, the complete package," Richard says.
Other bovines have had bigger horns, though. An Ankole-Watusi breed steer named Lurch had the largest horns ever by circumference. Guinness lists a steer named Lazy J's Bluegrass for longest horn spread on a steer ever, at 10 feet long. However, the owners of another steer named Tejas Tip 2 Tip claim that his are even longer, at 10 feet, 2 and three-quarters inches. Guinness hasn't independently verified Tejas or Chex, though.
Sometimes, thick and massive horns can cause health complications. The Guinness Book of World Records lists a bull named Gopal as the owner of the longest set of horns ever recorded, but those horns were surgically removed due to the distress the weight was causing him. Similarly, Lurch died from cancer that took root at the base of one of his horns.
The world of longhorn auctions can be complicated. Last year, Lazy J's Bluegrass sold at the same auction site as Chex for $49,000, even though its horn spread was longer. The reason for the lower sale price is that steers are, by definition, castrated. But bulls can be bred, and his offspring, male and female, pass on genetics that could lead to monster horns (female cattle of several breeds also have horns, including Longhorns).
The new owners plan to breed Chex, who has already sired 250 offspring, with some of their own record cows. The Filips will also sell Chex's semen to other farmers who want to do the same. The website "SemenHub" appears to list Chex's semen for $325 per straw, and the new owners sell his semen on their own website.
Chex's new home at Bentwood also has M Arrow Cha Ching, who the owners claim was the 2016 record holder for the longest horn spread on a cow (female.) You can bet Chex will be a stud there.