Record-Breaking Canadian Sniper Kills ISIS Fighter With Two-Mile Shot
The bullet traveled 3,450 meters—over two miles—and took less than 10 seconds to reach its target: a fighter for the Islamic State militant group (ISIS) in Iraq.
Those are the details of the world record-breaking shot fired by a Canadian sniper, who has eclipsed the previous longest-confirmed kill by almost 1,000 meters.
A member of Canada's Joint Task Force 2—part of the U.S.-led coalition that is taking the fight to ISIS in Iraq—made the kill during an operation that took place within the last month in Iraq, sources told The Globe and Mail. The identity of the sniper and his observer was kept anonymous for operational security reasons.
The sniper used a McMillan TAC-50 sniper rifle—the standard long-range sniper of the Canadian military—and fired the shot from a high-rise building in an undisclosed location. Firing from such a distance, the shooter would have had to account for wind; the round dropping as it was fired from a higher location; and even the curvature of the earth.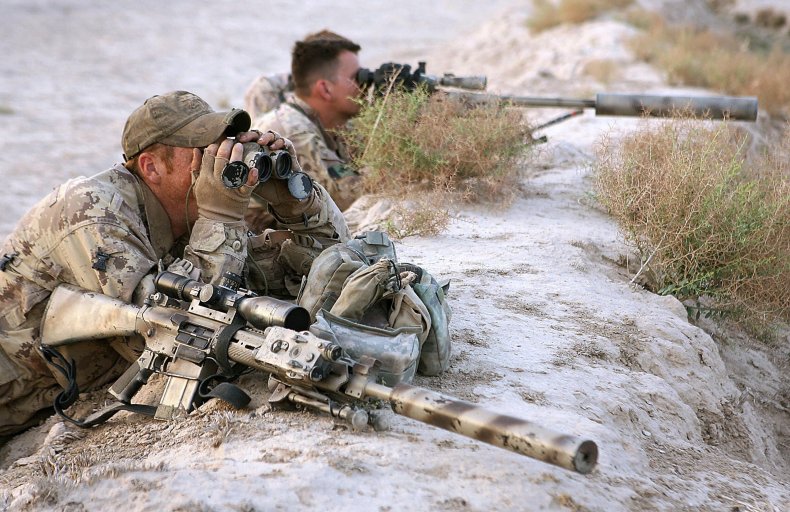 "The shot in question actually disrupted a Daesh [ISIS] attack on Iraqi sources," a military source told The Globe and Mail . "Instead of dropping a bomb that could potentially kill civilians in the area, it is a very precise application of force and because it was so far away, the bad guys didn't have a clue what was happening."
Read more: 'Brutal' ISIS has destroyed the historic Grand al-Nuri Mosque in Mosul, which stood for eight centuries
Canada has been involved in the war against ISIS since 2014. Prime Minister Justin Trudeau's Liberal government ordered the withdrawal of six Canadian fighter jets, which had been attacking ISIS positions in Iraq and Syria, in late 2015. But the Trudeau government has expanded the number of Canadian special forces involved in training missions with Kurdish Peshmerga forces, which will grow from 69 to 207.
In response, ISIS has called for attacks in Canada, and several fighters claiming allegiance to the group have gone on shooting sprees in the country. In October 2014, Martin Couture-Rouleau—who was known as Ahmad the Converted—drove a car into two Canadian soldiers near a Quebec mall, killing one. The attacker had had his passport revoked months earlier after showing sympathies for ISIS and expressing a desire to travel to Iraq.
Two days after the attack, Michael Zehaf-Bibeau, a Canadian-Libyan, shot and killed a Canadian soldier at the National War Memorial before breaking into the parliament buildings, where he was shot dead. Canada's then-Prime Minister Stephen Harper said that the attacker had been motivated by Canada's participation in the war against ISIS.
The world record sniper shot means that three of the top five longest confirmed kills were carried out by Canadian snipers. The top five are:
Canadian sniper in Iraq (2017): 3,450 meters.
British sniper Craig Harrison in Afghanistan (2009): 2,475 meters
Canadian sniper Rob Furlong in Afghanistan (2002): 2,430 meters
Canadian sniper Arron Perry in Afghanistan (2002): 2,310 meters
U.S. sniper Brian Kemer in Iraq (2004): 2,300 meters