World at Risk of 'Multiple Famines of Biblical Proportions' Amid COVID-19 Pandemic, Top UN Official Says
A top United Nations official has warned that humanity could be facing several famines of "biblical proportions" in the near future amid the coronavirus pandemic if urgent action is not taken.
"Forgive me for speaking bluntly, but I'd like to lay out for you very clearly what the world is facing at this very moment," David Beasley, Executive Director of the UN's World Food Programme (WFP), said during a virtual session of the Security Council on Tuesday. "At the same time while dealing with a COVID-19 pandemic, we are also on the brink of a hunger pandemic.
"There are no famines yet. But I must warn you that if we don't prepare and act now, to secure access, avoid funding shortfalls and disruptions to trade, we could be facing multiple famines of biblical proportions within a short few months."
Beasley said that even before the seriousness of the COVID-19 pandemic became apparent, he was warning that the world could be facing the worst humanitarian crisis since World War II, due to several ongoing crises, including wars in Syria and Yemen and desert locust swarms in parts of Africa, among others.
"So today, with COVID-19, I want to stress that we are not only facing a global health pandemic but also a global humanitarian catastrophe. Millions of civilians living in conflict-scarred nations, including many women and children, face being pushed to the brink of starvation, with the specter of famine a very real and dangerous possibility," he said.
The comments came after the publication of the fourth annual Global Report on Food Crisis which found that the number of people facing acute food insecurity could rise to 265 million in 2020, an increase of 130 million from 135 million in 2019, as a result of the pandemic's economic impacts, according to WFP projections.
The report notes that the majority of the people suffering acute food insecurity are living in countries affected by conflict, climate change and economic crises in that order.
"This sounds truly shocking but let me give you the numbers: 821 million people go to bed hungry every night all over the world, chronically hungry, and as the new Global Report on Food Crisis published today shows, there are a further 135 million people facing crisis levels of hunger or worse," Beasley said.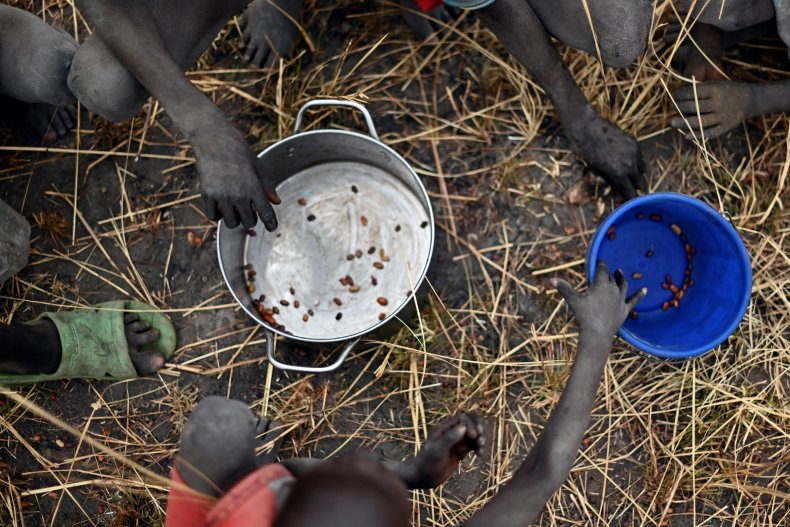 "That means 135 million people on earth are marching towards the brink of starvation. But now the WFP analysis shows that, due to the coronavirus, an additional 130 million people could be pushed to the brink of starvation by the end of 2020. That's a total of 265 million people," he said. "In a worst-case scenario, we could be looking at famine in about three dozen countries, and in fact, in 10 of these countries we already have more than one million people per country who are on the verge of starvation."
The report highlighted 10 countries that experienced the worst food crises of 2019: Yemen, the Democratic Republic of the Congo, Afghanistan, Venezuela, Ethiopia, South Sudan, Syria, Sudan, Nigeria, and Haiti.
"On any given day now, WFP offers a lifeline to nearly 100 million people, up from about 80 million just a few years ago. This includes about 30 million people who literally depend on us to stay alive. If we can't reach these people with the life-saving assistance they need, our analysis shows that 300,000 people could starve to death every single day over a three-month period. This does not include the increase of starvation due to COVID-19," Beasley said.
"There is also a real danger that more people could potentially die from the economic impact of COVID-19 than from the virus itself," he said. "This is why I am talking about a hunger pandemic. It is critical we come together as one united global community to defeat this disease, and protect the most vulnerable nations and communities from its potentially devastating effects."
Beasley noted that lockdowns and their resulting economic recessions are expected to have a significant impact on people around the world who are already struggling to feed themselves. In some countries, the economic effects will be compounded by the drop in overseas remittances, falls in tourism, or collapsing oil prices. Meanwhile, there is also a chance that more-affluent countries could begin to restrict foreign aid.
"COVID-19 is potentially catastrophic for millions who are already hanging by a thread," WFP's Senior Economist, Arif Husain, said in a statement. "It is a hammer blow for millions more who can only eat if they earn a wage. Lockdowns and global economic recession have already decimated their nest eggs. It only takes one more shock—like COVID-19—to push them over the edge. We must collectively act now to mitigate the impact of this global catastrophe."
Beasley called for urgent action to protect the most vulnerable and save lives, highlighting the need for a global ceasefire so that food aid can reach those who need it unimpeded.
"We need all parties involved in conflicts to give us swift and unimpeded humanitarian access to all vulnerable communities, so they can get the assistance to them that they need, regardless of who they are or where they are," Beasley said.
"We also need in a very general sense humanitarian goods and commercial trade to continue flowing across borders, because they are the lifeline of global food systems as well as the global economy. Supply chains have to keep moving if we are going to overcome this pandemic and get food from where it is produced to where it is needed. It also means resisting the temptation to introduce export bans or import subsidies, which can lead to price hikes and almost always backfire," he said.
He added that coordinated action was needed to support humanitarian assistance programs. For example, the WFP is requesting $350 million in order to set up a network of logistics hubs and transport systems to ensure that humanitarian supplies keep flowing around the world.
Furthermore, the WFP is "implementing plans to pre-position three months' worth of food and cash to serve country operations identified as priorities. We are asking donors to accelerate the $1.9 billion in funding that has already been pledged, so we can build stockpiles and create these life-saving buffers, and protect the most vulnerable from the effects of supply chain disruptions, commodity shortages, economic damage and lockdowns. You understand exactly what I'm talking about," he said.