Baseball Won't Solve America's Problems, But It Reminds Us Who We Really Are
I'm not sure I've ever looked forward to a World Series more than this one, whoever ends up playing—and I know exactly when that happened.
It was Game 3 of the National League Division Series between the Los Angeles Dodgers and the Washington Nationals, and I am trying to explain the rules of baseball to an 8-year-old. I go basic at first—at-bats, outs, innings—and she waves me off like the worldly little L.A. girl that she is: "Well, no; now that I play kickball, I get all that."
So I wade happily into the weeds with her—"Well, it's a full count, which means..." And just as she turns to me, head tilted in a moment of hard-won curiosity that I'm already relishing, Dodgers third baseman Justin Turner hits a three-run homer to take his team up 8-2 and all but guarantee a victory.
It's one of those sports moments I'll remember a long time, but not for anything that happened on the field. The Dodgers lost the series in five, and truth be told, I hadn't planned to pay much attention to these playoffs till the World Series, if at all; I just haven't had the bandwidth to focus on sports lately. But watching baseball with this whip-smart third-grader—talking pitch counts and fastballs and stances with the beloved daughter of two accomplished lawyers, one a witty sports superfan from a Central American immigrant family and the other a lifetime Angeleno with piercing blue eyes who's been my best friend since the day Stanford put us together as random freshman roommates—I just felt American. And in a way I realize I haven't in ages.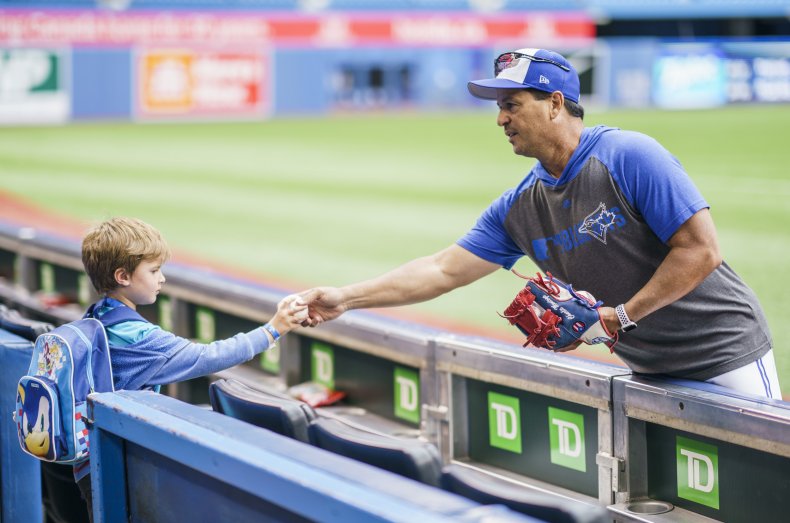 I'm a sports fan. And not because I played; I can barely control my lanky limbs in everyday situations, let alone competitive ones. But as any lover of football or basketball or hockey or Olympic curling will tell you, there's something so satisfying and downright visceral about watching humans at play—the rush of seeing them exert their will over physics and each other, the unbridled emotion of the successes and the failures, the shared, human drama of it all.
Baseball, though? It's even more than all that, for me, because it often feels so much less over the top, whether it's opening day or the World Series. Facts and numbers and endless statistics are hallmarks of baseball fandom, up to and including deep discussions of ball behavior this postseason that read like scientific journal articles. Nuance not only matters in this game, it's celebrated, and even a passing fan can appreciate it—the subtle adjustment in an outfielder's position or that split second when a runner hovers between stealing or staying put. Time moves only as quickly as the outs allow, and while there are certainly electric moments in stadiums, the experience is as meaningful for all those minutes when you're just chatting with the folks behind you or deciding whether you want the hot dog tummy ache or the cotton candy one.
I don't yearn for a simpler time. I'm glad that LGBTQ Americans can marry, that most of us agree on universal access to birth control and abortion, and that I don't have to drink at a separate water fountain. But I do miss easy, unselfconscious silence. I miss reveling in actual knowledge and having the space to enjoy slow, earned things, the patience just to exist together, knowing that'll make the highs you're all hoping for even higher should they come. That's what occurred to me watching that Game 3: And I've cherished, whether I knew it or not, how casually the nature of the game reinforced—without fanfare or theatrics—some of what I valued most in our national character.
I've never needed that more than right now, when so many dramas infinitely more distressing than sports—impeachment inquiries and trials by Twitter, mass shootings that feel increasingly routine and disasters that're only "natural" in the sense that they naturally follow from our abuse and misuse of the planet—seem to be constantly unfolding.
Baseball won't solve our problems, and it's true my time might be better spent protesting regulation rollbacks or reading up on the situation in Syria, tackling what scares me most head-on rather than watching games we'll probably all soon forget. But there's something to be said for remembering who I think we really are, too. Which is why I'll be watching all the postseason baseball I can, after all, and cheering every second of the 2019 World Series, no matter who's on the field.