World Series 2019 Schedule: Where to Watch Nationals vs. Astros Game 2, TV Channel, Live Stream and Odds
The Houston Astros suffered only their second home defeat in this postseason as they lost Game 1 of the World Series 5-4 to the Washington Nationals on Tuesday night.
Playing in their first ever Fall Classic, the Nationals showed no sign of stage fright and took a surprise 1-0 lead in the series, courtesy of a superb display from Juan Soto.
The Astros raced to a 2-0 lead in the first inning but were pegged back in the top of the fourth inning as Soto crushed an enormous 417-foot home run off Astros ace Gerrit Cole to level the score.
Having become the second-youngest player in baseball history to hit a home run in his first World Series debut, the 20-year-old then added a two-run double off Cole to give the Nationals a 5-2 lead.
The Nationals left fielder was struck out by Cole in his first at-bat and admitted nerves had got the better of him in his World Series debut.
"After the first at-bat, I just said, 'It's another baseball game,'" he was quoted as saying by ESPN.
"In the first at-bat, I'm not going to lie, I was a little bit shaking in my legs."
Game 1 was billed as a matchup between two of the best starting pitchers in the majors but Cole and Max Scherzer combined to allow seven runs and 13 hits over their 12 innings.
Cole's 19-game winning streak stretched back 25 starts all the way to May—the Astros hadn't lost a game started by Cole since July 12—and led the major in strikeouts, but looked ordinary in Game 1.
"I didn't have my A-game tonight," the three-time All-Star told the Associated Press.
Scherzer endured a similarly difficult day over his five innings, while projected Game 4 starter Patrick Corbin threw a scoreless sixth for the Nationals.
Washington, however, will remain concerned over its bullpen after Tanner Rainey gave up a home to run to George Springer in the seventh inning that threatened to spark an Astros' revival.
Rainey got just one batter out and allowed two walks, while Daniel Hudson gave up three hits in 1 1/3 innings and Sean Doolittle retired all four batters he faced.
Game 2, scheduled for Wednesday night in Houston, has also been heralded as a matchup of pitching aces with the Astros Justin Verlander facing Stephen Strasburg.
Here's all you need to know ahead of Game 2.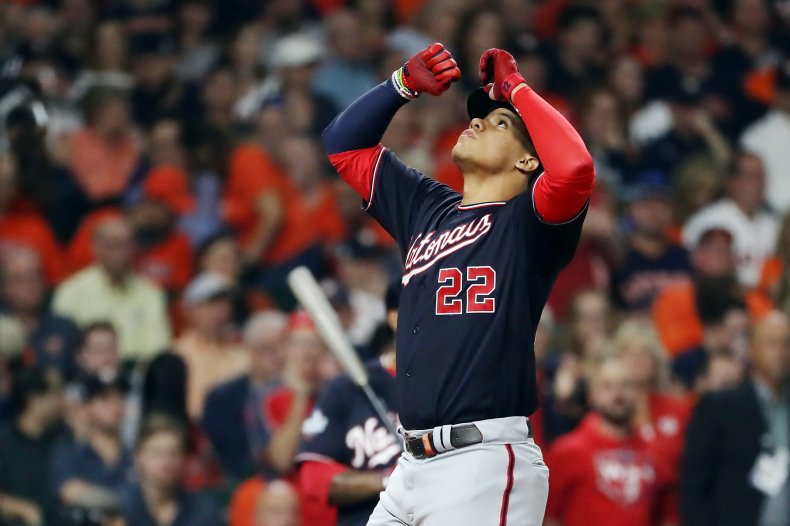 When and where is Game 2?
Game 2 of the 2019 World Series is scheduled for Wednesday, October 23 at Minute Maid Park in Houston, Texas.
Firs pitch is scheduled for 8:07 p.m. ET.
Who are the starting pitchers?
Stephen Strasburg will get the ball for the Nationals in Game 2.
Justin Verlander, meanwhile, will be the opening pitcher for the Astros.
TV channel
The World Series will be broadcast exclusively by Fox.
Live stream
Live stream will be available via Fox's digital platforms and via the Fox Sports GO app, as well as fuboTV.
Game 2 odds
According to DraftKings, the Astros are 4/5 favorite to win Game 2, while the Nationals are 21/20 underdogs.