2019 World Series: Where to Watch Astros vs. Nationals Game 3, TV Channel, Live Stream and Odds
The World Series move to Washington on Friday and may not return to Houston again this season.
Two wins in their upcoming three home games would be enough for the Nationals to clinch the Fall Classic for the first time in franchise history and put the finishing touches on what is shaping up to be a memorable postseason run.
Washington opened up a two-game lead on Wednesday night, winning a second consecutive game in Houston in as many days as it thrashed the Astros 12-3.
The first inning delivered two runs apiece for each team, but both the Nationals and the Astros failed to trouble the scoreboard for the next five innings.
The situation changed dramatically in the top of the seventh when Kurt Suzuki homered off Justin Verlander as Washington racked up six unanswered runs, before Adam Eaton and Michael Taylor hit home runs in the eighth and ninth inning respectively to extend their team's lead.
The Astros arrived into the World Series as the biggest-favorite since 2007 but two of their pitching aces have been thoroughly outplayed in the first two games.
Gerrit Cole struggled in Game 1 and Verlander suffered a similar fate in Game 2, giving up four runs and three walks in six innings.
The 36-year-old is now 0-5 in World Series starts with a 5.73 ERA and while he passed John Smoltz for most strikeouts in postseason history, no other pitcher has made as many World Series starts without a win.
The eight-time All-Star was left reeling and admitted there was no room for error on a stage as big as Game 2 of the Fall Classic.
"Obviously it's magnified in the World Series when you're not clicking on all cylinders," he was quoted as saying by the Associated Press.
His Nationals counterpart, Stephen Strasburg, had a far better night. In his World Series debut, the 31-year-old allowed a two-run homer to Alex Bregman in the first inning, before throwing five shutout innings.
In this postseason, Strasburg is 3-0 in four starts and one relief appearance with a 1.93 ERA, 40 strikeouts and two walks in 28 innings.
If things go to plan for the Nationals, he may no longer feature as a starter in the series.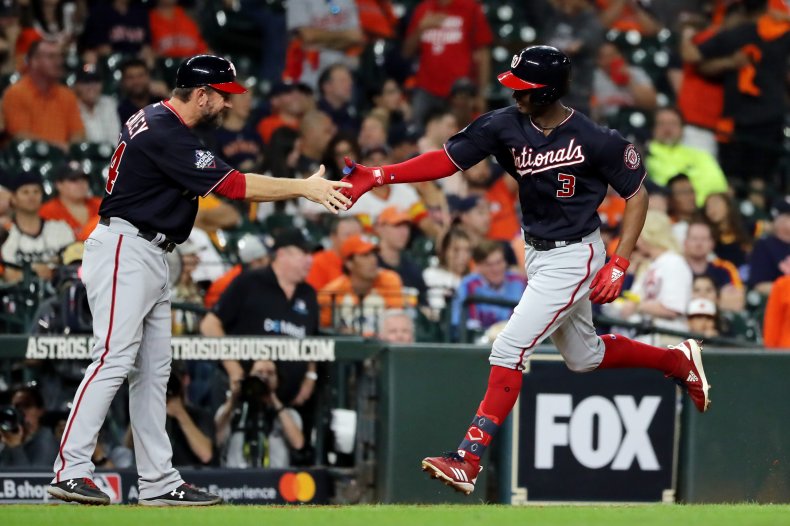 The Astros were the best team in the majors this season, racking up an MLB-best 107 wins but now find themselves in a hole. One which, statistically, it's almost impossible to climb out of.
In the history of best-of-seven series, teams that have won the first two games on the road have gone on to win to series 23 out of 26 times.
Astros manager A.J. Hinch, however, insisted Houston would regroup and come back stronger in Game 3, which is scheduled for Friday night.
"They came into our building and played two really good games," he told ESPN.
"We're going to have to sleep off the latter one-third of the game. I don't want to lump this into a horrible game. It was a horrible three innings. It wasn't a horrible game."
Here's all you need to know ahead of Game 3.
When and where is Game 3?
Game 3 of the 2019 World Series is scheduled for Friday, October 25 at Nationals Park in Washington, D.C.
Firs pitch is scheduled for 8:07 p.m. ET.
Who are the starting pitchers?
Anibal Sanchez will get the ball for the Nationals in Game 3, while as expected Zack Greinke got the nod for the Astros.
TV channel
The World Series is broadcast exclusively by Fox.
Live stream
Live stream will be available via Fox's digital platforms and via the Fox Sports GO app, as well as fuboTV.
Game 3 odds
The Astros may be 2-0 down in the series, but remain the bookmakers' favorite to win Game 3. According to BetOnline, Houston is a 1.5-run favorite and is 7/5 to cover the spread, while the Nationals are 11/10 underdogs.
The over/under line in terms of total runs scored is set at 7.5.
2019 World Series: Where to Watch Astros vs. Nationals Game 3, TV Channel, Live Stream and Odds | Sports