The Houston Astros are one win away from claiming a second World Series title in three seasons and from joining an elite club in baseball's history.
The Astros won a third consecutive game in Washington to take a 3-2 lead in the series and now have the chance to clinch the championship in front of their fans as the series returns to Texas for Game 6 and Game 7.
Houston trashed Washington 7-1 on Sunday night, as Gerrit Cole rebounded from a difficult Game 1 in style to deliver a dominant performance.
Cole showed why he recorded a strikeout rate of 39.9 percent this season—the highest ever by a starting pitcher—as he gave up just one run and three hits in seven innings with nine strikeouts.
"We had a challenge that we needed to meet, and we did," the Astros starting pitcher was quoted as saying by ESPN.
"The World Series is about trying to collect four wins. Doesn't matter how many games you lose, unless you lose four. You've always got a shot unless you lost four, and so that's what we believed, and we just try to keep the same process that we've been keeping all year."
Houston took a 2-0 lead in the second inning as Yordan Alvarez hit his first postseason home run, before Carlos Correa and George Springer also homered in the fourth and ninth inning respectively.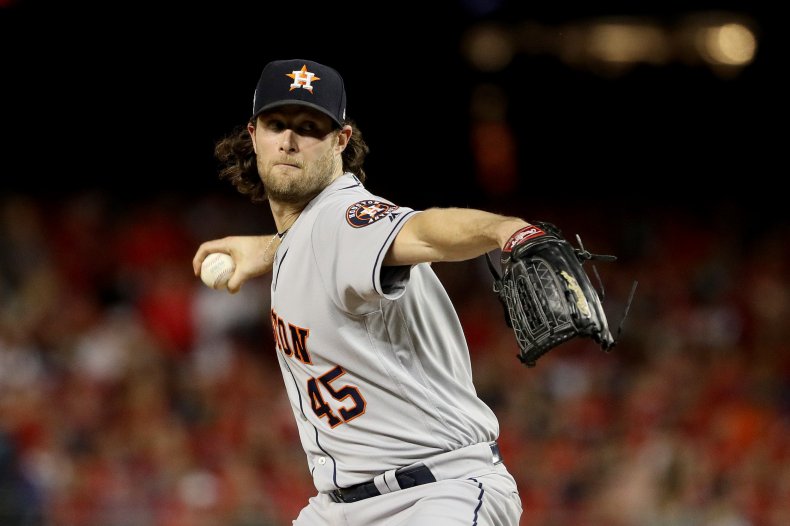 Washington was forced to scratch Max Scherzer less than four hours before first pitch, because of spasms in his neck and upper right trapezius.
The Nationals were kept scoreless until the bottom of the seventh, when Juan Soto eventually homered to put the home team on the board.
After outscoring the Astros 17-7 in the first two games, the Nationals have scored just one run in each of the last three games.
The Astros, meanwhile, are now in the box seat after finding themselves in a 2-0 hole after losing both games in Houston.
Should the Astros clinch the series, they would become only the fifth team in World Series history to win the title after losing the first two games at home—and only the third since the MLB adopted the 2-3-2 format for the Fall Classic.
In 1986, the New York Mets lost both games at Shea Stadium to the Boston Red Sox, before rebounding to win the first two games at Fenway Park.
Boston took a 3-2 lead back to New York but lost Game 6 in incredible circumstances as Bill Buckner's infamous error gifted the Mets a 6-5, with Boston one out away from ending a 68-year wait for a World Series title.
A decade later, the New York Yankees were outscored by a combined margin of 16-1 in the first two games at Yankee Stadium, but won the next two games in Atlanta to level the series against the Braves.
The Yankees took a 3-2 lead back to New York after winning 1-0 in Game 5 and then clinched a 34th title in front of their own fans after winning 3-2 in Game 6.
In the history of the Fall Classic, the last 10 teams to have taken a 2-0 lead—irrespective of where the first two games were played—went on to win the title and six of those did so by sweeping the series.
When it comes to best-of-seven series in the postseason, teams that have won the first two games on the road have gone on to win the series 22 out of 25 times.
Houston, however, is on the verge of bucking both trends and completing a remarkable comeback.
Here is everything you need to know about Game 6.
When and where is Game 6?
Game 6 of the 2019 World Series is scheduled for Tuesday, October 29 at Minute Maid Park in Houston, Texas.
First pitch is scheduled for 8:07 p.m. ET.
Who are the starting pitchers?
The Game 2 starters are back in action on Tuesday night, with Justin Verlander and Stephen Strasburg going head-to-head.
Verlander gave up four runs and three walks in six innings in Game 2 and is now 0-5 in World Series starts with a 5.73 ERA.
While the Astros ace passed John Smoltz for most strikeouts in postseason history, no other pitcher has made as many World Series starts without a win.
Strasburg, had a far better night. In his World Series debut, the 31-year-old allowed a two-run homer to Alex Bregman in the first inning, before throwing five shutout innings.
In this postseason, Strasburg is 3-0 in four starts and one relief appearance with a 1.93 ERA, 40 strikeouts and two walks in 28 innings.
TV channel
The World Series will be broadcast exclusively by Fox.
Live stream
Live stream will be available via Fox's digital platforms and via the Fox Sports GO app, as well as fuboTV.
Game 6 odds
According to BetOnline, the Astros are 1.5-run favorite and are 6/5 to cover the spread, while the Nationals are 81/50 underdogs going into Game 6.
The over/under line in terms of total runs scored is set at 7.5.
About the writer
Dan Cancian is currently a reporter for Newsweek based in London, England. Prior to joining Newsweek in January 2018, he was a news and business reporter at International Business Times UK. Dan has also written for The Guardian and The Observer.