World Series 2019 Schedule: Where to Watch Nationals vs. Astros Game 7, TV Channel, Live Stream and Odds
The Washington Nationals defeated the Houston Astros 7-2 in Game 6 of the World Series, to snap a three-game losing streak and keep their hopes of a first ever title alive.
The Nationals arrived in Houston, Texas, trailing 3-2 after losing all three games in Washington but bounced back to win on the road for the third time in the series.
It's the first time in World Series history that both teams have won each of their three road games and another road win in Game 7 on Wednesday night would see the Nationals become the first franchise to win all four road games in the Fall Classic.
"I don't think there's a person in the building that would have assumed that all road teams were going to win," Houston manager A.J. Hinch told the Associated Press. "We've just got to make sure that last one is not the same."
Washington opened the scoring in the top of the first inning, but the Astros quickly took a 2-1 lead as George Springer scored on Jose Altuve's sacrifice fly, before Alex Bregman hit his third home run of the series.
Adam Eaton and Juan Soto then homered off Justin Verlander in the top of the fifth to put the Nationals back in front, thus ensuring more lead changes in Game 6 than in the whole first five games combined.
Washington's coach Dave Martinez became the first coach to be ejected in a World Series since 1996 as he vehemently protested a runner interference call on Trea Turner in the seventh.
Despite the controversy, the Nationals held firm and Anthony Rendon slugged a two-run homer in the ninth to extend the lead to 7-2 and force a winner-takes-all Game 7.
"For the people who have followed this team the whole season, it had to be this way," Nationals reliever Sean Doolittle was quoted as saying by ESPN.
"It was gonna be this way. We've had the knack for making things a little tougher on ourselves than we needed to at times. It just feels like the most 2019 Nationals thing for this to come down to Game 7 of the World Series."
Doolittle got the final two outs after Stephen Strasburg put in a phenomenal shift, pitching 8 1/3 innings, allowing just two runs and two walks and striking out seven batters.
Justin Verlander, meanwhile, dropped to 0-6 with a 5.68 ERA in seven postseason starts, no other pitcher has made as many World Series starts without a win.
Visiting teams have won three straight Game 7s in the World Series, but Bregman was unfazed by history.
"It's going to be great," the Astros third baseman said. "We got an incredible team, they've got an incredible team. It's winner take all, one game. It's a blast. This is why we play the game. Game 7 at home at Minute Maid Park in front of our home fans is going to be a blast. Leave it all out there."
Here's all you need to know ahead of Game 7.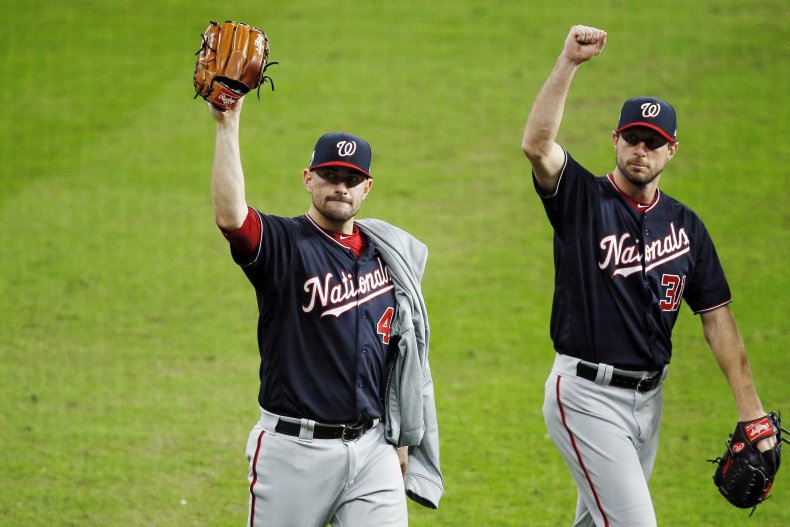 When and where is Game 7?
Game 7 of the 2019 World Series is scheduled for Wednesday, October 30 at Minute Maid Park in Houston, Texas.
Firs pitch is scheduled for 8:07 p.m. ET.
Who are the starting pitchers?
As expected, Zack Greinke will get the ball for the Astros in Week 7, while Max Scherzer got the nod for the Nationals.
Scherzer played Game 1 but was left was scratched out of Game 5 just three hours before the start because of a neck issue, but has recovered time.
TV channel
The World Series decider will be broadcast exclusively by Fox.
Live stream
Live stream will be available via Fox's digital platforms and via the Fox Sports GO app, as well as fuboTV.
Game 7 odds
According to Oddschecker, the Astros are a one-run favorite and are 4/5 to cover the spread, while the Nationals are 61/50 underdog.s
The over/under line in terms of total runs scored is set at 4.5.