World Series MVP Stephen Strasburg Says Claim That He Snubbed Trump at White House Celebration is 'Fake News'
Washington Nationals pitcher Stephen Strasburg, who won the World Series MVP award last week, denies he shrugged off President Donald Trump during his team's celebration at the White House on Monday.
Strasburg had to dust off his Twitter to do it. In his first tweet in almost 18 months, Strasburg retweeted a video that shows him speaking at the White House and then walking past Trump, who had a hand extended to shake that of Strasburg's.
Newsweek subscription offers >
The video posted by Rudy Gersten simply read, "Strasburg left Trump hanging."
Strasburg wrote above the retweeted video, "#FakeNews."
Not long after Strasburg denied leaving the president "hanging," Gersten replied with "Strasburg tweets for first time in nearly 2 years, and it's just to call my tweet #FakeNews."
Monday's White House celebration can be seen from two sides politically. There was the side that showed up and praised the administration and thanked President Trump. Nationals catcher Kurt Suzuki wore a red "Make America Great Again" ballcap as Trump awkwardly embraced him. The other was Ryan Zimmerman, the team's first draft pick after moving from Montreal to Washington, who presented Trump a team jersey with the number "45" on the back.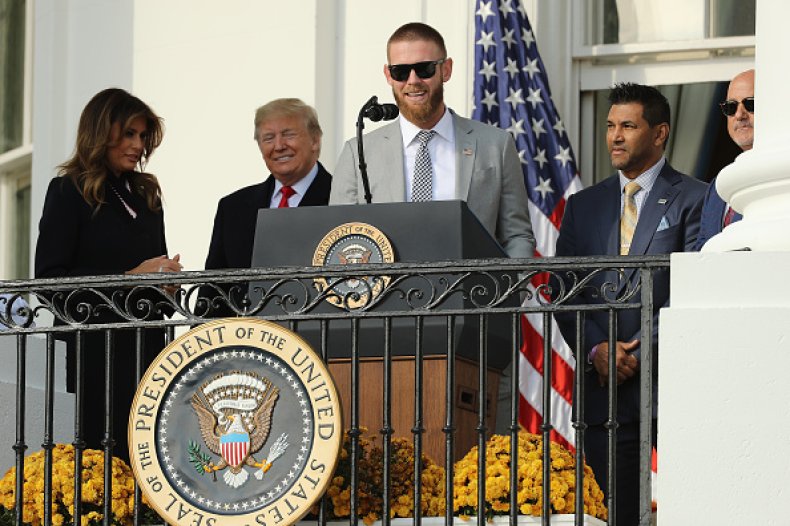 "To see all the fans show up, the parade, looking at the crowd here, we couldn't have done it without you," Zimmerman said toward the crowd, and then he turned toward Trump and thanked him as well.
"I would like to thank you for keeping everyone safe in our country and for continuing to make America the greatest country to live in in the world," he added.
Zimmerman then turned and presented the jersey to Trump.
"You're so nice" Trump said to Zimmerman in return.
On the flip side of players praising Trump was the absence of others who decided to forego the White House.
Those notably missing from the White House party were: Anthony Rendon, Victor Robles, Michael A. Taylor, Wilmer Difo, Sean Doolittle, Joe Ross, Javy Guerra and Wander Suero.
"There's a lot of things, policies that I disagree with, but at the end of the day, it has more to do with the divisive rhetoric and the enabling of conspiracy theories and widening the divide in this country," Doolittle said in The Washington Post last week. "My wife and I stand for inclusion and acceptance, and we've done work with refugees, people that come from, you know, the 's***hole countries.'"
The Washington Nationals won the 2019 World Series with a Game 7 win over the Houston Astros last Wednesday in Houston. Strasburg, who was he first overall pick in Major League Baseball when the Nationals selected him in 2009—won two games on the road in Houston for the Nationals, which won all four of its games in Houston.
It marked the first time any of the major professional sports teams in America—MLB, NBA or NHL—won all of its games in a best-of-7 series on the road.
World Series MVP Stephen Strasburg Says Claim That He Snubbed Trump at White House Celebration is 'Fake News' | Sports