World Teachers' Day 2018: The Best and Worst States for Teachers
They're the people who taught you to read and laid the foundation that gives you the ability to add up what you spent for the month and realize you're way over budget. They're the people you accidentally called "mom" and felt the blood rush to your face with embarrassment. They're teachers and on Friday, people from around the globe celebrate the world's educators for World Teachers' Day.
Ahead of the celebration, WalletHub analyzed all 50 states and the District of Columbia to determine the best and worst states in America for teachers with regards to 22 factors of the job. The top 10 best states for teachers were determined to be:
New York
Connecticut
Minnesota
Illinois
North Dakota
Pennsylvania
Wyoming
New Jersey
Maryland
Ohio
The worst states including the District of Columbia in America, according to WalletHub's findings were:
Hawaii
Arizona
North Carolina
Louisiana
Florida
Mississippi
South Carolina
Oklahoma
District of Columbia
West Virginia
WalletHub also broke down the results by various categories to determine the best and worst states for salaries, projected turnover, pupil to teacher ratio, spending per student and school system.
Salaries were adjusted for the cost of living and Michigan was found to be the state that pays its teachers the highest salary. Michigan was followed by Illinois, Pennsylvania, Ohio and New York for the top five spots.
Kentucky didn't make the top 10 overall list, but when it came to lowest projected teacher turnover for the year 2026, the Bluegrass State took the number one spot. The District of Columbia had the highest projected teacher turnover rate.
A common discussion when it comes to the success of a school district is the number of students assigned to each teacher. The belief being that fewer students in a class foster a more beneficial learning environment.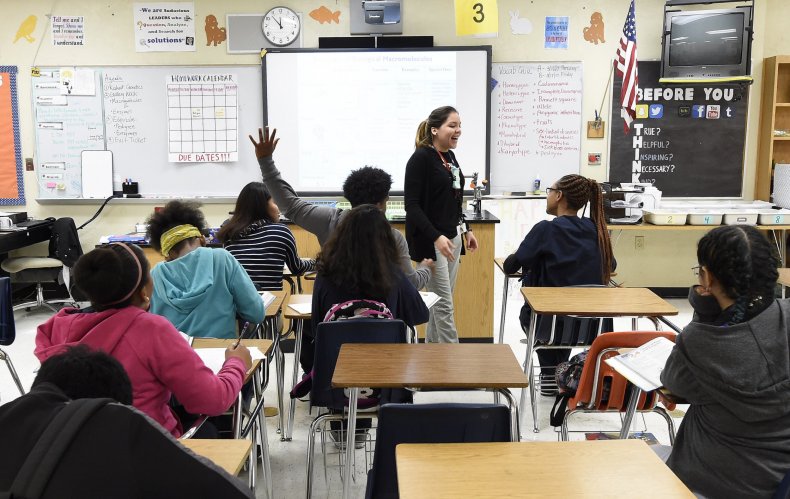 WalletHub's analysis found that Vermont has the lowest pupil to teacher ratio, followed by North Dakota, Maine, New Jersey and then Connecticut and Louisiana, which tied for the fifth spot. Rounding out the bottom of the list were Oregon, Nevada, Utah, Arizona and California.
Funding is another contentious point for public school systems with there never seeming to be enough money to go around. The District of Columbia was identified as being the best place for teachers when only factoring in the amount public schools spend per student. Indiana was identified as the worst.
Massachusetts, New Jersey, Connecticut, New Hampshire and Vermont were ranked the top five states for overall school systems. On the other side of the list, Arizona, Alaska, the District of Columbia, Louisiana and New Mexico took the bottom five spots.
To compile its list, WalletHub broke 22 metrics down into one of two categories: Opportunity and Competition or Academic and Work Environment. Opportunity and Competition was made up of 10 metrics worth seven points each and were listed as:
Average Starting Salary for Teachers
Average Salary for Teachers
Teachers' Income Growth Potential
10-Year Change in Teacher Salaries
Average Teacher Pension
Share of New Teachers with Inadequate Pensions
Projected Teacher Competition in Year 2026
Public-School Enrollment Growth
Teacher Tenure Protections
Share of Uncertified Teachers
The category Academic and Work Environment included 12 metrics that varied in weight from 1.20 points to 7.20 points. The breakdown was:
Quality of School System: Triple Weight 7.20 Points
Pupil-Teacher Ratio: 2.40 Points
Public-School Spending per Student: 2.40 Points
Presence of Annual Teacher-Evaluation Requirement: 2.40 Points
Presence of Teacher-Effectiveness Requirement: 2.40 Points
Projected Share of Teacher Turnover: 2.40 Points
Teacher Union Strength: 2.40 Points
Teacher Safety: 2.40 Points
Share of Teachers Who Feel Supported by Their Administrator: 2.40 Points
Average Commute Time:1.20 Points
Prevalence of Childhood Disadvantage: 1.20 Points
Working Mom-Friendliness:1.20 Points
Opportunity and Competition was weighted about 40 points more than Academic and Work Environment because WalletHub identified competitive salaries and job security to be integral to a balanced personal and professional life.
World Teachers' Day commemorates the 1966 adoption of the United Nations Educational, Scientific and Cultural Organization recommendation. The recommendation set standards for teachers' responsibilities, further education and learning conditions.