World Teachers' Day 2019: Theme Honors Teachers' Accomplishment, Highlights Education Needs
World Teachers' Day recognizes the contribution educators make to the world and reminds people to show their gratitude for the teachers who impacted their own lives.
Celebrated annually on October 5, the United Nations Educational, Scientific and Cultural Organization (UNESCO) established World Teachers' Day more than 20 years ago. This year's theme is "Young Teachers: The Future of the Profession" and aims to highlight the unique difficulties facing teachers face in the present-day.
"While teachers were once highly respected professionals, valued, trusted and accepted as inspirational role models for young people, nowadays they too easily serve as scapegoats for the failures of education systems," a concept note for the occasion on UNESCO's website explained.
The note also pointed out a number of problems facing teachers, including the fact that families no longer automatically support the teacher's authority over the classroom and their students. Another problem in the education sector, according to UNESCO, is the idea that technology, artificial intelligence and automation will make human tasks redundant.
Now, there's a concern that not enough young people are pursuing education as a profession, meaning there could be a teacher shortage as older educators retire in the coming decade. To meet United Nations Sustainable Development Goals, UNESCO estimates that more than 69 million primary and secondary education teachers must be recruited by 2030.
"Without a new generation of motivated teachers, millions of learners will miss out, or continue to miss out on their right to a quality education. With teachers being underpaid and undervalued, attracting and retaining talent is a challenge," UNESCO Director-General Audrey Azoulay and the leaders of the International Labour Organization (ILO), UNICEF, the United Nations Development Programme and Educational International wrote in a joint message.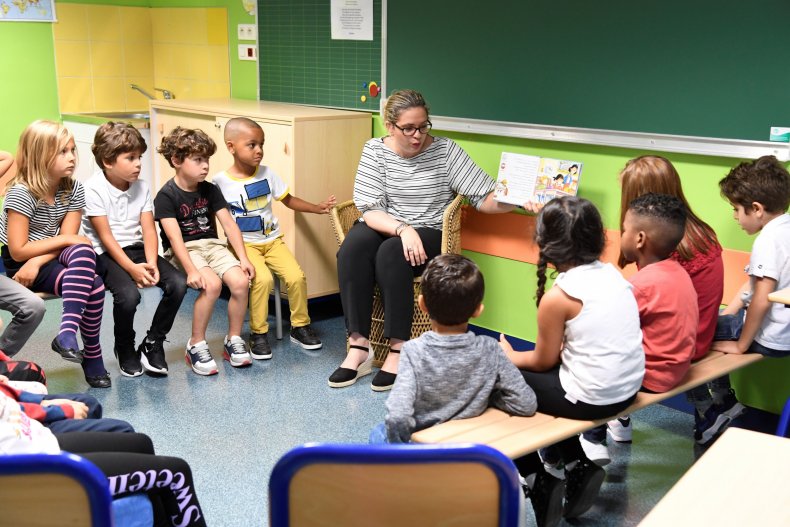 The message continued with a request that governments make teaching a first choice profession for young people.
World Teachers' Day was established in 1994 to commemorate the anniversary of the adoption of the ILO/UNESCO recommendation concerning the Status of Teachers. The recommendation created benchmarks for teachers' rights and responsibilities and set standards for their preparation, continuing education, employment and teaching and learning conditions.
"Above all, we celebrate the work of dedicated teachers around the world who continue to strive every day to ensure that 'inclusive and equitable quality education' and the promotion of 'lifelong learning opportunities for all' become a reality in every corner of the globe," the joint message stated.
Although World Teachers' Day is technically on Saturday, the main event will take place on Monday at UNESCO's headquarters in Paris. The event will include multiple speeches and panels, as well as, musical performances and lunch.