'World Trade Center' Is Nicolas Cage's Most Subdued Performance And These Critics Agree
The terrorist attacks of September 11th, 2001 were recreated in director Oliver Stone's World Trade Center. Nicolas Cage, in his second chapter, is mostly known for his eccentric mannerisms and oddball portrayals. But in this role, critics agree that the 56-year-old actor delivered a somber and subdued performance as real-life survivor John McLoughlin.
Based on true events, the 2006 film follows two Port Authority police officers, Sergeant McLoughlin (Cage) and Will Jimeno (Michael Peña), as they rushed into the doomed North Tower. Before they could attempt to help evacuate the people inside, the buildings suddenly collapsed. The two cops were pinned under the rubble, waiting for the rescue team to find them.
About 14 years ago, Cage explained how the "high-pressure gig" became so personal to the Chicago Tribune. Before production started, Cage spent his time with McLoughlin and put himself inside an isolation tank. Because McLoughlin was trapped under the streets of Manhattan, he also needed to feel what it was like to be in complete darkness.
He said, "I knew it had to be good. I didn't want to let anybody down. It had to be accurate, and I couldn't dwell too much on it because if I kept thinking about what it was, I wouldn't be able to pass 'go.' It was overwhelming."
This isn't Cage singing and dancing as he pretends to be an Elvis Presley imitator in Wild at Heart. He's not sporting a wild hairstyle and speaking with a goofy accent like in Raising Arizona. He's not even a screaming killing machine like in the revenge thriller, Mandy.
Cage restrained himself and grounded his performance for World Trade Center. For all the preparation he did with the role, critics noticed what Cage set out to do.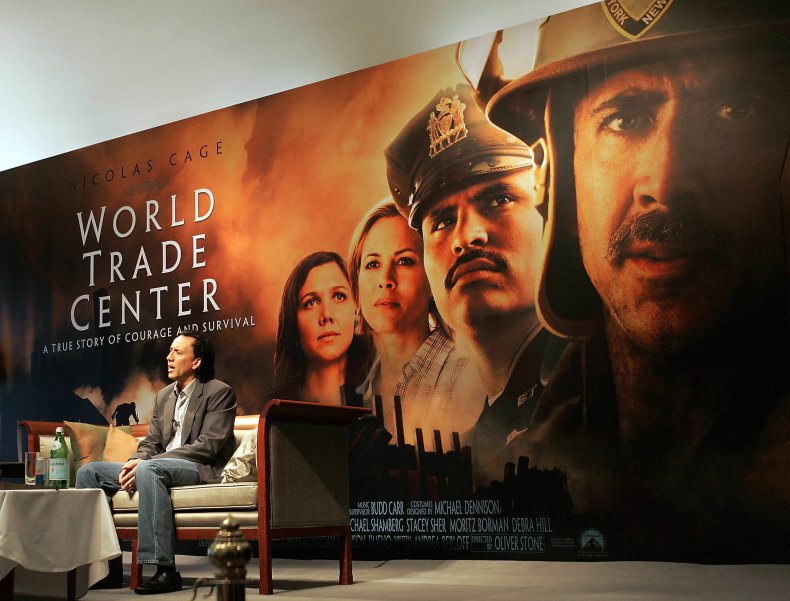 About two years, Viral Hare critic Byron Lafayette revisited the griping drama for his "Under The Lens" series.
Lafayette wrote, "Cage is rather known for delivering good performances when he has a good director overseeing him. In the case of World Trade Center, Stone is able to bring out a truly great performance from Cage. It's tragic and heartfelt you can really feel the struggle his character is going through. The way the picture is shot you feel every hope and disappointment that his character experiences."
In his '06 review, the Ocala Star-Banner critic, Anthony Violanti, claimed Cage had delivered "one of the best performances of his long career."
Violanti added, "Cage, through close-ups and flash-backs, presents the human side of a hero. At times, the pain and doubt become too much for him. At one point, convinced he's going to die, Cage recites the "Lord's Prayer," in one of the many definitive moments in the movie. Cage creates an aura of public-service grace that is reflective of the police officers, firefighters and others who gave so much of themselves on Sept. 11."
Back in 2006, renowned movie critic Roger Ebert applauded the work of Cage and his co-star, Peña. He said, "The scenes between the two officers, Sgt. John McLoughlin (Nicolas Cage) and Jimeno, pinned and immobilized, trying to keep each other alive in the pit of hell, are the best in the movie, because they feel the most authentically personal. You're right down there with them, and the actors play it for real. There's no need to overdramatize something as inherently dramatic as this."
In his The New York Times review, critic A.O. Scott pointed out that "Mr. Cage turns all his intensity inward."
Scott added, "He looks older and more worn than he has in other films, and he wears his character's tired stoicism like an old shirt."
That same year, Paul Cullum, a writer for Variety, mentioned, "Nicolas Cage's central performance, in which he is immobilized in a hole in the ground for most of the pic, in fact may be one of his most experimental."
"As if shying from the spotlight, though, the actor plays Sergeant John McLoughlin with minimal show. Cage is rail-thin here, hiding behind a mustache, a uniform, and the sort of competence that doesn't have to assert itself." wrote Ty Burr in his 2006 review for the Boston Globe.
"Lesser actors would be daunted by the task of conveying emotional nuance in the dark, immobile and covered with ash. But Cage and Pena rise to the challenge as McLoughlin and Jimeno keep themselves awake — sleep could lead to coma and death — by trading stories even as the hope of rescue fades," stated Rolling Stone critic Peter Travers back in the day.
"The acting, inevitably, is superb. Cage, denied his usual kinetic excess by a pile of concrete, is a dignified presence," praised BBC critic Paul Ardent.
"Even working within the restrictions of a PG-13 rating, Stone brings fresh immediacy to the horrors of Ground Zero, and Cage and Pena use small, telling strokes to make their characters come alive," mentioned The A.V. Club's Keith Phipps.
"He gives a properly reserved performance in World Trade Center. Granted, for most of the movie he's buried under rubble and we can only see his face, but even in the scenes where he is walking and talking, we're getting Cage the actor and not Cage the celebrity ham. He plays John McLoughlin, the Port Authority Police sergeant who leads his men into the towers, with the graveness befitting a man in his position. Yet, he also manages to show McLoughlin as a warm family man and as a human being who is losing hope in the face of a perilous situation," stated DVD Talk critic Jamie S. Rich.