World Vegetarian Day 2019: Recipes and Meat Free Meals
The first day of October marked the start of the Halloween season and World Vegetarian Day for those who would rather leave the blood-sucking to vampires.
With origins dating back to 1977, World Vegetarian Day gives people a chance to try meatless meals and raise awareness about the benefits of a plant-based diet. Celebrated annually on October 1, on Tuesday, people were encouraged to share meals with their friends, families and coworkers and explain why being a vegetarian is important to them.
Whether versed in the art of vegetarian cooking or just planning to use the day as an excuse to go meatless, here are three recipes from Skinny Taste that are sure to impress both the herbivores and omnivores in your life.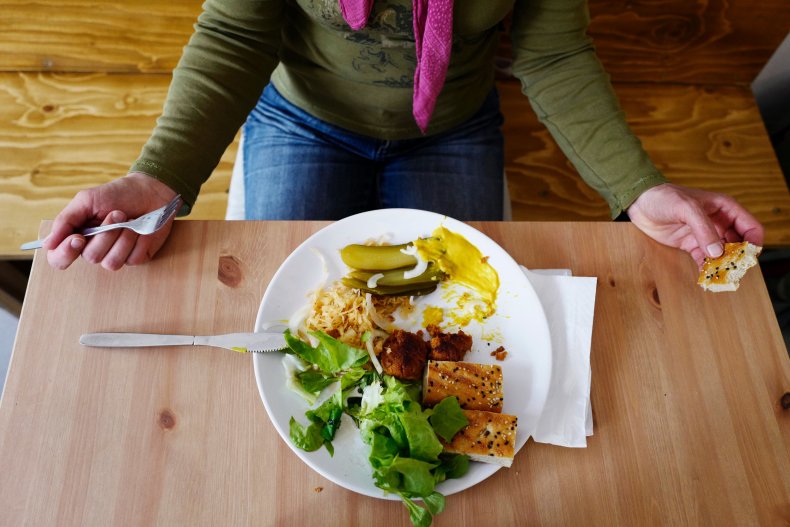 Ingredients:
2 medium Italian eggplants, cut lengthwise into 10 (1/4-inch thick) pieces
kosher salt and fresh black pepper, to taste
1/2 cups marinara sauce (homemade recipe here)
1 large egg
1/2 cup part-skim ricotta cheese
1/2 cup grated Pecorino Romano cheese, plus more for serving
8 oz frozen spinach, heated through and squeezed well
1 garlic clove, minced
1 cup 4 oz shredded part-skim mozzarella
Instructions:
Sprinkle eggplant slices with salt and set aside for 10 to 15 minutes, then pat dry with a towel. This helps remove excess moisture and bitterness.
Preheat the oven to 400 degrees Fahrenheit and season the eggplant with salt and pepper before arranging on two parchment-lined baking sheets. Cover with foil and bake for about eight to 10 minutes or until the eggplant is tender. You want the eggplant pliable enough to roll, but not fully cooked.
While eggplant is cooking, beat the egg in a medium bowl and mix together with ricotta, Pecorino Romano, spinach, garlic, salt and pepper. When eggplant is done cooking, pat it dry and spread about two tablespoons of the ricotta mixture onto each slice. Start at the short end and roll up slices.
Spread ¼ cup marinara sauce on the bottom of a 13 x 9-inch baking dish and when the eggplant is rolled, place it seam side down in the dish. Once all of the eggplant roll-ups are in the dish, top them with the remaining marinara sauce and mozzarella cheese.
Cover the dish with foil and bake until the eggplant is tender, which should take about 60 minutes.
Ingredients:
12 ounces from 3 medium Hass avocados, cubed
Juice from 1-2 small limes
¼ cup chopped sundried tomatoes, packed in oil, drained
2/3 cup diced red onion
1/3 cup chopped cilantro
1 teaspoon kosher salt
Freshly ground black pepper
10 egg roll wrappers
Small bowl of water for sealing
Olive or canola oil spray
Instructions:
In a medium bowl, combine avocado, lime juice, sundried tomatoes, onion, cilantro, salt and pepper. Gently toss the ingredients to combine, but don't mash.
Place eggroll wrappers on a clean surface so it resembles a diamond and spoon ¼ cup of the mixture onto the bottom third of the wrapper. Then, dip your finger in water and run it along the edges of the wrapper, this helps seal the eggroll so it doesn't come apart during cooking.
Lift the point nearest you and wrap it around the filling, then fold the left and right corners toward the center and roll the dough into a tight cylinder. Repeat this process with each wrapper.
Then, you have a choice to make. You can either use an air fryer or bake the eggrolls in the oven. This choice may be made for you if you don't own an air fryer.
If using an air fryer, spray all sides of the egg rolls with oil and preheat the air fryer to 400 degrees Fahrenheit. Cook the egg rolls for about six minutes, turning them halfway through. They should be golden when finished.
If using the oven, preheat it to 400 degrees Fahrenheit and spray a sheet pan with oil. After placing the egg rolls on the sheet, cook them for about 16 to 18 minutes, turning them halfway. When they're finished cooking, they should be brown and crisp.
Ingredients:
Kosher salt
8 ounces elbow pasta
Cooking spray
1 ½ tablespoon unsalted butter
½ cup red onion, chopped
3 garlic cloves, minced
¼ cup all-purpose flour
2 cups low fat milk
½ cup shredded part-skim mozzarella
5 ounces crumbled feta cheese, divided
1/2 teaspoon dried oregano
1/2 teaspoon dried marjoram or thyme
Freshly ground black pepper, to taste
1 1/2 cups quartered cherry or grape tomatoes
10 pitted Kalamata olives, chopped
3 cups fresh baby spinach, chopped
Fresh dill or parsley, for garnish
Instructions:
Fill a large pot with salted water and bring to a boil. Then, follow cooking instructions on the box or bag of pasta. While pasta is cooking, preheat the oven to 375 degrees Fahrenheit and spray a deep dish with cooking spray.
In a medium saucepan, melt butter over medium-high heat, then add red onion and sauté until softened, which should take about three minutes. Once soft, add garlic and sauté for another minute.
Sprinkle flour over the top of the onion and garlic and stir for about two or three minutes, then add the milk. Whisk the ingredients together until it boils and remove from heat. Stir in the mozzarella and 1/3 of the feta until it's mostly melted.
Add oregano, marjoram or thyme, pepper, diced tomatoes, olives and spinach and stir to combine. While the olives add flavor to the dish, if you're staunchly opposed to them, you can omit them and it will still be delicious. At this point, the pasta should be ready to go, so you can transfer it to the baking dish. Don't worry if your pasta cooks faster than your ingredients, you can leave it in the colander until you're ready.
After putting the pasta in the dish, add the cheese mixture and stir to combine the ingredients. This combination can also be done before putting it in the baking dish, either in the pot used to boil water or the pot used to cook the cheese mixture, if there's room.
Once everything's in the baking dish, top with the remaining feta cheese and bake 20 to 25 minutes. Finally, garnish your dish with dill or parsley for that extra pizazz.