'World War 3' Google Searches Spike After Trump Launches Syria Missile Strike
Google searches for the phrase "World War 3" spiked as President Donald Trump authorized missile strikes on Syria in response to yet another deadly chemical attack on civilians in the wartorn country.
U.S. allies U.K. and France joined the strikes on what the coalition said were chemical weapons facilities belonging to the Bashar al-Assad regime. The strikes took place in the early hours of Saturday morning (April 14), Syria time, and were designed to punish and deter the use of banned weapons.
Russia, which is backing the Syrian regime with troops on the ground, told the U.N. it is being "threatened" and warned the U.S. and its allies of "consequences" for striking Syria.
The last time Google searches for World War 3 spiked dramatically was when Trump ordered a missile strike on a Syrian airfield used to launch the Khan Sheikhoun chemical attack, which killed dozens of civilians in April 2017. The U.N. blames Syria's Assad regime for the Khan Sheikhoun attack.

On April 7, 2018, reports emerged from the city of Douma, northeast of the Syrian capital Damascus, of a chemical attack. Distressing images and video from the aftermath show dead bodies, including those of children, foaming at the mouth.
The World Health Organization said its partners in the area reported around 500 people presenting themselves to medical facilities and displaying symptoms of exposure to toxic chemicals. A further 43 people who had died in the shelling showed similar signs.
"A perfectly executed strike last night," Trump tweeted on Saturday morning. "Thank you to France and the United Kingdom for their wisdom and the power of their fine military. Could not have had a better result. Mission accomplished!"
Attacking Syria risks hitting the Russian military because of its large presence in the country and triggering an escalation that, in the worst case scenario, leads to a direct conflict between Russia and the U.S., the world's two most heavily armed nuclear powers.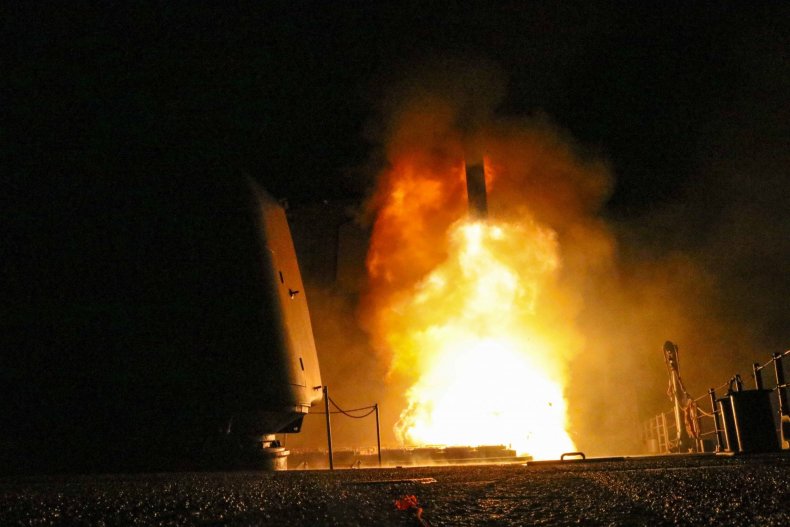 Forces loyal to Syrian President Assad evacuated their bases and airfields in anticipation of any strike ordered by Trump. Efforts were also made to give Russia notice of the strikes.
French Minister of the Armed Forces Florence Parly said after the strikes that the allies "are not looking for a confrontation and refuse any logic of escalation. That is why, with our allies, we ensured that the Russians were notified ahead of time."
A "deconfliction hotline" between the American and Russian governments is also in operation. It allows them to stay in direct contact if needs be to prevent any situation spiralling out of control.
"The line is used and it is active," Kremlin spokesman Dmitry Peskov told a media briefing ahead of the strikes. "In general the line is used by both sides."