World War I in Color: Incredible Photos Bring Conflict to Life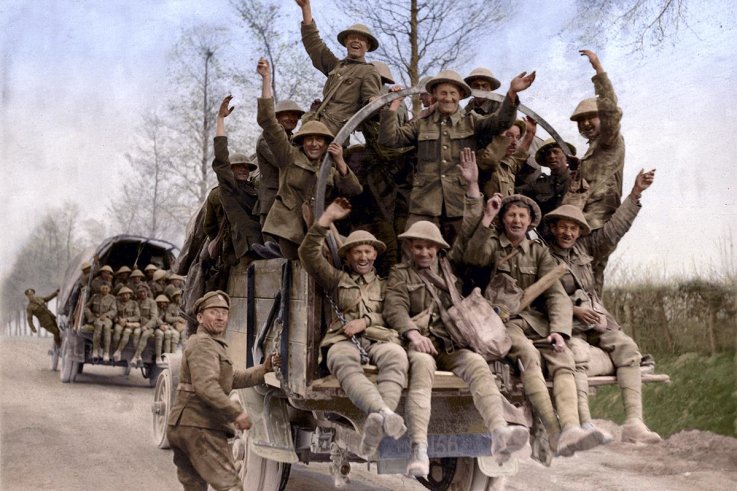 A hundred years after the end of the First World War, a Canadian charity has revitalized a collection of archival photographs using color, bringing us a little closer to the people who served during the conflict.
The Vimy Foundation, which is dedicated to preserving Canada's First World War legacy, collected 150 black-and-white photographs of wartime life, which they lovingly infused with lifelike hues with the help of a digital colorist. The results have been released as a book, They Fought in Colour.
Through these new images, the charity hopes people will feel a deeper sense of connection with the soldiers, despite there being no more living veterans of the First World War to speak of their experiences first-hand.
"Many Canadians today see the First World War through a series of faded black-and-white photos, disconnected from their modern reality," said Jeremy Diamond, executive director of the Vimy Foundation. "Colorizing these events brings a new focus to our understanding and appreciation of Canada during the First World War."
The photos show the comradeship of wartime experience. In some photos, soldiers cheekily climb inside the barrel of a giant howitzer. In another, a man gets dressed up in drag for a Maple Leaf Concert Party in France, where soldiers were due to be entertained by songs and skits about army life.
The photos also show a glimpse of the horror of war. A soldier stands over the body of a fallen major, while in another image a group of soldiers strolls through the crumbling, bombed-out ruins of Arras, France.
This isn't the only project to mark the centenary of Armistice day, which marked the end of the war in November 1918. Lord of the Rings director Peter Jackson's current movie, They Shall Not Grow Old, colorized and digitally enhanced archive wartime footage to critical acclaim.
The book's release in October coincided with the exhibition 'The Great War in Colour – A New Look at Canada's First World War Effort, 1914–1918,' which will be open at the Canadian War Museum in Ottawa until January 3, 2019.
Here are ten incredible images from the project, which bring the intangible wartime past a little bit closer.