World War II Documents From Argentina Could Shed New Light on Nazi Germany and Holocaust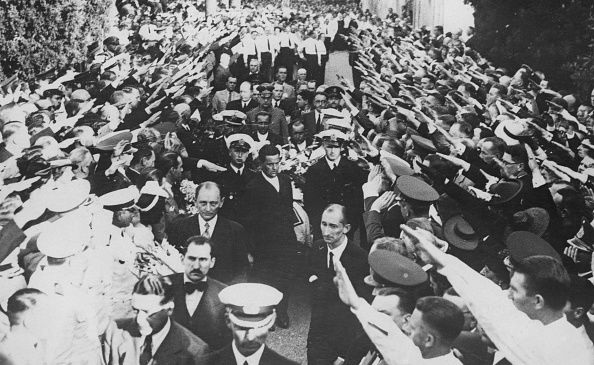 Argentina's foreign ministry is transferring digital copies of nearly 40,000 documents about World War II and the Holocaust to the United States Holocaust Memorial Museum (USHMM) in Washington, D.C.
"There are two avenues of interest to us when it comes to Argentina," Anatol Steck—project director for Central Europe, Latin America and Israel at the international archival programs division of the museum's Jack, Joseph and Morton Mandel Center for Advanced Holocaust Studies—tells Newsweek. "One is that it has one of the largest Holocaust survivor communities in the world, and certainly the largest survivor community in Latin America. Also of interest, of course, is the flight of Nazi war criminals to Latin America. Many made their way to Argentina." The museum, which is active in 58 countries worldwide, has been working in Argentina for more than a decade.
Argentina's Secretary of International Cooperation Ernesto Gaspari and USHMM representative Samanta Casareto signed a handover protocol on Friday in Buenos Aires, and Casareto accepted the material on the museum's behalf. The scans are now being sent to the museum, where they will be added to the archives and made accessible on an internal network to researchers and members of the public. This is the second batch of documents from the political division of the foreign affairs ministry to be transferred to the museum following an agreement, signed in 2012, which allowed the museum to gain access to the ministry's holdings; to independently survey and evaluate records for relevance; and to reproduce, digitize and make them available to the public. The museum received the first set of a similar number of documents in 2015.
The second set of 38,779 documents—which include letters, telegrams, newspaper articles, notes and reports—was produced between 1939, when World War II broke out, and 1950, five years after the war's conclusion. The stash includes dispatches and reports by Argentine consulates abroad about the political situation in Nazi Germany and other countries in Europe, Steck says, as well as documents about immigration matters, such as applications from Jews for visas, and meetings of the Argentine congress on neutrality, on breaking ties with the Axis powers and, finally, on the country's declaration of war.
Argentina, which had a large population of German immigrants and a close relationship with Germany, remained officially neutral for most of the war. The country severed diplomatic ties with Germany and Japan on January 26, 1944, and only formally declared war on the Axis powers on March 27, 1945, less than two months before the end of the war in Europe, and less than six month before Japan's surrender.
More than 100,000 Jewish immigrants settled in Argentina legally between 1918 and 1943, with an additional 20,000 estimated to have arrived illegally during the first decade of the Nazi regime. At least 4,800 Holocaust survivors later made the country their home.
But Argentina is also famous for becoming a refuge for Nazi war criminals, including such infamous figures as Josef Mengele and Adolf Eichmann. The former drowned near a resort in Brazil in 1979, while the latter, living under the pseudonym Ricardo Klement, was captured by Israeli agents in May 1960 and hanged two years later after standing trial in Jerusalem.
The document transfer comes about two months after Argentinean police and Interpol raided the house of an art collector near Buenos Aires and seized a collection of 75 Nazi artifacts they believe are authentic objects that came from Germans who fled Europe. The minister of national security, Patricia Bullrich, said at a press briefing in June that after an investigation to determine exactly where the artifacts came from, the items would be donated to the Holocaust Museum in Buenos Aires.
"The Holocaust was a global event. Refugees were scattered all over the world," Steck says. The new cache of nearly 40,000 documents will be added to USHMM's other holdings from Argentina and other countries around the world. "In that sense, it is like a piece of a giant puzzle," Steck adds. "Each piece we add to the collection gives us more insight."