World War III Is 'Already Underway,' Russian Journalist Claims
A prominent Russian journalist said that "World War III is already underway" during a recent televised discussion about Russia's conflict in Ukraine.
Margarita Simonyan, the editor-in-chief of the Russian state-controlled media organization RT, made the comment during an interview on the program Life and Fate, which airs on Russia state TV.
A clip of the interview was posted on Twitter Thursday by Julia Davis, founder of the Russian Media Monitor watchdog group.
During her discussion with host Boris Korchevnikov, Simonyan discussed the war in Ukraine and indicated she was surprised at the amount of support Ukrainian President Volodymyr Zelensky has received from Western nations. As a result of that support, she said, the conflict in Ukraine has escalated into a full-blown global war.
"I didn't think it would be easy, but of course I didn't think we'd have to fight the entire Western world, that it would be World War III," Simonyan said.
She added, "World War III is already underway."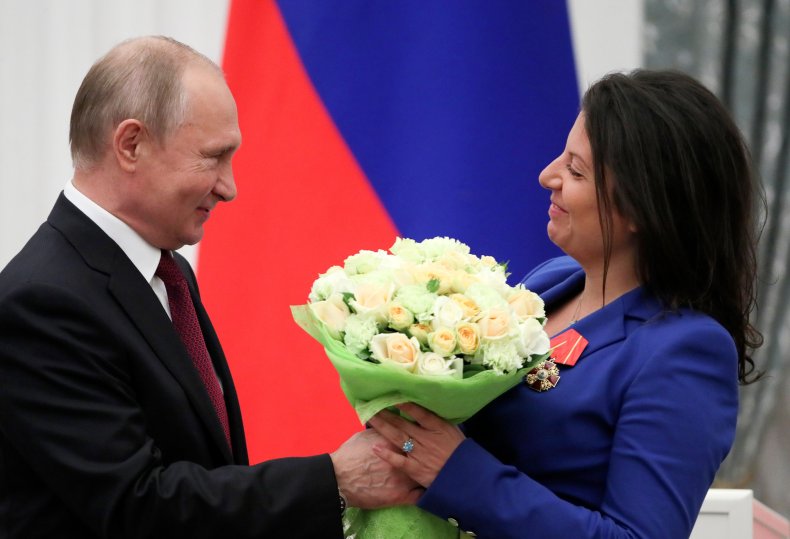 Last summer, the U.S. Department of State labeled Simonyan as "one of Russian President Vladimir Putin's main faces of propaganda and disinformation, both internationally and inside Russia."
"She is adept at serving up lies as truths—and with a smile," the State Department wrote in an August release that detailed her various ties to the Kremlin and Russian President Vladimir Putin.
Despite her history of promoting narratives pushed by the Kremlin, Simonyan admitted to Korchevnikov that the Ukraine war had not been going as well as she had anticipated.
When Korchevnikov asked if she had foreseen that the invasion would result in a war, Simonyan answered, "Myself, I believe, just like everyone else, including the people who planned this special operation, didn't anticipate that it would drag out for so long."
Simonyan explained that she had believed the "special operation," as the Kremlin has called the invasion, would be short. However, she said that the aid from Western allies had prolonged the conflict.
"I think that obviously no one has foreseen this, because no one had anticipated that we would not fight against Zelensky, Ukraine's armed forces, its security service, but we will fight against the entire collective West," she said. "We are fighting against all of them. Listen, of course, to defeat the collective West, the might of NATO, it's hard and difficult. I didn't anticipate the crushing scale of what the West is prepared to do in order to destroy us."
Newsweek reached out to the Russian Ministry of Foreign Affairs for comment.