Nations on Brink of World War Three Amid Political Unrest, Rising COVID Deaths: U.K. Defense Chief
The head of the United Kingdom's military forces suggested global unrest and turmoil posed by the COVID-19 pandemic raises the risk of armed conflict escalating into another world war.
With COVID-19 case and death tolls continuing to rise globally, alongside the economic crises prompted by the outbreak, the U.K.'s Chief of the Defense Staff General Sir Nick Carter said there was a risk of disputes flaring out of control.
In an interview with Sky News, Carter was asked directly if he thought there was a real threat of another world war, to which he responded: "I am saying it's a risk and I think we need to be conscious of those risks."
This came after detailing how he believed conflict could expand.
Carter said: "I think we are living at a moment in time where the world is a very uncertain and anxious place.
"I think the real risk we have, with quite a lot of regional conflicts that are going on at the moment, is you could see escalation lead to miscalculation and that is a thing I think we have to guard against."
Further detailing what he meant by potential miscalculations, he said: "The protagonists, either because they don't realize the implications of their actions, lead to an escalation, which means that more people perhaps get involved, more weaponry gets involved and before you can contain it, it leads the sides ending up in a full-blown war."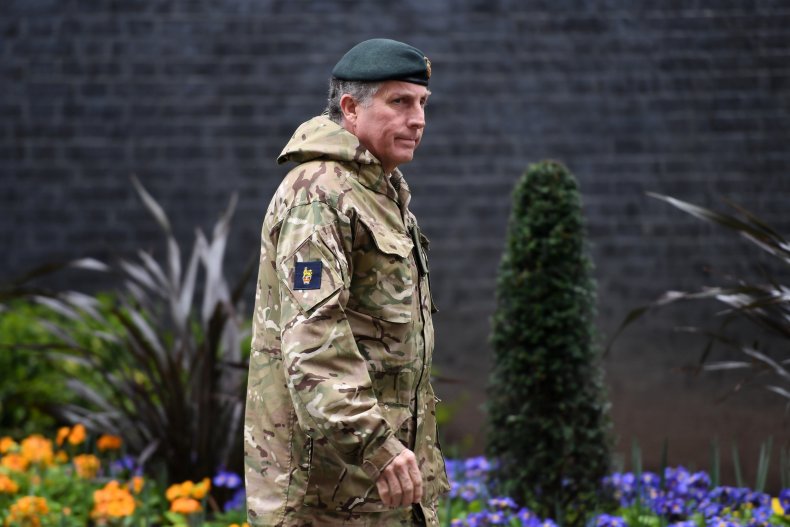 This sort of pattern, he added, has precede previous widespread conflicts.
"We have to remember history might not repeat itself but it has a rhythm and if you look back at the last century, before both world wars, I think it was unarguable that there was escalation that led to the miscalculation which ultimately led to war at a scale we would hopefully never see again," he said.
Carter did not specify any particular ongoing conflicts he felt might escalate.
A spokesperson for the U.K.'s Ministry of Defense told Newsweek Carter was not referring to any specific conflict with his comments, but simply referring to how such situations across the world could escalate.
Newsweek has also contacted the U.S. National Security Council to ask if it shares similar concerns over tensions mounting worldwide.
His comments come amid economic issues posed to nations the world over due to the impact of the pandemic and measures to contain it upon industry, with continued uncertainty creating sustained problems for businesses the world over.
The virus has also seen nations at loggerheads as they look to lay blame for its spread, with the U.S. and China in a war of words over the virus' spread.
China has been touted as a potential antagonist of future war amid the ongoing crisis.
Political rifts have also prompted speculation of rising tensions, with unrest in countries around the globe.
For example, there have been suggestions from ministers in Israel that President-elect Joe Biden's stance on Iran could lead to conflict.
Biden's election poses the threat of further domestic unrest in the U.S., with President Donald Trump as yet having refused to concede amid concerns over the peaceful transition of power within the nation.
There have already been nationwide protests over his actions in the wake of Election Day, adding to tension in the nation after months of demonstrations spread across the country.
These domestic and global clashes come with the global case toll throughout the COVID-19 pandemic nearing 50 million. There have been more than 1.2 million deaths linked to the disease worldwide, according to Johns Hopkins University figures.
The U.S. has had more than 9.8 million confirmed coronavirus cases, more than any other nation.