V-E day: Where does the V for Victory Sign Come From?
It is the 75th anniversary of Victory in Europe day, commonly known as V-E Day, with celebrations usually taking place across the world to mark the end of fighting in Europe against the Nazis during World War II.
Yet with the COVID-19 lockdown, people up and down the country will not be able to attend public gatherings, even more frustrating for many, given that the government had moved the traditional Early May Bank Holiday from May 4 to May 8 this year to allow for a range of celebrations across the U.K., including a veterans' procession and street parties.
Nonetheless, a national two-minute silence will be held tomorrow at 11.00 am, along with a service in Westminster, where the speaker of the House of Commons, Sir Lindsay Hoyle, will lay a wreath.
Households across the country have also been encouraged to plan V-E day parties at home.
Newsweek subscription offers >
But where does the V for Victory sign, which was made by people as they gathered to celebrate the defeat of Nazi Germany actually come from?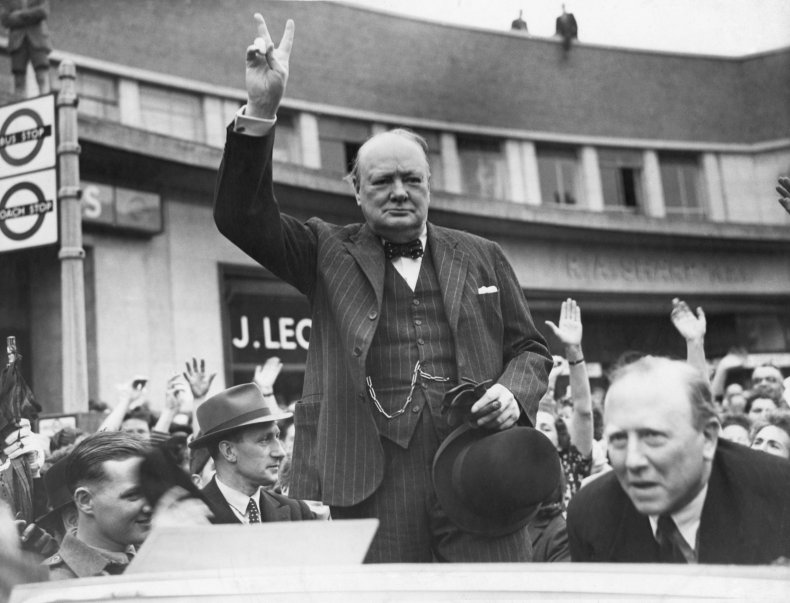 Its origins can be traced back to a Belgian politician Victor de Laveleye, who went on a radio broadcast for BBC Europe, while German forces occupied Belgium, and proposed Belgians adopt the letter V as a rallying emblem.
For de Laveleye, V stood for "victoire" in French, which means victory, as well as for vrijheid which in Flemish means Freedom.
Newsweek subscription offers >
He called on people in Belgium to chalk the letter and make the sign whenever they could as a sign of solidarity and resistance.
"The occupier, by seeing this sign, always the same, infinitely repeated, [would] understand that he is surrounded, encircled by an immense crowd of citizens eagerly awaiting his first moment of weakness, watching for his first failure," explained de Laveleye.
The symbol proved popular and spread to the Netherland and northern France too.
The BBC also realized the popularity of the slogan and launched its own campaign called V for victory, and put in charge the assistant news editor Douglas Ritchie posing as "Colonel Britton".
Churchill eventually took up the symbol himself in July 1941.
He then used it throughout the war effort and was a common symbol on V-E Day both to symbolize victory and an end to the war.
It has since been used in a variety of contexts, most memorably co-opted by the anti-war movement in the 1960s as protests against the Vietnam conflict took place across the U.S. and other countries.
V-E day: Where does the V for Victory Sign Come From? | World