Every Day is World Water Day For South Africa's Cape Town
While World Water Day offers an opportunity to spotlight the globe's water issues, residents in Cape Town, South Africa deal with the reality of dry taps every day. Water issues are creating an uncertain future for the city, the first metropolis to deal with such a issue.
Capetonians are playing down the idea of World Water Day as the country's second-largest city faces its worst drought in close to a century. The government has declared a "national disaster" and authorities have since pushed a strict water rationing-system.
Looming over Cape Town's 4 million residents is the ominous "Day Zero" scenario, where dam levels reach 13.5 percent of their capacity. Originally scheduled for April, the city's water would have been shut off as a conservation measure, and residents left getting their daily ration of 25 liters (or about 6.6 gallons), per person, across 200 collection points.
"Every day feels just like World Water Day because of the stress we are currently in and the high risk and possibility of running out of water," Dr. Kevin Winter of the University of Cape Town's Future Water Research Institute, told Newsweek.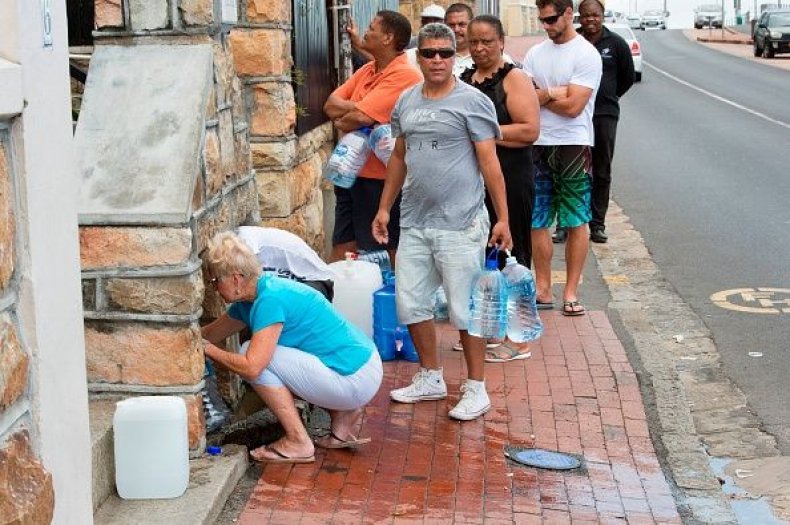 He said his city hasn't had substantial rain for months now and dams have sat empty, nearing only 21 or 22 percent capacity.
"There's a real fear that we're going into something that can be very, very serious," Winter said. "We don't know when our winter rains are arriving." Normally rain would arrive in April or May and continue into August and September. Those timetables are more reflective of patterns from 20 to 30 years ago.
Today, sporadic rains come later and storms are "events" that last from one week to 10 days with very little rainfall in between. Those patterns have resulted in Cape Town seeing below average rainfall, which has not fallen in the right places. Dams have been starved, as a result.
While the city's leaders have been trying to offset the crisis by creating a daily allowance for residents, its residents have had to live in a "crisis" mode, Winter said.
At one point, Mayor Patricia de Lille accused 60 percent of residents of "callously" consuming more than 87 liters amid repeated warnings of the dire consequences.
"It is quite unbelievable that a majority of people do not seem to care and are sending all of us headlong towards Day Zero," the mayor said in January. "We have reached a point of no return."
Day Zero may have been a "blunt instrument," Winter said, but it proved incredibly effective. The day created a strict tracking system that enabled Capetonians to be more aware of water usage, allowing for residents to beat the originally scheduled Day Zero.
Earlier this month, Cape Town officials announced the delay of Day Zero until at least till 2019, though restrictions will stay intact as the city pushes to try and keep its water consumption to 118 million gallons a day. Even so, reports have emerged that Cape Town's collective water consumption has gone back up recently. While usage will be monitored, the city still needs to make sure the level stays adequate so that water can last.
"Day Zero can come back and it may need to be introduced again," Winter warned.