Targeted Political Ads During 2020 Election Threaten to 'Subvert Democracy,' Web Inventor Warns
The inventor of the World Wide Web has spoken out about the dangers of targeted political ads, warning that his creation needs a "radical intervention."
Sir Tim Berners-Lee, who is widely credited with inventing the web in 1989 while working at the European Laboratory for Particle Physics (CERN) in Switzerland, has long been critical about the current trajectory of the beast that he helped to spark.
And this week, in an opinion article in The New York Times, the technologist warned targeted political ads put the integrity of future elections at real risk.
"Communities are being ripped apart as prejudice, hate and disinformation are peddled online," he wrote.
"Scammers use the web to steal identities, stalkers use it to harass and intimidate their victims, and bad actors subvert democracy using clever digital tactics.
"Use of targeted political ads in the United States' 2020 presidential campaign and in elections elsewhere threatens once again to undermine voters' understanding and choices.
He added: "We're at a tipping point. How we respond to this abuse will determine whether the web lives up to its potential as a global force for good or leads us into a digital dystopia."
In 2016, social media networks and websites, including Facebook and Twitter, were exploited by Russian meddlers to spew misinformation with the aim of helping the election chances of Donald Trump by discrediting his main rival, Hillary Clinton.
More recently, as the 2020 presidential election looms, Facebook has faced criticism for not fact-checking political ads. As Mark Zuckerberg chose to double down on the policy, Twitter chief Jack Dorsey said his site would no longer accept political advertising.
"Targeted political advertising is giving political parties the ability to subvert the debate," Berners-Lee wrote in The New York Times op-ed, published Sunday.
"We need platforms to open their black boxes and clearly explain how they're minimizing or eliminating risks their products pose to society. In my view, governments should impose an immediate ban on targeted political advertising to restore trust in our public discourse."
His comments coincided with the launch of the Contract for the Web, a proposal to fix some of the web's fundamental issues while upping privacy protections for users. Its website says the plans are supported by Google, Microsoft, Twitter and Facebook.
But it remains a road-map and is not legally binding.
The contract asks governments to ensure web connections are always available, urges tech firms to ensure the internet is affordable and accessible and asks users to "respect civil discourse and human dignity." It's not clear if anyone will listen, especially in election season.
"If we don't act now—and act together—to prevent the web being misused by those who want to exploit, divide and undermine, we are at risk of squandering that potential," Berners-Lee said in a release, before adding: "We have a shared responsibility to fight for the web we want."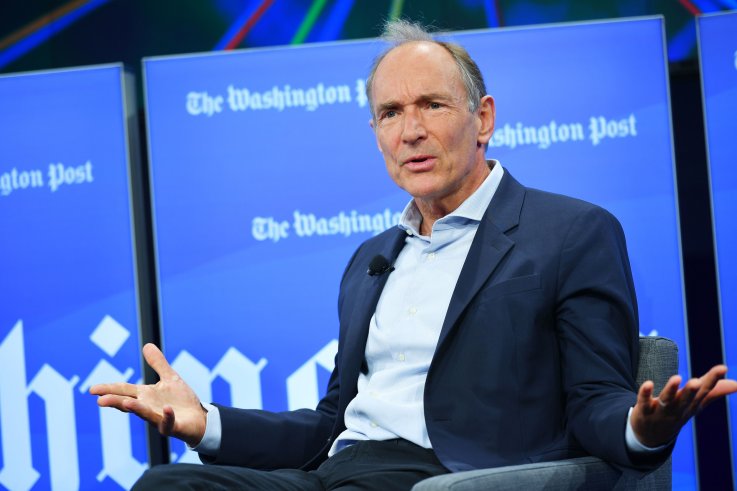 Targeted Political Ads During 2020 Election Threaten to 'Subvert Democracy,' Web Inventor Warns | News